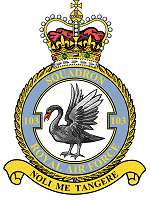 Formed at Beaulieu in Hampshire on 1 Sep 1917 as a light bomber unit, it served until just after WWI when it was disbanded. It was reformed under the RAF expansion plan in 1936, as a bomber squadron and served with distinction in WWII. It ended its fixed wing life with Canberra B.2 at
RAF Gütersloh
on 1 Aug 1956.

103 Squadron reformed in Aug 1959 with the Sycamore HR.14 from
284 Squadron
at RAF Nicosia, where it provided air mobility to the security forces on Cyprus. On 31 Jul 1963 it was split into
1563 Flight
(remaining at Nicosia) and
1564 Flight
(departed to El Adem) and disbanded.
The very next day, the 103 Squadron number plate was in use again when it reformed from the Whirlwind HAR.10 of B Flight,
110 Squadron
at RAF Seletar in Singapore. It maintained detachments at Tawau (where it relieved
846 NAS
Whirlwind HAS.7s in Apr 1964) Kuching, Labuan and Kai Tak and took over SAR cover from 110 Squadron with a detachment at Butterworth between Aug 1965 and Mar 1967.
It received a boost in numbers on 1 Nov 1965 when some of the ex-
225 Squadron
Whirlwinds and crews were reassigned. The unit moved to RAF Changi in Mar 1969 and it finally moved to RAF Tengah in Sep 1971. This was followed by the arrival of the Wessex HC.2 in Nov 1972 and its last Whirlwind departed during Dec. It was disbanded on 1 Aug 1975.

---
Aircraft were built from boxes at Seletar from end of 1962 . The squadron was operational within about 8 months and the first aircraft went to Kuching aboard
HMS Albion
when the Confrontation began. They then moved to Labuan and we did have a one aircraft deployment to Sibu until we were relieved by the Royal Navy

103 Squadron List of helicopters

Help Us
C/N
Version
Built
In this Org
In other Org
13145
Sycamore 4
1952
XE307 : 17 Sep 1959 Crashed and w/o in Cyprus, c 8nm SE of Nicosia (nr Tymbou / Ki+

XE307

13271
Sycamore 4
1955
XG511 : Rotor struck ships mast during rescue and crashed off Famagusta on 7 Dec 1+

13272
Sycamore 4
1955
XG512 : Rotors struck ground after nosewheel collapsed on landing at Tobruk on 4 J+

13371
Sycamore 4
1955
XG517 : Rotors struck ground on landing at Tobruk on 23 Aug 1963 while with 103Sq

13404
Sycamore 4
1956
XJ895 : 275 Sq; 284 Sq from Sep 1959; El Adem Stn Flt; 103 Sq; 1564 Flt; CFS / S-J

13406
Sycamore 4
1956
XJ897 : 284 Sq; 103 Sq from Aug 1959; 1563 Flt from Aug 1963; CFS

13408
Sycamore 4
1956
XJ898 : 284 Sq; 103 Sq from Aug 1959; 1563 Flt from Aug 1963; Khormaksar SAR Flt; +

wa143
har.2
1956
XK987 B : ex 103 Sq / B, before 1972

wa144
har.2
1956
XK988 : 103 Sq; 110 Sq; 103 Sq / D

13444
Sycamore 4
1957
XL824 : 284 Squadron from 1958; 103 Squadron from Aug 1959; 1564 Flight; CFS(H) fr+

XL824

wa266
hcc.8
1959
XN126 : 110 Sq; 103 Sq; CFS(H); 22 Sq; CFS; 2 FTS

wa355
har10
1961
XP339 : 225 Sq, 103 Sq, 32 Sq; to Pryton Hill

- XP339

wa374
har10
1962
XP358 : 103Sq/K by Aug 1963

wa377
har10
1962
XP361 : 225 Sq; 110 Sq; 103 Sq; 22 Sq by 1981

wa378
har10
1962
XP362 : 103 Sq / Q (date unknown)

wa386
har10
1962
XP398 : 225 Sq; 110 Sq; 103 Sq; 202 Sq; 1563 Flt to 84 Sq 1972.

wa388
har10
1962
XP400 : at 1 SoTT Halton as 8444M, ex 103 Sq / N by Jul 1975. Still there Jan 1980+

wa410
har10
1963
XR478 : 103 Sq; 110 Sq; 230 Sq

wa412
har10
1963
XR480 : HAR.10 to 103 Sq

wa414
har10
1963
XR482 : 103 Sq; 110 Sq; 103 Sq; 110 Sq; 28 Sq

wa415
har10
1963
XR483 : 103Sq/X by Jul 1964 (SAR fit).

- N2979G
- -

wa121
hc.2
1962
XR588 : 28 Sq from Feb 1968; 103 Sq

XR588
XR588

wa531
hc.2
1966
XT604 : ff 7 Jul 1966, dd 2 Aug 1966 to RAF. Wessex HAR.2; Khormaksar SAR Flt Nov +

- XT604