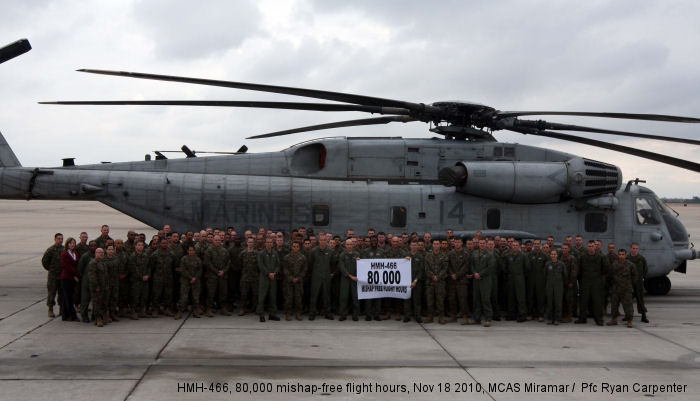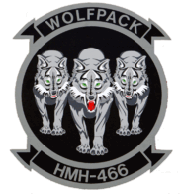 Wolfpack, tail code YK, established November 30, 1984 as the third Marine CH-53E squadron. Completed staff with acceptance of their 16th Super Stallion from Sikorsky on August 1985.

On August 1990 was the first CH-53E squadron to be deployed in Saudi Arabia for operations Desert Shield/Desert Storm.

On December 1992, 4 CH-53E were deployed to Somalia until March 1993 for operation Restore Hope.

On May 1995, they became the first CH-53E squadron to exceed 30,000 mishap-free flight hours.

On January 2004 they first deployed to Iraq from operation Iraqui Freedom doing several tours until March 2009.

On November 2010 achiveed 80,000 mishap-free flight hours.

On January 2012 they deployed to Afghanistan for Operation Enduring Freedom.
News about this Rotary Wing Unit :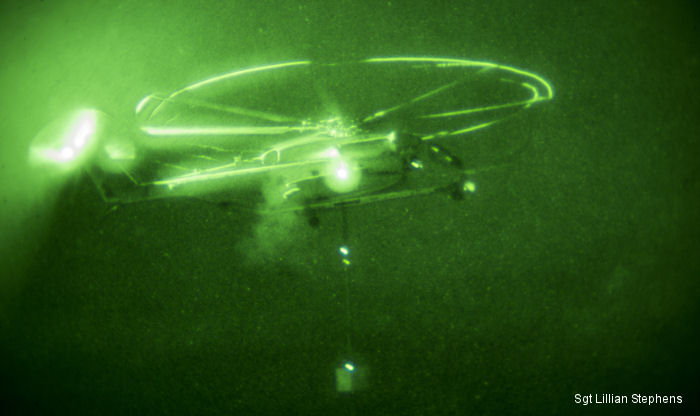 Marines HMH-466 Training at Night, 23-Sep-15 : During the four-hour training event, Marines with HMH-466 and CLB-1 repeatedly secured, lifted and released a 10,000-pound / 4,535-kgs weight at night, when visibility was at its lowest.
Construction Numbers for HMH-466
Help Us
C/N
Version
Built
In this Org
In other Org
65-418
ch-53e
161179 : 1999 as HMH-466 /YK-14
: 2012 as HMH-466 /YK-34

65-439
ch-53e
161382 : USMC; 2012 HMH-466 /YK-66

65-441
ch-53e
161384 : USMC; 2012 HMH-466 /YK-64

65-483
ch-53e
162006 : USMC; 2012 HMH-466 /YK-61

65-495
ch-53e
162483 : d/d mid 80s to HMH-466 at MCAS Tustin, CA

65-500
ch-53e
162488 : USMC d/d Jul90 as HMH-466 /YK-66; Sep91 to HMM-268(c) /YQ-23 deployed with+
: 1998 as HMH-466 /22 deployed with 15th MEU HMM-163

65-553
ch-53e
163063 : w/o 01jun14 asg HMH-466, crashed on runway due to fuel starvation

65-560
ch-53e
163073 : USMC; 2012 HMH-466 /YK-68

65-568
ch-53e
163077 : USMC; 2012 HMH-466 /YK-69

65-577
ch-53e
163083 : USMC; 2012 HMH-466 /YK-60

65-578
ch-53e
163084 : USMC; 2012 HMH-466 /YK-62

65-581
ch-53e
163087 : USMC; 1993 HMH-466 /YK-21

65-584
ch-53e
164359 : USMC; 2012 HMH-466 /YK-07

65-590
ch-53e
164362 : 09-14jul98 HMH-466 /YQ-62 embarked USS Tarawa (LHA-6)

65-592
ch-53e
164363 : 09-14jul98 HMH-466./YQ-63 embarked USS Tarawa LHA-6.
: 2012 HMH-466 /YK-75

65-593
ch-53e
164364 : 09-14jul98 HMH-466/YQ-64 embarked USS Tarawa (LHA-6)

65-594
ch-53e
164365 : USMC; 09-14jul98 HMH-466./YQ-65 embarked USS Tarawa LHA-6.

65-630
ch-53e
164787 : USMC; 2012 HMH-466 /YK-76

65-636
ch-53e
164860 : USMC; 2012 HMH-466 /YK-63

19 serials found for HMH-466