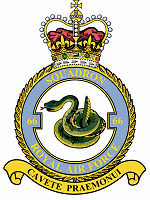 Formed as fighter unit at Filton in Jun 1916 from 19 Squadron, it saw WWI service in France and Italy before disbanding in Oct 1919. Reformed at Duxford from C Flight of 19 Squadron in Jul 1936, after only 4 months with biplanes it remained an exclusively Spitfire unit throughout WWII until it disbanded again in Apr 1945.

Reformed again at Duxford (from 165 Squadron) on 1 Sep 1946 with Spitfires, it converted to Meteors and spent time between the UK and Germany, until it disbanded with Hunter F.6s at
Acklington
in Sep 1960.
Its short rotary-wing career began at RAF Odiham, where it was reformed from the year-old
Belvedere Trials Unit
in Sep 1961. It moved to Malaysia and had a tough time with the Belvedere spares and servicability in the hot and high conditions. Its numbers were boosted on 4 Dec 1965 when 4 airframes arrived from Aden, aboard
HMS Albion
. After service in the Far East in support of Malaysian operations, it disbanded after a 6 ship flypast by its last remaining airframes, in Mar 1969.

66 Squadron List of helicopters

Help Us
C/N
Version
Built
In this Org
In other Org
13343
Type 192 Belvedere
1959
XG448 : del RAF as Belvedere HC.1, XG448, 20Nov59; served with 66 Sqn, unk; soc &+

13344
Type 192 Belvedere
1959
XG449 : RAF 72 Sqdn; went to 66 sqdn; broken up 1969 Seletar

13346
Type 192 Belvedere
1960
XG451 : 66 Sq / C by 1960, 66 Sq / E by 1966

13348
Type 192 Belvedere
1960
XG453 : handed over to Belvedere Trials Unit ( BTU ) at Oldmixon on 13 Oct 1960; r+
: 66 Sq / D by 1966; 18 Mar 1969 damaged by fire on Start up at Seletar but+

13351
Type 192 Belvedere
1960
XG456 : handed over to Belvedere Trials Unit ( BTU ) at Oldmixon on 13 Oct 1960; r+

13357
Type 192 Belvedere
1961
XG462 : dd Sep 1961 as 66Sq/H. To 72Sq/H by Nov 1961. Mid air rear engine fire nea+

13360
Type 192 Belvedere
1961
XG465 : 27 Apr 1962, As 66 Sq / J this aircraft placed the flèche (lattice spire)+

13361
Type 192 Belvedere
1962
XG466 : 66 Sq / L by 1966; soc and reduced to spares May 1968 after reaching nearl+

13362
Type 192 Belvedere
1962
XG467 : 72 Sq; 26 Sq; 66 Sq

13364
Type 192 Belvedere
1962
XG473 : w/o 4 May 1963 nr Lawas (Tusan Valley) in Borneo, while with 66 Sq. This w+

13365
Type 192 Belvedere
1962
XG474 : del RAF as Belvedere HC.1 XG474, 08Jun62; soc 20Mar69; pres in 66 Sqn mark+
: 66 Sq/O Jun 1962, 66 Sq/B and detached to Brunei by Dec 1962 and returned +
: pictured in 66 Squadron / O markings at RAF Museum, Hendon

13438
Sycamore 4
1957
XL822 : w/o while searching along the Tusan Valley for the wreckage of 66 Sq Belv+