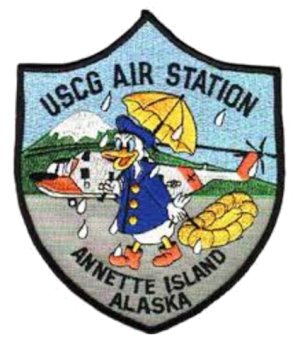 Established March 14, 1944 Coast Guard Air Station Annette was located on Annette Island, Alaska
By 1964 used two HH-52A helicopters and three HU-16E Albatross amphibious aircraft. In 1966 one HU-16E was replaced with a third HH-52A. In 1972 both the HU-16E and HH-52A were replaced by HH-3F Pelican helicopter.
The station was relocated to
Sitka
, Alaska in 1977, which was more centrally located in the Southeastern Alaska operating area.
Models
Coast Guard Air Station Annette List of helicopters
C/N
Version
Built
In this Org
In other Org
62-074
hh-52a
1964
1393 : Sikorsky S-62C c/n 62-074, ff?; del USCG as HH-52A Seaguard 1393, Annette +

62-096

w/o 1975

hh-52a
1966
1411 : USCG d/d 17Feb66 CGAS Annette; storage to ARSC 26Jul68

TF-GNA

62-113
hh-52a
1967
1425 : asg CGAS Annette, Alaska; Also used as training aide at the CG AD "A" sc+

61-629
hh-3f
1467 : crashed in Hollis Pass while on a MEDEVAC out of CGAS Annette AK. Pilot R+

- 1467

61-638
hh-3f
1476 : aug73-Mar74, flew in and loved this helicopter at USCGAS Annette Island Al+

61-661
hh-3f
1484 : 1973- asg CGAS Annette Island, Alaska with 1476 and 1485

61-662
hh-3f
1485 : 1973-1974 I flew in this helicoper for 14 months while stationed at CGAS A+

61-663
hh-3f
1972
1486 : Sikorsky S-61R c/n 61-663, ff?; del USCG as HH-3F 1486, 26Jul72; xfer AVTR+