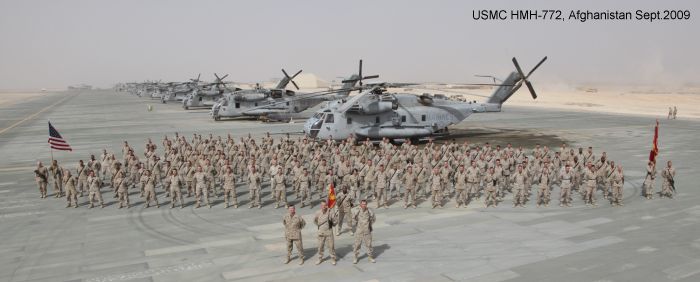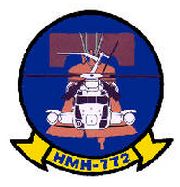 Hustler
, tail code
MT
:
1958 - Helicopter Transport Squadron 772 (HMR-772)
1962 - Marine Medium Helicopter Squadron 772 (HMM-772)
1971 - Marine Heavy Helicopter Squadron 772 (HMH-772).
1980-1983 Det.A formed from
HMH-769
1980 - Det.B formed from
HMH-777
1980-1995 the squadron operated the RH-53D
---
Feb78-Jun91, served with HMH-772. Reserve and Active Duty (FTS). Not sure if its the same squadron

1981-1983, Was stationed at NAS Dallas and the aircraft had HMH-777 on them. I was on the NATO cruise in 1982 when we lost a/c 402 in the North Sea. We also had 405 on board the USS Guadalcanal, which was damaged after being overloaded and attempting to take off. The left main landing gear was damaged and it was stored on the hangar deck for a time. 402 was lost with all hands, pilot Capt. William H. "Sonny" Coke, co-pilot Capt. James B.Huff, crew chief SSgt. Gary J. Lester, first mech Sgt. Timothy A. Creighton, and our chaplain Cdr. David R. Morrison. I have a memorial scholarship for them, Starship402.org .

The unit still had CH-53As when I left in 1985, Bob Johnson

1991, We transitioned to D models in Okinawa, Cpl PW May

end of '93-early '94 a crew went to Norfolk to do the acceptance inspections, and then the acft were flown back to Willow Grove

News of Marine Heavy Helicopter Squadron 772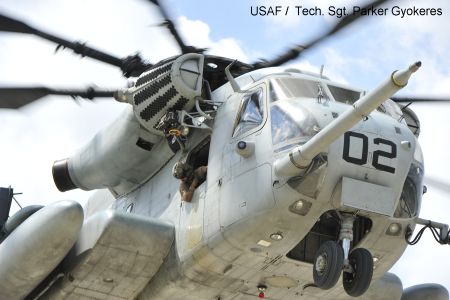 HMH-772 surpasses 40,000 mishap-free flight hours, 09-Mar-13 : ALEXANDRIA REGIONAL AIRPORT, La. -- Marines of Marine Heavy Helicopter Squadron 772 reached a milestone by surpassing 40,000 Class A mishap-free flight hours Feb. 1, 2013, transiting from Joint Base McGuire-Dix-Lakehurst, N.J., to San Antonio.
Marines HMH-772 arrive at JB MDL, 25-Mar-11 : Helicopters attached to the Marine Heavy Helicopter Squadron 772 officially touched down at Joint Base McGuire-Dix-Lakehurst March 18.