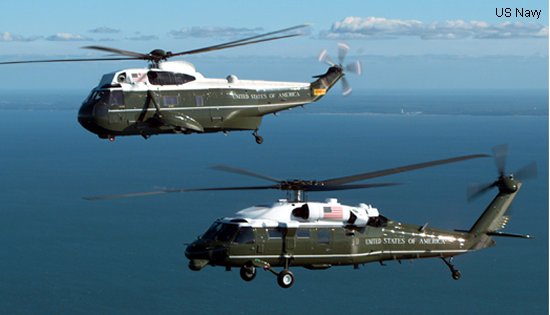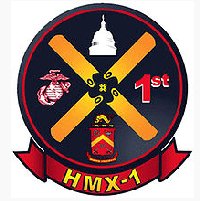 The Nighthawks
, Marine Experimental Helicopter Squadron One, MCAS Quantico, VA. Tail code
MX
. Created in 1947 as
Marine Experimental Helicopter Squadron 1
in the wake of the Bikini Atoll atomic bomb tests to evaluate combat effectiveness of helicopters and develop doctrine and tactics for future Marine Corps use.
After 1962, charged with sole responsibility of transporting the President of the United States, first sharing the task with the US Army and exclusively from 1976.
The helicopters use the call sign
Marine One
when the president is aboard. Currently assigned Sikorsky VH-3D and VH-60N ("White Tops") for the executive transport role and CH-53E and MV-22B ( all green livery ) for the support role.

Created on 1 Dec 1947 at Quantico to evaluate and test both helicopter airframes and tactics. HMX-1 more visible tasks since 7 Sep 1957, when President Eisenhowen took his first official helicopter flight has been to transport the US President, senior government figures and visiting Heads of State; since 1967 this role has been solely HMX-1s. This tends to eclipse its other important role of testing and training for the USMC.

Since 2013 HMX-1 received 14 MV-22B to replace its CH-53 and CH-46 fleet. The Green Osprey is painted in dark green livery and are used to transport support staff and members of the media during presidential trips. These V-22 does not have white-tops which are reserved for the U.S. President aircraft
---
1971-1975, HMX also flew three
SH-3G
s. One of which MX-15 stood alert duty at Anacostia as the White aircraft.Two VH-3A's Gold and red A/C and the SH-3G white aircraft. This was the only green side A/C to be assigned to the white side (Presidential). The A/C remained in its normal Marine green paint with troop seats inside. While this aircraft was assigned to Anacostia another SH-3G was pickup from the Navy at NAS Norfolk. There are pictures of MX-15 on this site at Quantico. When the VH-3ds went in service, the SH-3G'S went back to the navy. I was Crew Chief on MX-15 on both the green side and white side. Probably the only crew chief at HMX that can say that. MX-15, 148043 is now at the air museum at the old NAS Barbers Point Hawaii. Bill Kennedy, SGT USMC 1972-1976.

Models
Marine Helicopter Squadron 1 Operations
Dates
Operation
2014-mar

-24

2014-mar

-25

NSS 2014