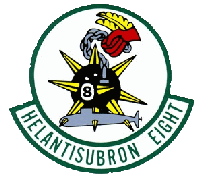 Established in June 1956, they flew the HSS-1 (SH-34G/J) Sea Bat for West Pacific deployments including combat rescue missions in Vietnam and Apollo space program support. They were decommissioned and recommissioned again in 1969 now with the SH-3D Sea King which later changed to the SH-3H variant. In 1993 they transitioned to the SH-60F/HH-60H Seahawk.
Redesignated Helicopter Sea Combat Squadron Eight (
HSC-8
) in 2005 when changed their Seahawks to the MH-60S variant.
---
I checked into Helasron 8 in June of 1956 at Ream Field, Imperial Beach, CA and was fortunate to have served the squadron as flight deck aviation electrician trouble shooter during its deployment aboard CVS-37 Princeton to WestPac 1957-58, flag ship of Task Force 77.7. HS-8 was the first Squadron to deploy with the HSS1 Sikorsky anti-submarine helicopter and the first to deploy in the Pacific with what was the new 4 channel auto stabilization system by Lear

Also Checked In, Just before Deploying on the Princeton , I transferred to HS 8 from
HS-4
, just returning from a Far East Cruise on the USS Boxer CVS21 . They Needed Plane Capts ,So I Volunteered to Sign On ,My A/C in HS4 was Side

1956, I was the one who transfeered to HS-8 from HS-4. I was a ADR3 Plane Capt of VB 8 ,HS-4 was the First to deploy with 16 HSS-1s on the USS Boxer CVS21 , HS 8 was being formed as we were completing our 6 months back to Ream Fld Ca. We left 2 birds off at Ford Island For HS-6 , They lost 2 on the way over to Relieve us. William L Fury ADC retired

May57, I reported to HS-8 at Ream Field fresh out of Photographer Mate School as a PHAAN. They had no photo equipment, so I just maintained flight log books until we deployed to Princeton in July for WESTPAC cruise. As I recall we lost at least one helo at sea (watched from the 07 level as they dumped equipment), and lost another in the jungle in Ceylon when we were delivering relief supplies we had picked up in Singapore. I transferred to COMDESFLOT ONE in January 1958.

Apr58 I reported to HS-8 fresh out of boot camp. Made two far east cruises with the squadron, one aboard the USS Hornet (CVS-12) and one aboard the USS Bennington (CVS-20). I was a 2nd class ADR and plan captain when I left the squadron in July 1961

1959-1963, I was a YN2 in HS-8 Admin. Joined the squadron after completing boot camp while the squadron was deployed on the USS Hornet (CVS-12) and made two subsequent deployment with the squadron aboard the USS Bennington (CVS-20).

Late 1970-end 1972, I was a plane captain; my MOS AO-3; nick name was "Caveman". My helicopter at the time was 505; the helicopters were designated as SH-3 Sea Kings; I believe we flew 2 models at the time one was the "A" model and the other was the "D" model. This was a great squadron with fantastic people, many for me are still a fond memory and for sure, some of the things we did still bring me a huge smile. We were station at Imperial Beach (NAS Ream Field). We made a couple of WESPACs as well as other shorter deployments including (a small but important part) in the Apollo missions (primary pickup squadron at the time was HS-4, our sister squadron). We were deployed on several ships including the "Hornet", "Tico", Iwo Jima and other ships. I was fortunate to be a part of the squadron shortly after it was "recommissioned". The squadron published a news letter called the "Up-Duck"; short blurbs and info about the squadron, personnel and other items. Our primary mission at the time was anti-submarine warfare, we also performed "plane guard" missions during flight ops as well as SAR flights in "Yankee Station" Viet Nam. One past CO for the squadron, as I recall, was Cmdr. Wright, a grandson and great nephew of Orville & Wilbur Wright. I have photos I will try to find and post. Best regards to all HS-8 Brothers & Sisters.

1971-72, I was an ADJ2 in HS-8 Power Plants. We made two WESTPACs during that period on the USS Ticonderoga (CVS-14). In 1971 we were in Subic Bay, Singapore, Hong Kong, then Tonkin Gulf, Sasebo and Yokosuka. In 1972 we hit Subic Bay, Hong Kong, Gulf of Tonkin and Sasebo. I was discharged in August 1972.

Apr73-Nov75, Served under CO's Caine, Silva, and Coats in HS-8. Was aboard when we lost Andy. Worked most of the time for "No-Ass" Arlie Plemmons in 1st Lt.'s Office because I never changed from seaman to an airdale. Cdr Coats took the hit for losing Andy, but scuttlebutt has it that he was doing as he was ordered. With the shortage of parts, we seldom had all of our birds available. You can blame the Pre-Reagan Congress for that. WestPac 75 was still amazing! We spent more of our time in Subic, with stints in Yakouska, HK, and pining to make it home. USO show aboard the Kitty Hawk in November. I never lost my admiration at seeing a wave-off from Vulture's Row. Tomcats, Phantoms, Vigilantes.....

Thanks for the post and serving our country. I was in the VS- 38 ReadyRoom and remember losing Andy and watching it . Tragic loss. RIP Andy 🙏♥️

1975 I was stationed on board USS Kitty Hawk deployment and a good ship mate lost his life while helo was preparing too launch he took my place under the landing gear to do his job seconds later Andrew J Wantulok ams3 was gone but the memory has not lets pray for the fallen

I was the plane captain of the Helo when that accident that took the life of Petty Officer Wantulok, it was a multi plane launch and I think we were working 14 hours days. For a 18 year old, it a day I will never forget.

May75, stationed at least at NAS Imperial Beach, Ream Field

1981-83, I was an AT3 with this unit, west packing with USS Constellation (CV-64), USS Ranger (CV-61), and USS Kitty Hawk (CV-63), What a great time in my life. ASW warfare, and rescue, We received many awards and a visit from the president Regan, Casper Weinberger, and others for a show for the PI. Some tents moments on the flight deck, a few fires. Best times were hopping down the flight deck under the blade wash as our birds left the deck. Pretty cool

1983-1986, I was an ax with hs-8 and served aboard the
USS Ranger
(CV-61) and the USS Constellation. I was shop supervisor. I also worked as flight deck chief and was qualified to turn up the engines. enjoyed my tenure.

1984-1986, I was attached to HS-8 at NAS North Island, CA. Was a both search and rescue swimmer and crew chief and deployed several times on the
USS Constellation
(CV-64). I was the rescue swimmer when we rescued four EA-6 Prowler crewman that ejected after a crash landing on the flight deck.

C/N
Version
Built
In this Org
In other Org
58-227
hss-1
1956
141581 : Sikorsky HSS-1, c/n 58-227, ff?; del US Navy as HSS-1, 141581, 13Mar56; w/+

61-037
hss-2
148965 : 27feb89 pictured on USS Constellation (CV-64) as NK-611/HS-8 lowering the +

IN535 : Indian Navy 2007, UH-3H type

61-038
hss-2
148966 : USN; 1980 pictured as /NL-720 HS-8 CVW-15 USS Kitty Hawk (CV-63) deploying+

N611CK : Croman Corp from 2003
: Nov18 as Croman SH-3H (Croman Corp bought the aircraft type certificate) a+

61-043
hss-2
148971 : USN; conv SH-3G; conv SH-3H; 10feb82 pictured as /NG-611 HS-8 USS Constell+

61-066
hss-2
148992 : USN; conv SH-3H; HS-8 w/o 16mar81

61-170
hss-2
149901 : USN; SH-3A HS-8 w/o 26mar68

61-176
hss-2
149907 : USN; SH-3A HS-8 w/o 18dec64

61-178
hss-2
149909 : USN; SH-3A HS-8 w/o 12jan67

61-181
hss-2
149911 : USN; SH-3A HS-8 w/o 15aug63

61-246
hss-2
151540 : USN; SH-3A HS-8 w/o 09jan67

61-399
sh-3d
154109 : USN; HS-8 w/o 03jun72

61-400
sh-3d
154110 : USN; HS-8 w/o 03nov75

61-401
sh-3d
154111 : USN; HS-8 w/o 21feb79

70-662
sh-60f
164088 : SH-60F HS-8 / NG-612

70-1682
sh-60f
164445 : SH-60F HS-8 / NG-611

6044 : USCG MH-60T; ex US Navy SH-60F 164445
: To AUTEC to assist with Hurricane Dorian relief operations.

70-1684
sh-60f
164447 : US Navy in 1993 /NK-613 HS-8 ; 2007 /NF-623 HS-14

70-1685
sh-60f
164448 : SH-60F HS-8 / NG-614

70-1809
sh-60f
164620 : SH-60F HS-8 / NG-616