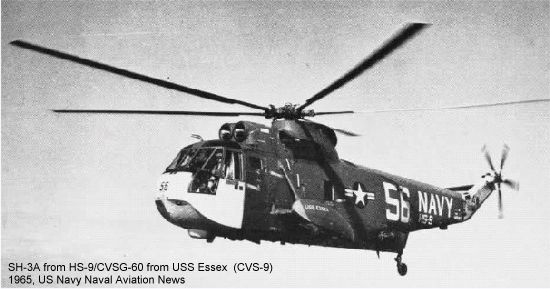 Original S-61 version designed as an Anti-submarine warfare helicopter for the US Navy. Redesignated
SH-3A
in 1962. Prototype XHSS-2 first flew on March 11 1959. YHSS-2 trial airframes follow until HSS-2 entered service in 1961.
Powered by a pair of T58-GE-8B turbine engines (1250 shp) was the first helicopter to incorporate an automatic blade fold system but most important the first one to combined in a single airframe the sensors and weapons to hunt and kill submarines.
Manufacturer designation was
S-61B
: 1 XHSS-2, 9 YHSS-2, 210 HHS-2 and 35 SH-3A built. Replaced in production line by the
SH-3D
Many converted later to
VH-3A
(VIP),
HH-3A
(rescue),
RH-3A
(Minesweeper),
SH-3G
(cargo) and SH-3H (upgraded asw).
List of Operators of Sikorsky HSS-2 Sea King
From
Organisation with model HSS-2 Sea King
1961
1962
1972
1973
1980
2007
2010
Unknown!
Help


Construction Numbers on database of HSS-2 Sea King