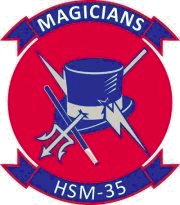 Magicians, tail code
TG
, is the first composite squadron equipped with both manned and unmanned rotary-wing aircraft and also the first to support
littoral combat ships
of the Pacific fleet.
Reestablished on May 2013. Previously served as
HSL-35
, which was deactivated in 1992.
News of Helicopter Maritime Strike Squadron Three Five
One Year for USS Fort Worth, 24-Nov-15 : USS Fort Worth (LCS 3), a Freedom class Littoral combat ship with a MH-60R and an UAV MQ-8B Fire Scout aboard, surpassed the one-year mark on her scheduled 16-month rotational deployment to Singapore
Magicians reborn, 03-May-13 : CORONADO, Calif. by NNS - Helicopter Maritime Strike Squadron (HSM) 35 became the first composite expeditionary helicopter squadron to include both the world's most technologically advanced helicopter; the MH-60R Seahawk and the MQ-8B Fire Scout Vertical Take-off and Landing Tactical Unmanned Aerial Vehicle (VTUAV); during an establishment ceremony today on Naval Air Station North Island.
New Helo Squadron Will Fly Fire Scouts, too, 27-Nov-11 : SAN DIEGO by Gidget Fuentes - The Navy's first composite squadron equipped with manned and unmanned rotary-wing aircraft for expeditionary missions will take root in San Diego next year.
C/N
Version
Built
In this Org
In other Org
mh-60r
166568 : Oct13 HSM-35 /TG-30

mh-60r
167006 : Feb14 HSM-35 /TG

mh-60r
167008 : Feb14 HSM-35 /TG-

70-3879
mh-60r
167050 : USN; Apr13 HSM-35 /35 CAG; Mar14 still

mh-60r
167052 : Oct13 HSM-35 /TG-32

mh-60r
167071 : USN; Sep14 HSM-35

mh-60r
168080 : USN; Mar14 HSM-35 /TG-34

mh-60r
168081 : USN; May14 HSM-35 /TG-37

mh-60r
168095 : USN; Aug15 HSM-35 /TG-41

N-21
mq-8b
168445 : USN; Apr14 HSM-35

N-22
mq-8b
168446 : USN; Aug15 HSM-35

N-29
mq-8b
168453 : US Navy; as HSM-35 /47 on USS Fort Worth (LCS 3) moored in Changi naval +
: 03jun15 pictured as HSM-35 /47 with USS Fort Worth (LCS 3) underway the So+

mq-8c
168459 : USN; Jun14 HSM-35