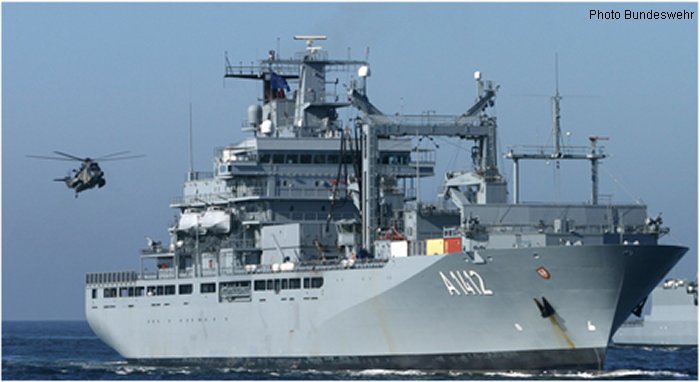 The
Type 702 Berlin class replenishment ships
carry fuel, provisions, ammunition and other material and also provide medical services (43 hospital beds).
Onboard there are 84 Containerplaces. Total capacity of loading: 7600t marine diesel, 490t aviation fuel, 126t lubricating oil, 71 t boiler feed water, 100 tonnes of consumer goods, 1075 t goods and 230 tonnes of food
The Type 702 class ships are the largest vessels of the Deutsche Marine (German Navy) and called
Einsatzgruppenversorger
(EGV) which can be translated as task force supplier though the official translation in English is combat support ship.

The Max option implies only aircraft of this model onboard
3 units
2010-jul-3
Port Visit
A1411 Berlin 3+4 July participated with Fleet Days Zeebrugge Belgium.
2013-may-3
Port Visit
A1412 Frankfurt am Main visit after exercise Joint Warrior
2013-sep-20
Commissioned
A1413 Bonn at Wilhelmshaven
2015-oct-5
Deployment
A1411 Berlin Operation Sophia departed Wilhelmshaven for 10 week deployment to EU operations in the Mediterranean, relieving FGS Werra in Augusta on 14 Oct. Returned to Wilhelmshaven a day early on 2 Feb 2016.
2016-jun
A1413 Bonn SNMG2 part of SNMG2
2017-mar-16
A1412 Frankfurt am Main Damaged her stern while entering Wilhelmshaven. Withdrawn from JW 17-1.
2017-mar-24
Deployment
A1413 Bonn Exercise Joint Warrior 17-1 Participated in Joint Warrior 17-1, in Scottish Training Areas. Flagship of NATO SNMG2
2018-sep-6
Deployment
A1413 Bonn disembarked MFG3 Sea King 89+57 for visit to Helioperations at Osprey Quays, Portland.
2018-sep-7
Port Visit
A1411 Berlin visited HMNB Portsmouth to replenish own stores.
2019-jun-13
Deployment
A1411 Berlin BALTOPS 19 Replenishment at Sea with USS Fort McHenry in Baltic, during BALTOPS 19.
2019-jun-19
Deployment
A1413 Bonn BALTOPS 19 Replenishment at Sea with ORP General K. Pulaski in Baltic, during BALTOPS 19.