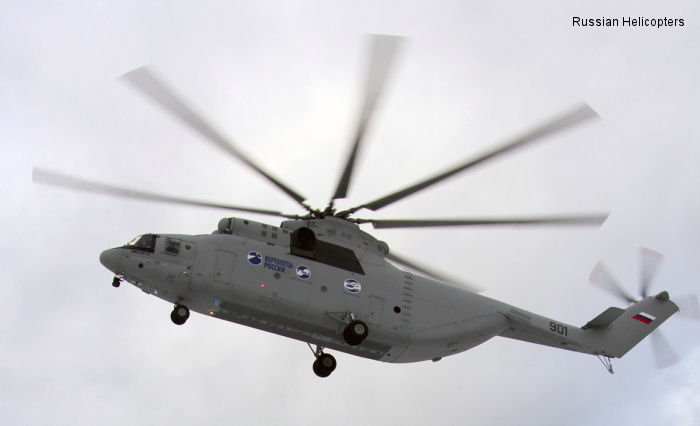 The Mi-26 first flew on December 14, 1977 as the replacement of the Mi-6 Hook and is still the biggest operational Helicopter of the World. Can carry up to 150 troops ( 90 usually ) or lift up to 20 tons, a similar capacity of a Lockheed C-130 Hercules aircraft. The Mi-26 was the first helicopter to operate successfully with an 8 blades main rotor.
Basic variants includes the
Mi-26MS
for medical evacuations (MedEvac), the
Mi-26TM
flying crane and the
Mi-26TZ
fuel tanker. Russian Helicopters launched production of
Mi-26T2
in 2015
Specifications Mi-26 Halo
Derivatives & Versions of Mi-26 Halo
Model
Year
History
RusHeli Mi-26T2

2015
2015
The Mi-26T2 is a modernised version of the Mi-26T, equipped with the latest avionics, making it possible to cut the number of crew required and a ...

AVIC AHL

2020
2020
The Advanced Heavy Lift (AHL) helicopter is a joint development between Russian Helicopters and AVIC. Take-off weight will be about 38 tons, wh ...



List of Operators of Mi-26 Halo
Global Distribution of Mi-26 Halo