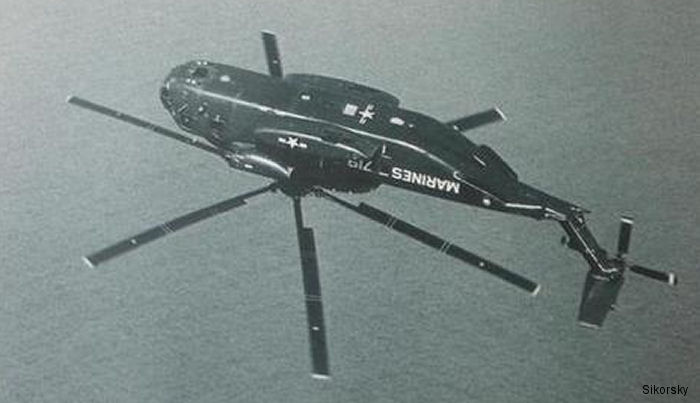 The Sikorsky S-65 is the western biggest helicopter and trace back to the 1962
US Marines Corps
Heavy Helicopter Experimental (HHX) competition. The twin engined S-65 was developed as a scaled-up version of the
S-61
but with the dynamic system of the
S-64 Skycrane
.
First flew on October 14, 1964 and this massive helicopter did it's first
loops and rolls
on March 1968 by a test pilot of the USMC.
Although dimensionally similar, the much more powerful three engined
Sikorsky S-80
entered service in 1981 with one more main blade rotor and tail making a 20° angle to offset the thrust required on the tail rotor to keep it straight.
More News ...


Derivatives & Versions of S-65 H-53
Model
Year
History
YCH-53A

1964
1964
The US Marine Corps contracted Sikorsky for four YCH-53A (S-65A) prototypes. Due to budget cuts and by mutual agreement, Sikorsky built only two ...

CH-53A Sea Stallion

1965
1965
Basic assault transport for the US Marine Corps with T64-GE-6 engines. 139 built, last 15 re-engined with two 3925 shp (2927 kW) T64-GE-413 engi ...

CH-53D Sea Stallion

1967
1967
Improved assault transport for the US Marine Corps; 126 built with two 3925 shp (2927 kW) T64-GE-413 engines.
Last flown by HMH-362 and retired in 2012

HH-53B

1967
1967
In 1966, the USAF awarded a contract to Sikorsky for development of a minimum-change CSAR variant of the CH-53A. It featured a retractable inlfi ...
The HH-53B first flew from Stratford, CT on 15 March 1967.

HH-53C Super Jolly

1967
1967
The HH-53C was a modestly-improved HH-53B CSAR variant. The most visible difference between the HH-53B and HH-53C was that the HH-53C dispensed w ...

CH-53C

1968
1968
The US Air Force obtained 20 CH-53C machines for general transport work, Missile Site support, and aerial drone recovery. The CH-53C was apparent ...

S-65C-1

1968
1968
Two pattern aircraft for German Army (HEER) for the CH-53G programme to used for trials and homologations by Luftwaffe WTD61

S-65C-2

1969
1969
Sikorsky created the S-65C-2 model for Austria. It is sometimes refered to as the S-65Oe. Two were built and delivered in Sep 1971 and were wit ...

S-65C-3

1969
1969
In 1968 Israel ordered (35) Sikorsky S-65C-3 (similar to USAF HH-53C) for CSAR and transport duties. Deliveries began in 1969 and were completed ...

VFW CH-53G

1970
1970
Sikorsky provided two CH-53G to West German Heeeresgeflieger and a further 20 knock-down kits to VFW-Fokker for license production with VFW c/ns. ...

VH-53D

1970
1970
Sikorsky produced two VH-53D as Executive Support transports for HMX-1. They can be configured to transport personnel or cargo. As such, they w ...
Sikorsky painted two CH-53D as white top Executive Support transports for HMX-1 in addition to two other CH-53Ds in overall field green. Tests we ...

RH-53A

1971
1971
15 CH-53A reengined with two 3925 shp T64-GE-413 engines for the Airborne mine countermeasures (minesweeper) role for the US Navy. They were us ...

S-65-40

1971
1971
Planned civil airliner version of Sikorsky S-65 seating 42 passengers in airliner style (2-2) seats. None built.

RH-53D

1972
1972
The RH-53D was the Airborne Mine Countermeasures (AMCM) variant of the Sikorsky S-65 configured for the detection, sweeping and neutralization o ...

S-80 H-53E

1974
1974
Improved, 3 engined version of the S-65 (H-53) Sea Stallion. Primarily a heavy lift workhorse, the General Electric T64-GE-416 turboshaft engines ...
The CH-53E first entered service with the USMC in 1981. In 2019 the fleet reached a major milestone by logging more than one million flight ...

HH-53H

1979
1979
Eight USAF H-65B/C upgraded by the Pave Low II program for the Combat Search and Rescue role. Later redesignated MH-53H

MH-53J

1980
1980
Further USAF H-65B/C/H upgraded by the Pave Low III program

TH-53A

1989
1989
USAF S-65 trainer version converted from former USMC aircraft

MH-53M Pave Low IV

1998
1998
USAF MH-53J upgraded by the Pave Low IV program. Introduced in 1998, aircraft received the IDAS/MATT (Interactive Defensive Avionics System/Multi ...