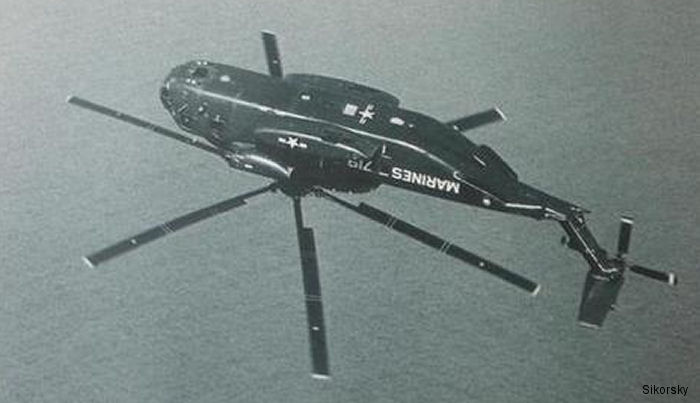 The Sikorsky S-65 is the western biggest helicopter and trace back to the 1962
US Marines Corps
Heavy Helicopter Experimental (HHX) competition. The twin engined S-65 was developed as a scaled-up version of the
S-61
but with the dynamic system of the
S-64 Skycrane
.
First flew on October 14, 1964 and this massive helicopter did it's first
loops and rolls
on March 1968 by a test pilot of the USMC.
Although dimensionally similar, the much more powerful three engined
Sikorsky S-80
entered service in 1981 with one more main blade rotor and tail making a 20° angle to offset the thrust required on the tail rotor to keep it straight.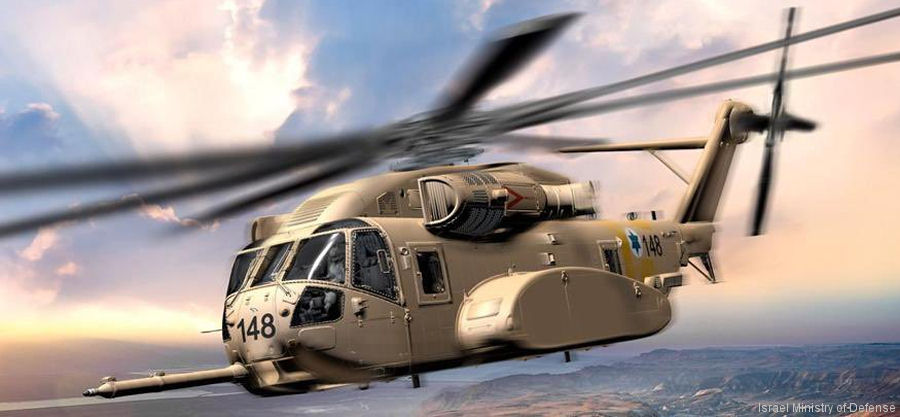 Israel Selects CH-53K, 26-Feb-21 : #Israel Israel MoD announced selection of the Sikorsky CH-53K King Stallion over the Boeing CH-47 Chinook as replacement of their heavy-lifting helicopters CH-53 Yasur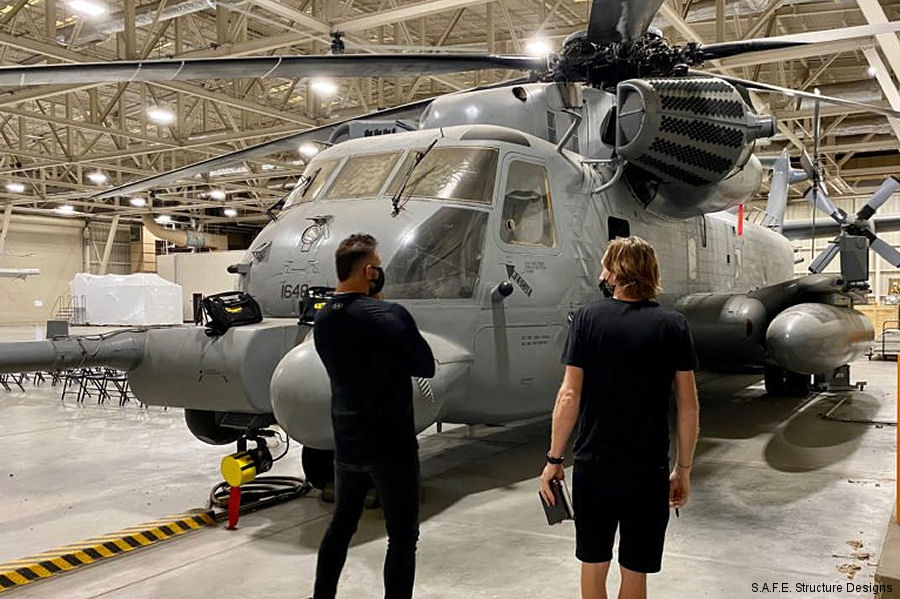 Fall Protection Platforms for Lackland AFB, 24-Sep-20 : #FallProtection S.A.F.E. Structure Designs to supply fall protection platforms for CH-53 helicopter at the USAF Maintenance Training facility at Lackland Air Force Base, Texas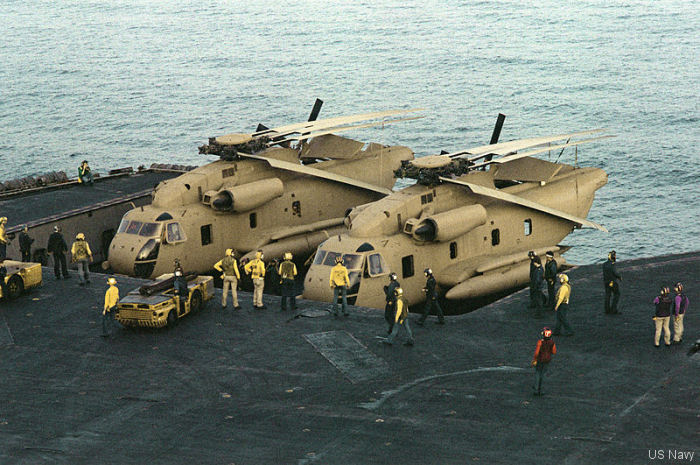 Operation Eagle Claw 40 Years Anniversary, 27-Apr-20 : #EagleClaw On November 4, 1979, militant Iranian students stormed the US embassy in Tehran and took 63 Americans hostage. On April 16, 1980 after numerous failed negotiations, President Jimmy Carter approved a plan to rescue the hostages using elements of all four branches of the military — Army, Navy, Air Force and Marines.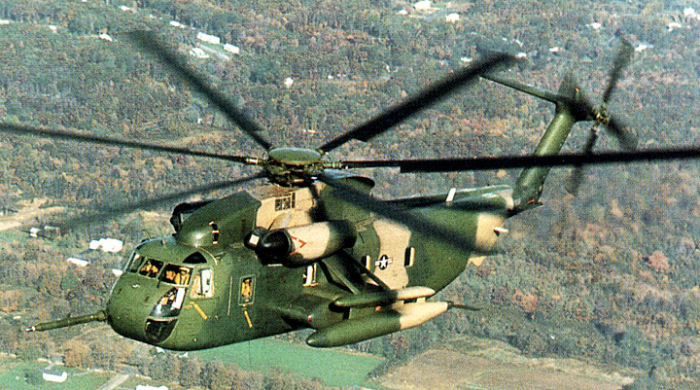 USAF Combat, Search and Rescue Evolution, 17-May-18 : #CSAR From the YR-4 rescue in Burma during WWII, through the HH-43 Huskie and HH-3E Jolly Green Giant in Vietnam, to nowadays Pave Hawks, the combat search and rescue will continue to evolve and grow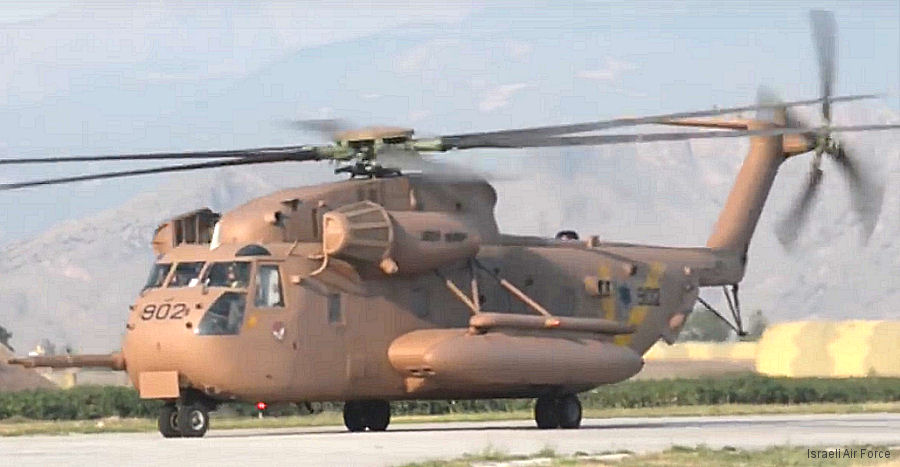 Spare Parts for Israel's CH-53D Fleet, 21-Jun-17 : Israel signed agreement with Sikorsky to supply spare parts and associated engineering services in support of the CH-53D Yas'ur helicopters operated by the IAF since 1969
Model
Year
History
YCH-53A
1964
The US Marine Corps contracted Sikorsky for four YCH-53A (S-65A) prototypes. Due to budget cuts and by mutual agreement, Sikorsky built only two ...

CH-53A Sea Stallion
1965
Basic assault transport for the US Marine Corps with T64-GE-6 engines. 139 built, last 15 re-engined with two 3925 shp (2927 kW) T64-GE-413 engi ...

CH-53D Sea Stallion
1967
Improved assault transport for the US Marine Corps; 126 built with two 3925 shp (2927 kW) T64-GE-413 engines.
Last flown by HMH-362 and retired in 2012

HH-53B
1967
In 1966, the USAF awarded a contract to Sikorsky for development of a minimum-change CSAR variant of the CH-53A. It featured a retractable inlfi ...
The HH-53B first flew from Stratford, CT on 15 March 1967.

HH-53C Super Jolly
1967
The HH-53C was a modestly-improved HH-53B CSAR variant. The most visible difference between the HH-53B and HH-53C was that the HH-53C dispensed w ...

CH-53C
1968
The US Air Force obtained 20 CH-53C machines for general transport work, Missile Site support, and aerial drone recovery. The CH-53C was apparent ...

S-65C-1
1968
Two pattern aircraft for German Army (HEER) for the CH-53G programme to used for trials and homologations by Luftwaffe WTD61

S-65C-2
1969
Sikorsky created the S-65C-2 model for Austria. It is sometimes refered to as the S-65Oe. Two were built and delivered in Sep 1971 and were wit ...

S-65C-3
1969
In 1968 Israel ordered (35) Sikorsky S-65C-3 (similar to USAF HH-53C) for CSAR and transport duties. Deliveries began in 1969 and were completed ...

VFW CH-53G
1970
Sikorsky provided two CH-53G to West German Heeeresgeflieger and a further 20 knock-down kits to VFW-Fokker for license production with VFW c/ns. ...

VH-53D
1970
Sikorsky produced two VH-53D as Executive Support transports for HMX-1. They can be configured to transport personnel or cargo. As such, they w ...
Sikorsky painted two CH-53D as white top Executive Support transports for HMX-1 in addition to two other CH-53Ds in overall field green. Tests we ...

RH-53A
1971
15 CH-53A reengined with two 3925 shp T64-GE-413 engines for the Airborne mine countermeasures (minesweeper) role for the US Navy. They were us ...

S-65-40
1971
Planned civil airliner version of Sikorsky S-65 seating 42 passengers in airliner style (2-2) seats. None built.

RH-53D
1972
The RH-53D was the Airborne Mine Countermeasures (AMCM) variant of the Sikorsky S-65 configured for the detection, sweeping and neutralization o ...

S-80 H-53E
1974
Improved, 3 engined version of the S-65 (H-53) Sea Stallion. Primarily a heavy lift workhorse, the General Electric T64-GE-416 turboshaft engines ...
The CH-53E first entered service with the USMC in 1981. In 2019 the fleet reached a major milestone by logging more than one million flight ...

HH-53H
1979
Eight USAF H-65B/C upgraded by the Pave Low II program for the Combat Search and Rescue role. Later redesignated MH-53H

MH-53J
1980
Further USAF H-65B/C/H upgraded by the Pave Low III program

TH-53A
1989
USAF S-65 trainer version converted from former USMC aircraft

MH-53M Pave Low IV
1998
USAF MH-53J upgraded by the Pave Low IV program. Introduced in 1998, aircraft received the IDAS/MATT (Interactive Defensive Avionics System/Multi ...