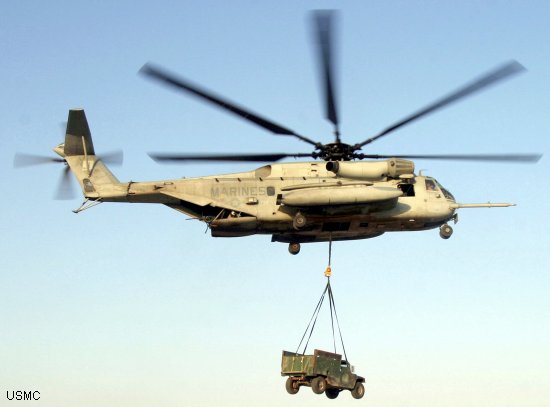 Improved, 3 engined version of the S-65 (H-53) Sea Stallion. Primarily a heavy lift workhorse, the General Electric T64-GE-416 turboshaft engines and revised 7 bladed main rotor have given it almost twice the lift capability of the 1960s H-53 Sea Stallions and Super Jollys it was intended to replace. In 2004, it was still the western world's largest production helicopter. First flew as the YCH-53E on 1 March 1974 at Sikorsky's Stratford plant. The MH-53E Sea Dragon is a mine countermeasures version of the basic airframe.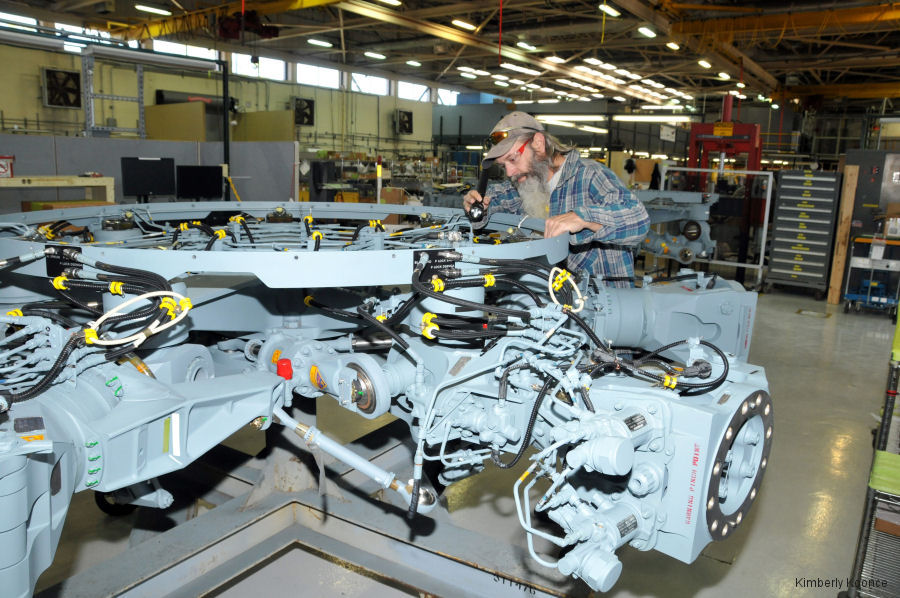 M/CH-53 Rotor Head Production at FRCE, 12-Mar-20 : #FRCE Fleet Readiness Center East (FRCE) at MCAS Cherry Point in partnership with Sikorsky produce and repair H-53 helicopter rotor heads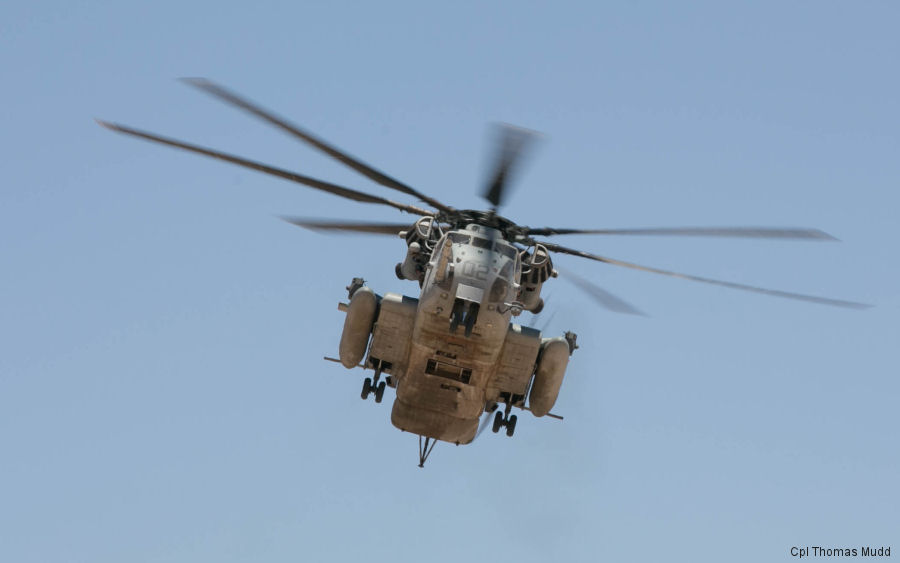 FRCE Produces CH-53 Part to Fill Supply Gaps, 09-Feb-20 : #FRCE US Navy Fleet Readiness Center East (FRCE) manufacturing department stepped in and produced an H-53 part when supply system shortfalls led to a work stoppage on two helicopters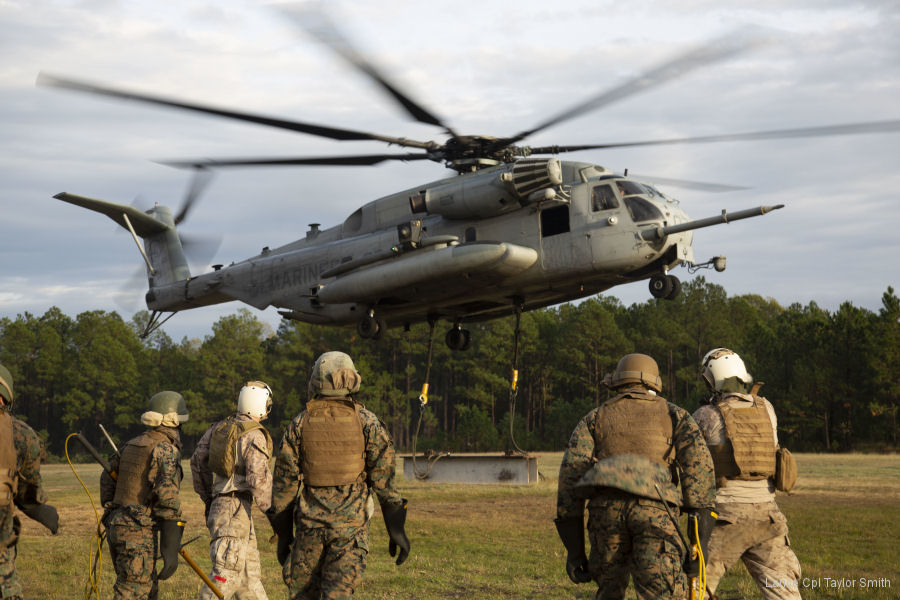 Landing Support Specialist Course at Camp Lejeune, 05-Dec-19 : #Course US Marine Corps' Basic Landing Support Specialist Course class learn how to perform in a helicopter support team (HST) at Condor Range at Marine Corps Base Camp Lejeune, North Carolina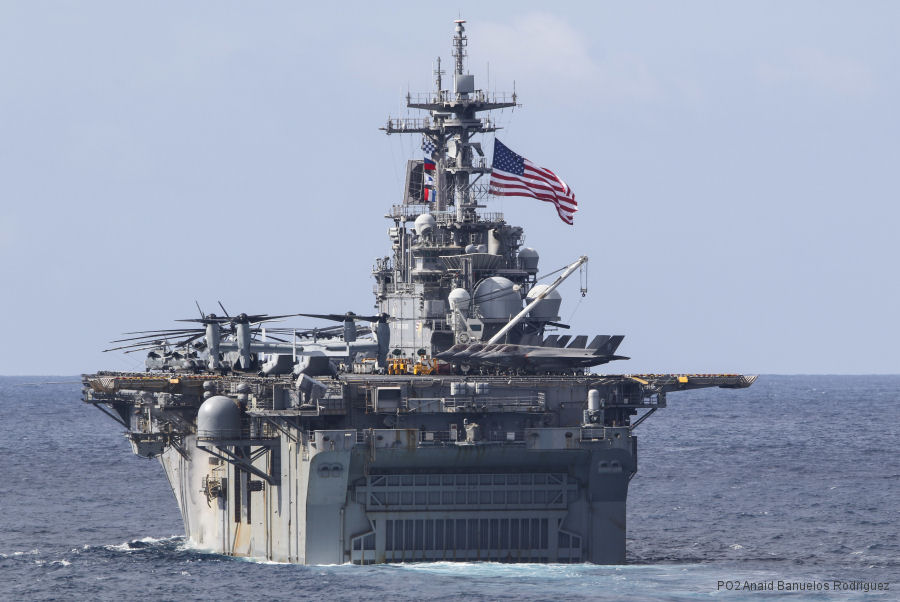 Air Assault Company of a Marine Expeditionary Unit, 30-Jul-19 : #AirAssault A review of the Air Assault Company part of the 31st Marine Expeditionary Unit (31st MEU) deployed aboard the USS Wasp (LHD 1) for exercise Talisman Sabre 2019 in the Coral Sea off the Australian coast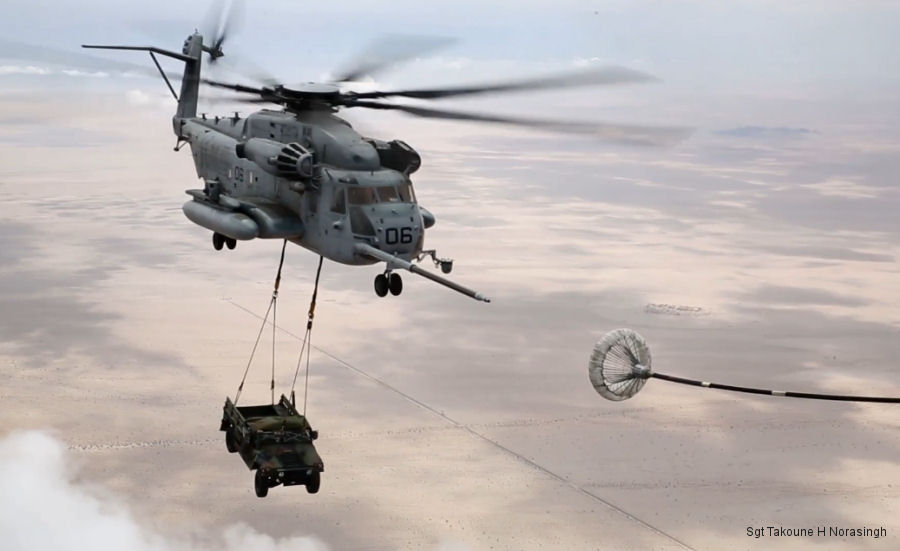 Marines' CH-53E Reaches One Million Flight Hours, 10-Jul-19 : #SuperStallion The CH-53E Super Stallion fleet operated by the US Marine Corps logged more than one million flight hours since entered service in 1981. 142 of them remain in service and are all scheduled to be replace by the new CH-53K by 2032
Model
Year
History
YCH-53E
1974
CH-53E Super Stallion
1980
MH-53E Sea Dragon
1982
Originally requested by the US Navy as their main Airborne Mine Countermeasures (AMCM) helicopter but also used in the most common heavy-lift tr ...

S-80M-1
1989
The S-80M-1 export variant of the MH-53E is the only variant of the S-80 series that found a foreign buyer, with 11 obtained by the Japanese Mari ...

CH-53K King Stallion
2015
Formelly known as CH-53X, the CH-53K is a general redesign of the CH-53E with new engines, new cockpit layout and a wider cargo hold to allow it ...
The CH-53K programme suffered a number of difficulties, including the need to re-design the gearbox, which delayed the first flight of the YCH-53 ...
The CH-53K is Sikorsky proposal for the German Heavy Lift Helicopter replacement program. First helicopter scheduled for official delivery to ...

List of Operators of Sikorsky S-80 H-53E
| | |
| --- | --- |
| From | Organisation with model S-80 H-53E |
| 1979 | |
| 1983 | |
| 1986 | |
| 1989 | |
Construction Numbers on database of S-80 H-53E or its versions