Known as
HH-139A
in italian service, they are the first examples of the AW139M dedicated military variant to be delivered. Ten aircraft will be the interim solution for supplement ageing AB.212 and HH-3F until a final SAR replacement is chosen.
VH-139A
VIP variant which replaced the
Agusta SH-3DTS
also listed here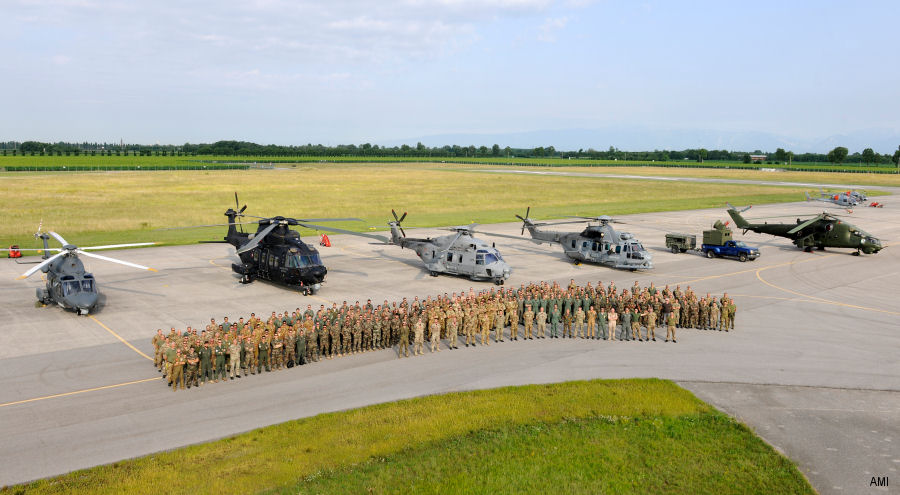 APROC 2017, 28-Jun-17 :

Italian air force held the Air Centric Personnel Recovery Operatives Course (APROC), the main training event in Europe in combat search and rescue.
AgustaWestland and AMI Training Agreement, 05-Aug-14 : AgustaWestland is pleased to announce that it has signed a cooperation agreement with the Italian Air Force for training services aimed at further strengthening their already well-established cooperation through the future set up of joint training services.
AW139M in South American Tour after FIDAE, 25-Mar-14 : FIDAE 2014 AgustaWestland, a Finmeccanica company, is pleased to announce that an Italian Air Force AW139M is about to start a four week demonstration tour throughout South America following its appearance at FIDAE 2014 in Chile this week.
C/N
Built
ID In this Organisation
In other Org


31420
2012
CSX81798: AMI HH-139A type 15-42 d/d Jul12

31403
2012
MM81796: AMI HH-139A type 15-40 d/d Jan12

31413
2012
MM81797: AMI HH-139A type15-41 d/d Aug12; pictured (top) at 81 Centro+

31420
2012
MM81798: 09jul12 pictured (pic1) at Farnborough airshow, UK. AW159 Z+

31427
2012
MM81799: AMI HH-139A type 15-43 Jul12

31434
2012
MM81800: AMI HH-139A type 15-44 Jul12

31439
MM81801: AMI HH-139A type 15-45 Jan13

31448
MM81802: AMI HH-139A type 15-46 Jan13

31469
2013
MM81803: AMI HH-139A type 15-47 Mar13

31481
2013
MM81804: AMI HH-139A type 15-48 May13

31489
2013
MM81805: AMI HH-139A type 15-49 Jul13

31404
2012
MM81806: AMI VH-139A VIP type, Repubblica Italiana

31408
2012
MM81807: AMI VH-139A VIP type Repubblica Italiana d/d Aug12, 31 Sto+

31521
2013
MM81822: AMI HH-139A type 15-50 Dec13

31526
2013
MM81823: AMI HH-139A type 15-51 Dec13

31528
MM81824: AMI HH-139A type 15-52 2014