Here we list test serial airframes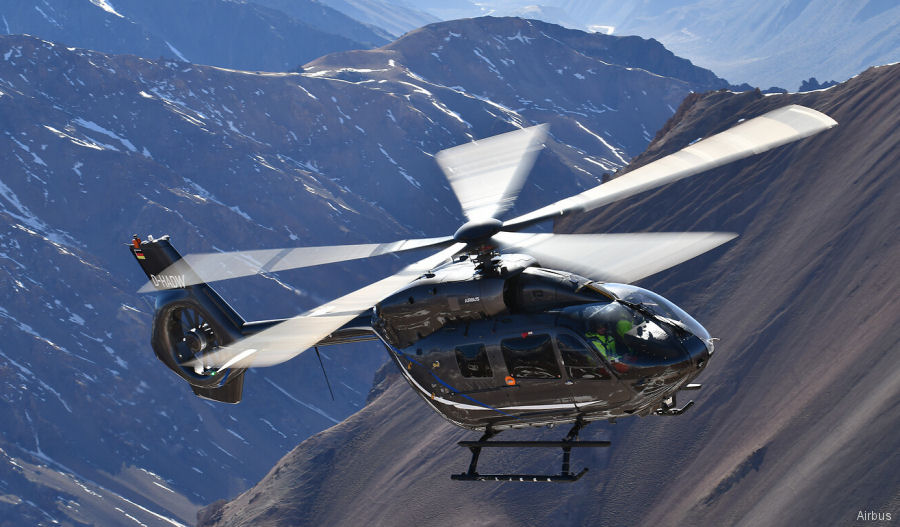 H145D3 Virtual Reality Simulator, 26-Jul-22 : #simulator Airbus Helicopters and VRM Switzerland to develop the world's first H145 5-bladed helicopter Virtual Reality simulator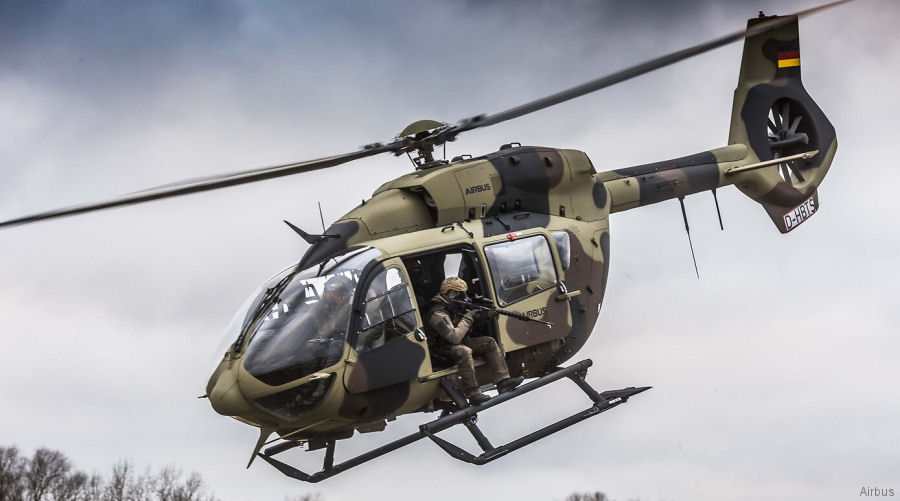 H145M LUH SK Proposal for Bundeswehr, 23-Jun-22 : #H145M "H145M LUH SK", a team of German aerospace and defence companies lead by Airbus, is offering the 5-bladed H145/Bk117D3 for the Bundeswehr light support helicopter requirement.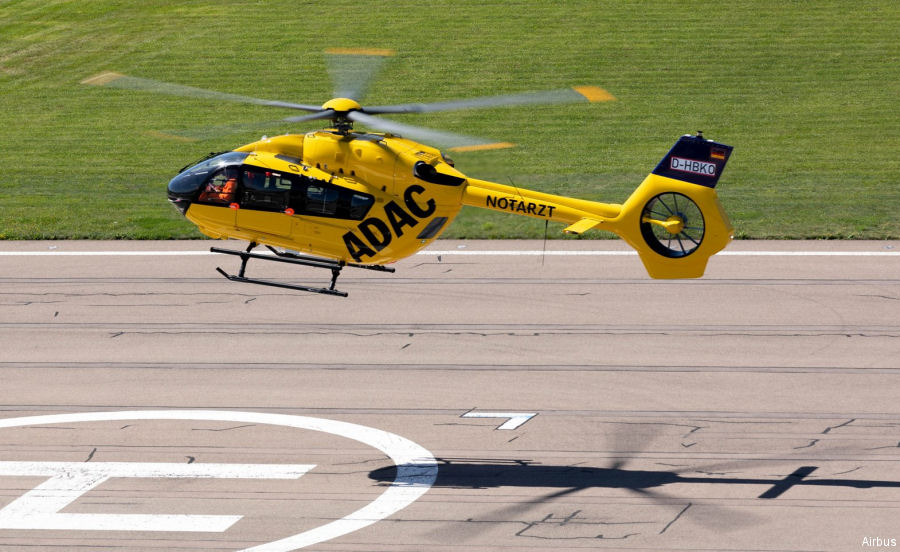 German ADAC First Two Five-Bladed H145, 17-Aug-21 :

#FiveBladed ADAC Luftrettung received its first 2 five-bladed Airbus H145 / BK117D3 five-bladed helicopters. The german air ambulance operator will upgrade its current fleet of 14 four-bladed H145 / EC145T2 to the new configuration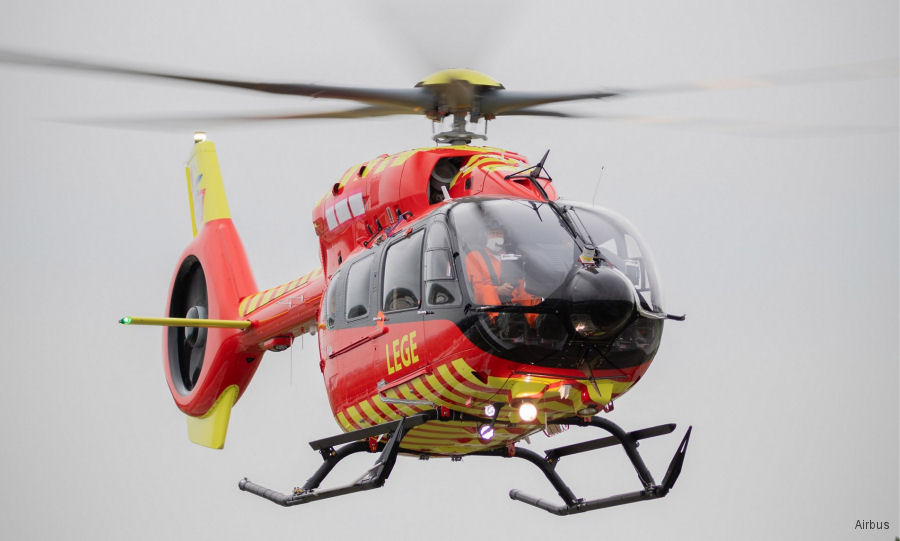 First Five-Bladed H145 Delivered, 02-Oct-20 : #LaunchCustomer Norwegian Air Ambulance Foundation is the launch customer of the new five-bladed Airbus H145 / Bk117D3 helicopter in medical configuration. The helicopter, fitted with the Helionix avionics suite, will replace an old EC145T1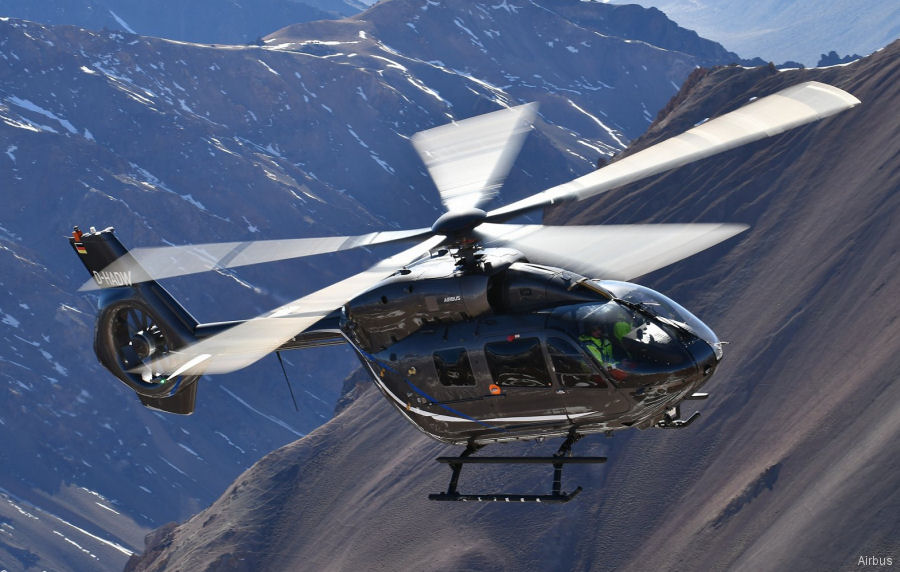 EASA Certification for Airbus Five-Bladed H145, 19-Jun-20 : #Certificate The Airbus H145 with main rotor of five blades received the European Union Aviation Safety Agency (EASA) certification covering single-pilot and instrument flight rules (IFR) and single engine operations (Cat.A/VTOL) along with night vision goggles (NVG) capability
C/N
Mod
Built
ID In this Org
In other Org


21010
2020
?: Airbus Germany

D-HNHW: Milestone Jan21


---

D-HNHW: NHV Jan21, for Luftwaffe


---

D-HNHW: Luftwaffe HSG-64 frp, Jan21?, op by NHV


---

Jesenwang, Bavaria, flew north-east-bound


---

Laupheim, Baden-Württemberg, flight over Ehingen and L+

20070
h145
D-HADC: bk117d3 Airbus Germany f/f Donauwörth

JA02BK: Kawasaki from Aug18, test serial D-HADJ

21001
2020
D-HADV: Airbus Germany Aug20; The first serial five-bladed H145

LN-OOA: launch customer


---



20002
h145
D-HADW: bk117d3 Mar19 fitted with 5-blades main rotor announced at Heli Expo+

D-HADW: Eurocopter Germany 2012


---

pictured (pic1) being tested by US Army at Robert Gray+


---

01/08mar13 in Las Vegas, NV for Heli-Expo 2013


---

Mar13 began US demo tour


---

pictured (pic2) at London Helitech 2013


---

pictured (pic3) at Donauworth

21049
2021
D-HBTG: Airbus Germany 2021

LV-KAE: Helicopteros Marinos d/d Nov21


---

pictured (pic1)


---




---



21009
2020
D-HCBP: Airbus Germany f/f 23dec20, for DRF

D-HXFA: DRF Luftrettung from Jan21, pictured on arrival to Op C+


---

Introduced to service at Pattonville


---

noted on the roof at Pforzheim

21005
2020
D-HMBF: Airbus Germany

D-HNHV: Milestone Dec20


---

D-HNHV: NHV Jan21, for Luftwaffe, pictured


---

D-HNHV: Luftwaffe HSG-64 frp, Jan21, op by NHV


---




---




---

flew this morning from Diepholz to Schuttorf and than v+

No longer with this org.