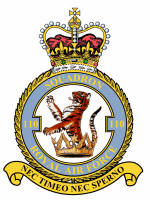 Formed 1 Nov 1917 with aircraft funded from India and took the name (Hyderabad), as a bombing unit. Moved to Far East in Mar 1942, where it disbanded as a transport unit with Valettas on 31 Dec 1957.
Reformed with Whirlwind HAR.4 on 3 Jun 1959 at Kuala Lumpur, when
155
&
194
Squadrons were amalgamated and renumbered. Moved to
RAAF
base at Butterworth in Sep 1959, where Sycamore HR.14s arrived in Apr 1960 and had replaced the Whirlwinds by Jul 1960. A detachment was sent to Brunei in Apr 1963 and following the introduction of the Whirlwind HAR.10 in Jul 1963, the whole unit moved to Singapore during Jan 1964 (frequently deploying detachments into Borneo, including single airframes to
Long Pasia
alongside Army
Scouts
), where it stayed until Nov 1967. Detachments in Borneo rotated frequently and moved within Borneo (eg the detachment at Labuan moved to Sibu and from
Bario
to
Nanga Gaat
, both in Sep 1965).
It received a boost in numbers on 1 Nov 1965 when some of the ex-
225 Squadron
Whirlwinds and crews were reassigned. On 6 Mar 1969 it moved to RAF Changi where it disbanded on 15 Feb 1971.

---
110 were moved to RAF Seletar in 1964 until the Changi move in 1969. Pilots from 110 did 3 weeks tours in Nangar Gaat, from 1964 till early 1967

110 Squadron List of helicopters

Help Us
C/N
Version
Built
In this Org
In other Org
13152
Sycamore 4
1953
XE311 : as 110 Sq /B pictured post-landing fire at Butterworth

13224
Sycamore 4
1954
XE322 : w/o 20 Mar 1961, crashed in river in Malaya after aborted take off, while +

13226
Sycamore 4
1954
XF266 : 194 Sq after Oct 1954; 110 Sq after 1960, still Sep 1965; struck off charg+

13239
Type 171 Sycamore
1955
XG508 : to 110 Sq

13373
Sycamore 4
1955
XG519 : 194 Sq; 110 Sq
: 24 Jan 1964 crashed in Malaya and burnt out, while with 110 Sq.

13376
Sycamore 4
1955
XG522 : w/o 4 Apr 1961, crashed in Pahang State, Peninsular Malaysia, while attemp+

13378
Sycamore 4
1956
XG538 : w/o 14 Sep 1960 rolled over on take off, while with 110 Sq in Thailand

wa 44
har.4
1954
XJ428 : HAR.4 110 Sq

wa106
har.2
1956
XJ760 : while operating with 110 Sq, made a forced landing in jungle on 10 Sep 196+

13413
Sycamore 4
1956
XJ918 : 110 Sq by Nov 1959; Metropolitan Communications Squadron ( MCS );32 Sq by +

wa144
har.2
1956
XK988 : 103 Sq; 110 Sq; 103 Sq / D

13438
Sycamore 4
1957
XL822 : Nov58 pictured in Cameron Highlands jungle after engine failure while wit+
: w/o while searching along the Tusan Valley for the wreckage of 66 Sq Belv+

13447
Sycamore 4
1957
XL825 : 28 Sep 1962 w/o in Kedah, Malaysia, when it sliced its own tail off during+

wa266
hcc.8
1959
XN126 : 110 Sq; 103 Sq; CFS(H); 22 Sq; CFS; 2 FTS

wa346
har10
1961
XP303 : 110 Sq/B by Jul 1963. /C by Apr 1967. w/o 24 Jan 1971 at Peak Alpha (Hong+

wa349
har10
1961
XP329 : (110 Sq ?)/C by Sep 1963

wa377
har10
1962
XP361 : 225 Sq; 110 Sq; 103 Sq; 22 Sq by 1981

wa386
har10
1962
XP398 : 225 Sq; 110 Sq; 103 Sq; 202 Sq; 1563 Flt to 84 Sq 1972.

wa410
har10
1963
XR478 : 103 Sq; 110 Sq; 230 Sq

wa414
har10
1963
XR482 : 103 Sq; 110 Sq; 103 Sq; 110 Sq; 28 Sq