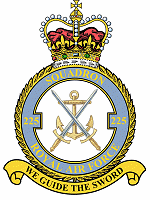 Formed from 481, 482 & 483
RNAS
Flights in Italy in Aug 1918 but was disbanded that Dec. It saw Army support service in WWII from Oct 1939 at
Odiham
when it formed from 614 Squadron, A Flight with Lysanders. It served in North Africa, Italy and France with Hurricanes and Mustangs before disbanding in Italy in Jan 1947.

On 1 Jan 1960, the
Joint Helicopter Unit
was raised to squadron status and 225 Squadron took on its Sycamore HR.14 and Whirlwind HAR.2 at Andover. It moved back to Odiham in May 1960 and received its more powerful and capable Whirlwind HAR.10 in November 1961. It sent 4 of its Sycamores to Kenya (transported out and back by RAF Beverleys) the same month to assist in relief operations for the severe flooding experienced. It retired its Sycamores and Whirlwind HAR.2 by Feb 1962. The unit was sent to the Far East to assist in the Borneo campaign, first to Singapore (Seletar - WSSL) in Nov 1963 and on to Sarawak (Kuching - WBGG) in Dec, with various detachments (such as
Simanggang
). It disbanded there on 1 Nov 1965, with airframes and personnel being reassigned between
103 Squadron
and
110 Squadron
.

C/N
Version
Built
In this Org
In other Org
13198
Sycamore 4
1952
XE317 : 118 Sq; 225 Sq; 118 Sq; CFS (H) / S-N

- G-AMWO : Reg G-AMWO ntu ? To RAF as XE317
- XE317 : may78 pres Newark Air Museum in CFS c/s coded S-N - photo - www.airport-da+
: Pres at Firbeck, Yorkshire present jul97 photo www.airport-data.com/aircra+
: under restoration at South Yorkshire Aircraft Museum, Doncaster by May17

13222
Sycamore 4
1954
XE320 : HR.14 Del RAF; CFS; APS Sylt; 225 Sq; CFS

13245
Sycamore 4
1954
XG500 : Tail rotor failure on landing 14 Dec 1961, a/c abandoned in place nr Bende+

13402
Sycamore 4
1956
XG507 : JEHU; MCS; 225 Sq; CFS (H)

13369
Sycamore 4
1955
XG515 : JEHU; MCS; 225 Sq; CFS (H)

wa110
har.2
1956
XJ764 : 225 Sq

13414
Sycamore 4
1957
XJ919 : 275 Sq; 225 Sq; A&AEE

wa347
har10
1961
XP327 : 25 Sep 1965 - while operating with 225 Squadron, crashed on a jungle hills+

wa352
har10
1961
XP332 : 225 Sq/E by May 1965

wa354
har10
1961
XP338 : 225 Sq; CFS (H); HDU; CFS (H)

wa355
har10
1961
XP339 : 225 Sq, 103 Sq, 32 Sq, Pryton Hill, Hadfield, Macclesfield.

- XP339 : to Bomber County Aviation Museum (Cleethorpes) Oct 1984
: to Museum für Luftfahrt und Technik, Wernigerode Jun 1987, pres. Still 20+

wa366
har10
1962
XP350 : 225 Sq; 22 Sq

XP350 : To Cornwall Aero Park 2 Mar 1982, still Aug 1986, still Dec 1993, still Ju+

wa373
har10
1962
XP357 : 225 Sq/J by Jul 1965.

wa376
har10
1962
XP360 : 225 Sq; CFS; sold 31 Mar 1976

wa377
har10
1962
XP361 : 225 Sq; 110 Sq; 103 Sq; 22 Sq by 1981

wa386
har10
1962
XP398 : 225 Sq; 110 Sq; 103 Sq; 202 Sq; 1563 Flt to 84 Sq 1972.

- XP398 : pres. Gatwick Aviation Museum by Mar 1996, still Aug 2003, still Nov 2012