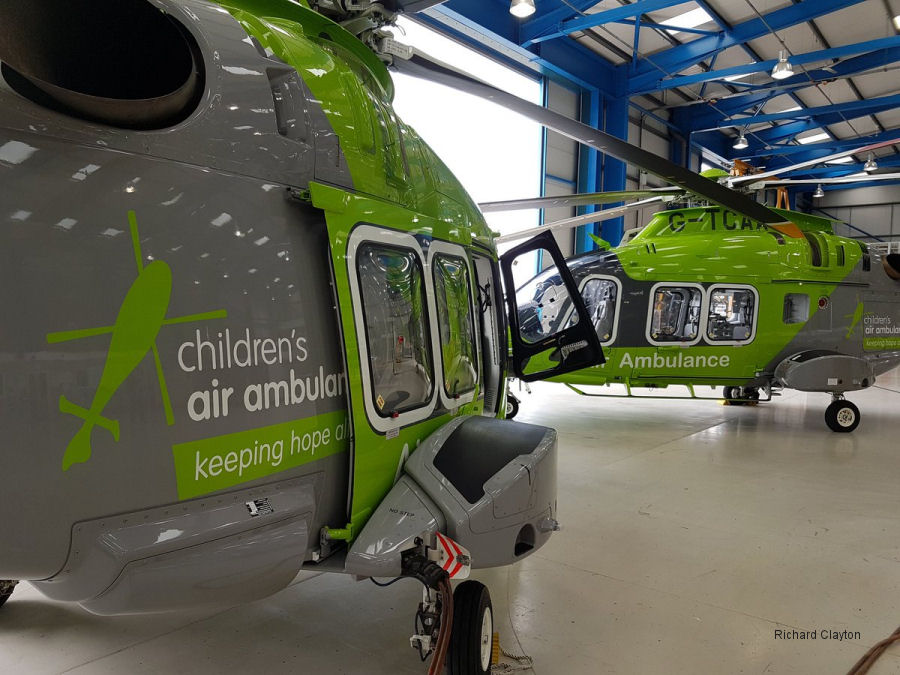 This service is unique in the UK. It exists to transfer critically ill children and babies who are already in a hospital to a more specialised paediatric and neonatal hospital. It generally does not attend
accidents
and operates as a patient transfer service.

The Embrace Yorkshire & Humber Infant & Childrens Transport Service, part of Sheffield Childrens NHS Foundation Trust, provides life saving care by a team of specialist doctors and nurses who travel with their patients by road ambulances, helicopters and planes. Embrace works closely with Yorkshire Ambulance Service NHS Trust, The Childrens Air Ambulance, Air Alliance and IAS Medical.
Based in Coventry, Warwickshire, they carried out their first transfer using own dedicated helicopter, an AW109 Grand operated by
Sloane
, on May 12th, 2013. Since 2017 flies AW169 from
Specialist Air Services
.
Since 2022 flying
AW169
operated by Sloane.
The Children's Air Ambulance List of helicopters

Help Us
C/N
Version
Built
In this Org
In other Org
69043
aw169
2017
G-CPTZ : new colour scheme, Children's Air Ambulance, pictured

SE-JSG
G-CPTZ

22156
aw109s
2009
G-HEMZ : Children Air Ambulance op by Sloane; 21may13 pictured (pic1) at Norwich

G-HEMZ

G-HEMZ

69147
aw169
2022
G-NICU : Children Air Ambulance, op by Sloane
: From hospital in Birmingham to one in Newcastle in the first children ECM+
HELIMED80 : pictured
HELIMED80 : new base at Gamston

G-NICU

69055
aw169
2017
G-PICU : Children Air Ambulance, op by SAS; 17jul18 pictured at Farnborough FIA 201+
: Essex and Herts. Appears to be spare helicopter, currently covering at EHA+

I-EASI
G-PICU

69038
aw169
2016
G-TCAA : Children Air Ambulance Aug18, op by SAS; pictured

G-TCAA
HL9682