The squadrons primary role is Pilot, Observer and Aircrew training through the Pilot Basic Rotary Course (PBRC), Pilot Advanced Rotary Course (PARC), Observer Basic Rotary Course (OBRC) and Aircrew Basic Rotary Course (ABRC)
Formed on 7 Apr 1952 with an eclectic mix of fixed wing types, as the RAN Anti-Submarine School. Received the first 3 RAN helicopters (the Bristol Sycamore) on 11 Mar 1953 and worked until decommissioning on 25 Oct 1956. Re-commissioned on 18 Feb 1957 with 5 Sycamores and 4 fixed wing aircraft, which were transferred to
724 Squadron
in Nov 1961, leaving 723 Squadron as an all rotary wing unit. 2 Scouts arrived for Survey Support work in April 1962 and 6 UH-1B Iroquois arrived in May 1964 to eventually replace the Sycamores, which were finally withdrawn in June 1965. In 1969, it was restyled HT-723, in common with US Navy practice. The Hueys formed the core of the aircrew training for RANs Viet-Nam commitment. In 1973 both Scouts were replaced by 3
CAC Kiowa
. When
725 Squadron
decommissioned, 4 Wessex 31Bs arrived for Utility Support work. 6 more Wessex arrived in 1979 for use in the Army Support role. All 10 Wessex departed for
816 Squadron
in 1984, being replaced by 6
AS350B Squirrels
. In Aug 2000, the remaining 3 Kiowas on charge were transferred to
Australian Army Aviation
.

Final flight of all 6 Squirrels took place on 1 Nov, prior to the unit decommissioning on 1 Dec 2017.

News about this Rotary Wing Unit :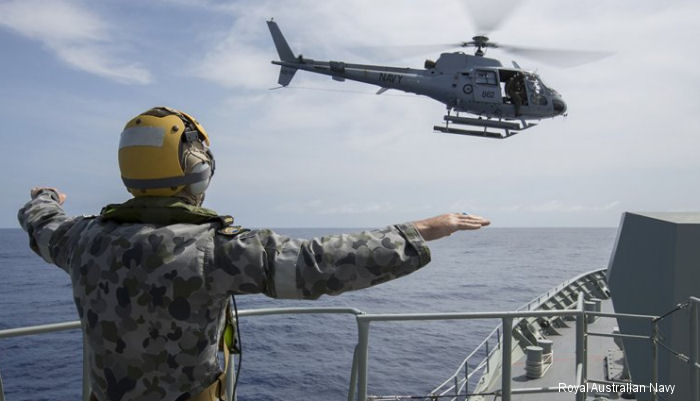 HMAS Anzac To Northern Trident 2015, 12-Apr-15 : On its way to Anzac Cove and beyond, the Royal Australian Navy frigate HMAS Anzac has kept itself busy with daily flying operations using the ship's embarked AS350BA Squirrel helicopter.
Construction Numbers for 723
Help Us
C/N
Version
Built
In this Org
In other Org
44505
ca-32 kiowa
N17-005 : 723 Sq, RAN; Transferred to Australian Army as A17-005

A17-005 : type: Commonwealth CA-32 Kiowa

44506
ca-32 kiowa
N17-006 : 723 Sq /896 until 2000; Transferred to Australian Army as A17-006

A17-006 : type: Commonwealth CA-32 Kiowa

44513
ca-32 kiowa
N17-013 : 723 Sq /892 until 2000; Transferred to Australian Army as A17-013

A17-013 : type: Commonwealth CA-32 Kiowa

44531
ca-32 kiowa
N17-031 : 723 Sq /031 until 2000; Transferred to Australian Army as A17-031

A17-031 : type: Commonwealth CA-32 Kiowa

44532
ca-32 kiowa
N17-032 : 723 Sq until 2000; Transferred to Australian Army as A17-032

A17-032 : type: Commonwealth CA-32 Kiowa

45549
ca-32 kiowa
N17-049 : 723Sq /890 until 2000; Transferred to Australian Army

A17-049 : ex Navy N17-049.

1727
as350b
N22-001 : 1Nov17 - 723 Sq / 801, flew in last all unit Squrrel flypast on 1 Nov 2017

A22-001 : RAAF d/d 28feb84. xfer RAN oct00 as N22-001

1726
as350b
N22-013 : RAN 860. d/d 30nov83. 723 Sqd. Served aboard HMAS Sydney 1990 Gulf War

1738
as350b
N22-014 : RAN 861. 01mar84. 723 Sqd. Served aboard HMAS Darwin 1990 Gulf War

1739
as350b
N22-015 : RAN 862. d/d 02mar84. 723 Sqd. Served aboard HMAS Adelaide 1990 Gulf War

1740
as350b
N22-016 : RAN 863. d/d 09mar84. 723 Sqd

1755
as350b
N22-017 : RAN 864. d/d 24mar84. 723 Sqd. Served aboard HMAS Success 1990 Gulf War
: Oct06 723Sqn./864 homebase

1758
as350b
N22-018 : RAN 865. d/d 18jun84. 723 Sqd. Probably sold to French Govt ?

1768
as350b
N22-019 : 1Nov17 - 723 Sq / 819, flew in last all unit Squrrel flypast on 1 Nov 2017

A22-019 : RAAF d/d 2oct84. xfer RAN oct00 as N22-019

1769
as350b
N22-020 : 1Nov17 - 723 Sq / 820, flew in last all unit Squrrel flypast on 1 Nov 2017

A22-020 : RAAF d/d 29sep84. xfer RAN oct00 as N22-020

1770
as350b
N22-021 : RAN d/d oct00. ex RAAF A22-021. 723 sqd
: Oct06 723Sqn./821 homebase

A22-021 : RAAF d/d 6nov84. xfer RAN oct00 as N22-021

1771
as350b
N22-022 : RAN d/d oct00. ex RAAF A22-022. 723 sqd
: 1Nov17 - 723 Sq / 822, flew in last all unit Squrrel flypast on 1 Nov 2017

A22-022 : RAAF d/d 22nov84. xfer RAN oct00 as N22-022

1772
as350b
N22-023 : RAN d/d oct00. ex RAAF A22-023. 723 sqd
: 1Nov17 - 723 Sq / 823, flew in last all unit Squrrel flypast on 1 Nov 2017

A22-023 : RAAF d/d 27nov84. xfer RAN oct00 as N22-023

1773
as350b
N22-024 : RAN 824 d/d oct00. ex RAAF A22-024. 723 sqd
: 1Nov17 - 723 Sq / 824, flew in last all unit Squrrel flypast on 1 Nov 2017

A22-024 : RAAF d/d 27nov84. xfer RAN oct00 as N22-024

11501
aw109e
2002
N42-501 : RAN 723 sqd /510 2007-2012

I-POWR : AgustaWestland, test serial I-RAIB; conv to A109LUH prototype 91(SE) resto+
VH-NPY : Raytheon Australia from Apr07
VH-NPY : AgustaWestland Australia from Jan14

57218
429
2015
N49-218 : Oct17 asg 723Sq pictured at Crib Point Primary School in Victoria

C-FDOW : Bell Canada May14-Apr15
N542PB : Bell Apr/Jul 2015
VH-POJ : Raytheon Australia Jul15-2016

wa215
has.31
1963
N7-215 : Westland Wessex Mk.31A, c/n WA215, f/f:07/03/63; del RAN as N7-215, 825, 1+

f.9490
scout
1962
N8-101 : reserialled N8-101, with 723 Sq as /891.

- VH-NVW : registered VH-NVW on 2 Jun 1999. Preserved at FAAM, Nowra by at least 2008+

3102
UH-1C
N9-3102 : involved in rescue (together with N9-882/897) from WD Atlas which sunk in +

1472
UH-1C
N9-472 : As a past member of the RAN, that worked on 723Sqdn (Iroquois) I can confi+

882
UH-1B
1963
N9-882 : involved in rescue (together with N9-3102/894) from WD Atlas which sunk in+

13505
sycamore
1958
XN450 : built at Weston-super-Mare, UK as HR.51 ex G-18-178. Last Sycamore built. +

- XN450 : 1979 Camden Museum of Aviation, in RAN marks /848
: to Business Aviation Bankstown Sep 1965. Preserved at Beck Collection (rot+

27 serials found for 723