Formed in 1943 in the USA, after training in torpedo bomber techniques, it returned to Cornwall in Apr 1944 under RAF Coastal Command. In Sep 1944, it embarked in HMS Victorious (38) for the Far East, returning via Australia after WWII. It disbanded in Oct 1945.

Its most recent role as an Airborne Early Warning unit began when it reformed from 778 Squadron at RNAS Brawdy in Jul 1952 with Skyraiders, operating in several Flights. These were exchanged for Gannets from Sep 1959 and by Dec 1960 the AEW.3 version had been introduced. It operated from various aircraft carriers until it disbanded at Lossiemouth in Nov 1978.

The unit's HQ Flight reformed from a nucleus of
824 Squadron
D Flight with Sea King AEW.2 on 1 Nov 1984 at RNAS Culdrose. A Flight (airframes carry an Aardvark badge) followed on 31 May 1985 for a commission on HMS Illustrious and B Flight (airframes carry a Bee badge) for a tour on HMS Ark Royal. The Eyes of the Fleet were back in business.

On 13 Dec 2006 in a ceremony at RNAS Culdrose, A Flight (Aadrvarks) and B Flight (Bees) which had been integral parts of the unit since 1953 and 1952 respectively were each elevated to full Squadron status, with 3 Sea King ASaC.7 airframes apiece. A Flight became
854 Squadron
and B Flight became
857 Squadron
.

Re-absorbed
854 NAS in Dec 2014 to become Normandy Flight when they rejoined the
Eyes of the Fleet
. On 11 Dec
Normandy Flight
deployed to the Gulf to relieve
857 NAS on
RFA Fort Austin
. 849 NAS is the last unit in the UK military to operate the Sea King (as the ASaC.7) until c 2018, when it will be replaced by the Crowsnest-equipped Merlin.

Normandy Flight
Okinawa Flight
Palembang Flight
News about this Rotary Wing Unit :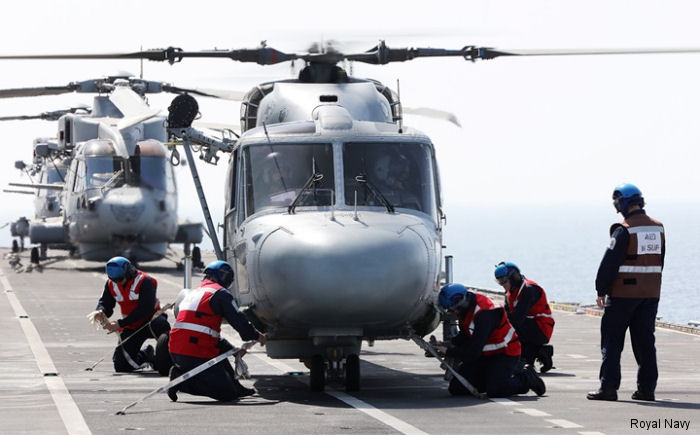 Exercise Deep Blue II in the Mediterranean, 20-Jul-16 : UK, US and France ships leaded by HMS Ocean helicopter carrier took part of antisubmarine exercise Deep Blue II in the Mediterranean. First time since 2012 HMS Ocean embarked an entire air group
Construction Numbers for . / 849Sq / 849 Sq / 849NAS / 849 NAS
Help Us
C/N
Version
Built
In this Org
In other Org
wa 632
has.1
1969
XV644 : f/f 7 Aug 1969, d/d 19 Aug 1969. HAS.1 700Sq(S) Sq/582-CU 1969, /528+

wa 637
has.1
1969
XV649 : RN; f/f 21sep69, d/d 06oct69 Built as HAS.1, conv to HAS.2A then AEW.2A; +
: Conv to AEW.2A at Fleetlands by 1986; 849Sq/183-R by 1988; 849Sq B Flt/183+
: 18-22mar88 type:AEW2 849Sqn./R-183 embarked HMS Ark Royal (R07)
: Converted by 1984; 13Feb85 noted RNAS Lee-on-Solent uncoded of 849 Squadro+
: 1996 type:AEW2A embarked aboard HMS Invincible (R05). 849Sqn./N-186; 1998 +
: 28Sep99 type:AEW2A 849Sqn./L-184 embarked aboard HMS Illustrious (R06).
: 2000 type:AEW2A 849Sqn./L-183
: Conv to ASaC.7, 849Sq HQ Flt/180-CU by Jul 2003; still Sep 2004; 854Sq/180+
: 2003 type:ASaC7 849Sqn./CU-180; 2004 type:ASaC7 849Sqn./CU-180
: 2009 type:ASaC7 849Sqn./180
: 11jul09 as 849 NAS /180 pictured (pic1) in the flying display at Yeovilto+

wa 638
has.1
1969
XV650 : RN HAS.1 f/f 02oct69, d/d 06nov69; conv to HAS.2A; conv to AEW.2A; Served +
: 19Jul86 noted RNAS Lee-on-Solent coded -.180 of 849 Squadron, HQ Flight; 4+
: 1990 type:AEW2A 849Sqn./CU-180
: 1996 type:AEW2A 849Sqn./IFOR mrks.
: 1998 type:AEW2A 849Sqn./L-185 embarked aboard HMS Illustrious R06.
: 28Sep99 type:AEW2A 849Sqn./L-185 embarked aboard HMS Illustrious R06.
: 2000 type:AEW2A 849Sqn./L-185
: w/o 22mar03 mid air collision with XV704 in northern Persian Gulf while op+

wa 644
has.1
1969
XV656 : Conv to AEW.2 849 Sq/186 by Aug 1985 still 1986, 849 Sq/186-N by 1990, 849+
: 1994 AEW.2A type 849Sqn./CU-187; 1996 still /180
: Conv to ASaC.7 849 Sq/185-N Jun 2003
: 2003 ASaC.7 type 849Sqn./R-185; 2007 still /185
: 20jul11 pictured as 849NAS /185 at RNAS Culdrose Air Day
: 849 NAS detached to RAF Lossiemouth on 6 Oct for Ex JW16-2
: 16aug17 asg 849NAS, was lead aircraft in formation to celebrate HMS Queen +

wa 652
has.1
1970
XV664 : RN, Sea King HAS.1 type f/f 06may70, d/d 01jun70; 826Sq/142-E by 1971; con+
: 16may88 pictured(top) as /181 of 849 Squadron HQ Flight at RNAS Portland
: 07Nov90 noted at RNAS Portland coded -.185 of 849 Squadron, A Flight; 29Ju+
: 28aug98 AEW2A type as 849Sqn /N-86 embarked HMS Invincible
: 2003 ASaC.7 type 849Sqn /R-187; 2004 still
: Aug07 pictured (bot) ASaC7 type with 849 Sqd during RNAS Culdrose Air Day

wa 658
has.1
1970
XV670 : RN; 1993 type:HAS.5 706Sqn./592; 1994 type:HAS.5 819Sqn./CU-07; 1996 type:+

wa 659
has.1
1970
XV671 : conv to AEW.2 type; 1994 706Sqn /N-86; 2001 849Sqn /L-188
: conv to ASaC.7 type; 2003 849Sqn /N-183

wa 660
has.1
1970
XV672 : Royal Navy HAS 1 Yeovil f/f 19sep70, d/d 5oct70; served with 706Sq, 819S+
: 18-22mar88 type:AEW.2 849Sqn./R-182 embarked HMS Ark Royal R07.
: 1996 AEW.2A type 849 Sqn./82 IFOR

wa 668
has.1
1971
XV697 : 02Jun83 noted RNAY Fleetlands coded-.354 on AEW.2A conversion; To Westland+
: 18-22mar88 type:AEW.2 849Sqn./R-184 embarked HMS Ark Royal R07.
: 1996 AEW2A type at 849Sqn /8
: 10Sep96 delivered to 849 Squadron, B Flt, HMS Illustrious coded L.183, not+
: 17may97 pictured (pic1) as 849Sqn B flight /183-L on HMS Illustrious (R06)
: 2003 type:ASaC.7 849Sqn./CU-181
: 10may15 pictured (pic4) as 849Sq/181 aboard HMS Ocean at Greenwich for VE+
: 02oct15 type:ASaC7 849NAS./81 tdy 15oct15 at Lossiemouth
: 14mar16 pictured (pic6) asg 849Sq over Cornwall

wa 675
has.1
1971
XV704 : RN; 1985 type:AEW2A 849Sqn./63; 1990 type:AEW2A 849Sqn./R-184; 1996 type:A+
: 24+25jul99 type:AEW2A 849Sqn./CU-181 Fairford air show
: ASAC.7 type 849 NAS; w/o 22mar03 mid air collision with XV650 in northern +

wa 678
has.1
1971
XV707 : 1993 type:AEW2A 849Sqn./CU-181; 1994 type:AEW2A 849Sqn./CU-181; 1996 type:+
: 2005 type:ASaC.7 849Sqn./184; 2008 type:ASaC.7 849Sqn./184

wa 679
has.1
1971
XV708 : 1994 HAS.6 type 849Sqn /CU-708; 1996 HAS.6 type 810Sqn /10

wa 685
has.1
1972
XV714 : 1996 AEW2A type 849 Sqn /N-187 on HMS Invincible (R05)
: 2003 ASaC.7 type 849 Sqn /R-188; 2004 ASaC.7 type 849 Sqn /R-188

wa 887
has.5
1980
ZA126 : 849Sq /91 by Jul 2009; to Fleetlands /91 by Oct 2009
: 02jul11 pictured (top) as 849NAS/91 at RAF Waddington. inflatable dome det+
: 31jan15 still in active service on 849Sq at RNAS Culdrose
: 10may15 pictured (bot) with 849NAS embarked HMS Ocean at Greenwich Ship Ti+

wa 890
has.5
1980
ZA129 : RN; 1994 type:HAS.6 849Sqn./CU-502; 1996 type:HAS.6 810Sqn.

wa 896
has.5
1981
ZA135 : 2003 type:HAS.6 849Sqn./CU-705

wa 899
has.5
1982
ZA166 : 2001 HU.5U type 849Sqn /CU-189

ZA166 : HeliOps; VAHS Fleetlands for overhaul and repainting by Jun17 following le+

wa 942
has.5
1984
ZD633 : 1994 HAS.6 type 849 Sqn /CU-507; 1996 HAS.6 type 810 Sqn /507

wa 945
has.5
1985
ZD636 : 2000 849Sqn /L-183; 2001 849Sqn /L-183
: 08Jul06 849 NAS B Flt / 182 pictured in the static display at Yeovilton A+

wa 956
has.5
1986
ZE418 : 1996 Approx converted to AEW.2A and noted coded N.186 of 849 Squadron, "A"+
: 2009 ASaC7 type 849Sqn /186
: 849Sq /186, in flying display at Devonport Navy Days 2009
: 849 NAS/186 embarked HMS Illustrious Oct 2009 at Glasgow, for Exercise JW +
: 2011 ASaC7 type 849Sqn./86

wa 958
has.5
1986
ZE420 : 22Jul97 delivered after conversion to AEW.2A standard coded N.592 to 849 S+
: 1998 type:AEW2A 849Sqn./L-183 embarked aboard HMS Illustrious R06.
: 28sep99 type:AEW2A 849Sqn./L-183 embarked aboard HMS Illustrious R06.

wa 961
has.5
1986
ZE422 : 28jul16 as 849 NAS/192 pictured at RNAS Culdrose for Air Day 2016
: 849 NAS detached to RAF Lossiemouth on 6 Oct for Ex JW16-2

22 serials found for . / 849Sq, 849 Sq, 849NAS, 849 NAS