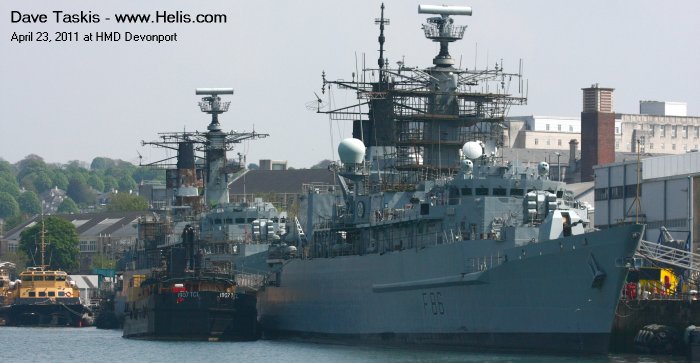 | | |
| --- | --- |
| | |
| IMO: | 4907139 |
| MMSI: | |
| Flight Deck: | CT |
| Call Sign: | GABK |
| Shipyard: | Cammell Laird |
1985-dec-04
Laid down

Laid down

Yard No. V.1378
1987-oct-07
Launched

Launched

1989-may-27
Commissioned

Commissioned

1989-jul-28
Deployment

Deployment

HMD Devonport

Navy Days 1989

present at Plymouth Navy Days 1989
1989-oct
Aircraft

Aircraft

Lynx HAS.3 ZD265 assigned as Campbeltown Flt / 338-CT, until c Oct 1992
1992-apr
South Atlantic Atlantic Patrol Task (South) Deployed to South Atlantic as duty frigate.
1992-apr-18
Deployment

Deployment

Firefighting

Ships Flt Lynx winched a firefighting team aboard mv World Hitachi Zosen off Mauritania and supplied them with foam drums from RFA Grey Rover.
1993-apr
Aircraft

Aircraft

Lynx HAS.3GMS XZ229 assigned as 815 NAS Campbeltown Flt / 338-CT, until c Nov 1995
2001-may-24
Port Visit

Port Visit

Visit to St. Petersburg, Russia until 28 May 2001
2001-aug-31
Port Visit

Port Visit

Visit to Archangel, Russia for 60th anniversary celebrations of the first WWII Arctic Convoys. In company with Russian warships Zadorniy and Alexander Otrakovski.
2004-jun-15
Port Visit

Port Visit

visit to affiliated town of Campbeltown in Scotland, until 18 Jun 2004.
2005-mar
Aircraft

Aircraft

Lynx HMA.8 ZF560 assigned as 815 NAS Campbeltown Flt / 338-CT, until c Feb 2006
2005-jul-11
Deployment

Deployment

Persian Gulf Operation Telic Persian Gulf deployment until mid Dec 2005
2007-jan-21
Port Visit

Port Visit

2 day visit to Jeddah, Saudi Arabia for Royal Saudi Naval Forces liaison.
2007-jun-04
Baltic Sea BALTOPS 07 participated with BALTOPS 07. on board Lynx from 815Squadron serial/code unknown
2007-nov
Deployment

Deployment

to Arabian Gulf for 7 month deployment, returning May 2008.
2008-jul-25
Port Visit

Port Visit

HMNB Portsmouth

Meet Your Navy 2008

At HMNB Portsmouth, 25-27 Jul for Meet Your Navy 2008
2008-sep
Port Visit

Port Visit

Saint-Nazaire

Dock

visit to St Nazaire, France, to pay respects for the WWII Operation Chariot, conducted by a previous HMS Campbeltown, which destroyed the Dock Gates on 28 Mar 1942.
2008-oct
Refit

Refit

HMD Rosyth

Refit

Mk.8 Mod 1 4.5 inch to Rosyth for a substantial refit by Babcock International. As well as a Sea Wolf missile system mid life update, a new Mk 8 Mod 1 main gun and Type 22 SEL, a major structural survey led to further unexpected work, delaying the completion of the refit until 20 Jan 2010.
2010-apr-30
Port Visit

Port Visit

Three day visit to St Marys, Isles of Scilly, as guardship for the 2010 World Gig Racing championship.
2010-oct-29
Port Visit

Port Visit

visit to Holyhead, Angelsey until 2 Nov 2010
2011-mar-03
Port Visit

Port Visit

Pier Head

Cruise Liner Terminal

visited Merseyside for the last time before decommissioning, departed 7 Mar.
2011-apr-07
Decommissioned

Decommissioned

at HMNB Devonport, in advance of her planned out of service date, following the Oct 2010 Defence Review. In 2004, planned decommissioning date had been 2017.
2013-apr
Fareham Creek by Apr 2013 was laid up in Fareham Creek
2013-jul-27
Fate: scrapped

Fate: scrapped

Aliaga

Shipbreakers

sold for scrap to Layal, Turkey. Departed Portsmouth 15 Oct 2013, under tow and arrived Aliaga on 29 Oct 2013. Disposal complete by 14 Mar 2014.
Add new event for this unit

| | |
| --- | --- |
| Year: | |
| Month: | <- (1/12) Optional |
| Day: | <- (1/31) Optional |
Aircraft

Cammell Laird
,