Helicopter Westland Wessex HU.5 Serial wa291 Register XT469 used by Royal Air Force RAF ,Royal Marines RM ,Fleet Air Arm RN (Royal Navy). Built 1965. Aircraft history and location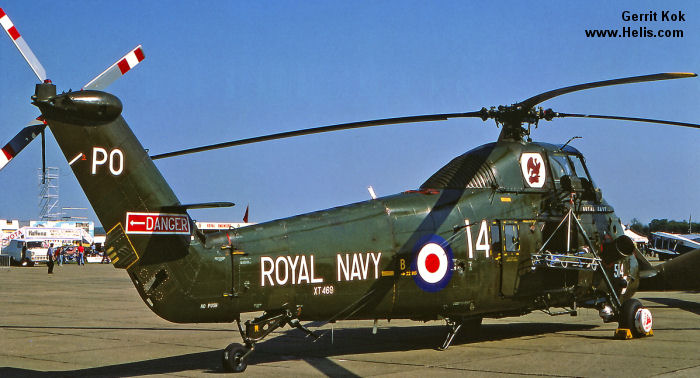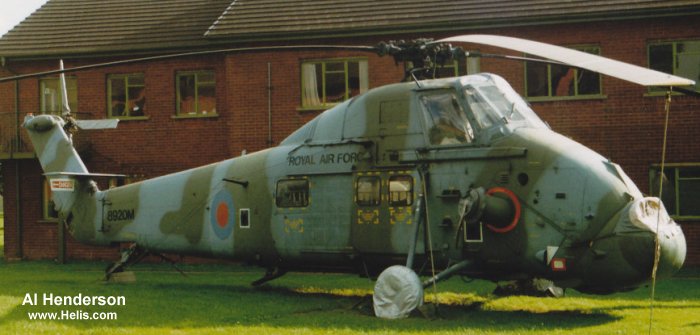 XT469

Fleet Air Arm

nov65

RN Wessex HU.5
d/d Nov 1965,  848Sq/E-A by Apr 1967
847 Sq/E-S by Apr 1969 848 NAS
848 Sq/VE-A by Jun 1971, 848 Sq/VE-B by Sep 1973
772 Sq/514-PO by May 1976 772 NAS
mid70s, 2 recruitment adverts appeared in the Daily Mirror. One was of a Buccaneer, the other was of XT469 when it was 772Sq /514 772 NAS
1978-05-27
514-PO

A

Bassingbourn
Bassingbourn Air Show 1978 At Bassingbourn Air Show 1978 772 NAS
1978-06
514-PO

B

EGDP
Jun78 as 772Sq /PO-14 at Portland 772 NAS


1978-10-15

C

EGVN
noted at RAF Brize Norton coded 514-PO with 772NAS 772 NAS
1979-07-22
22jul79 still coded 514-PO with 772NAS 772 NAS
772 Sq/624-PO by Mar 1982
847 Sq B Flt/XN 6 May 1982. To South Atlantic, returned to UK on 27 Jul 1982 772 NAS
1982-08-01

D

EGDR
771 NAS to 771Sq 1 Aug 1982 771 NAS
1982-09

E

EGDT
Stored to Wroughton store by Sep 1982
1986-12-10

F

Beacon Barracks
G I Airframe to 16MU Stafford as G.I. 8920M 10 Dec 1986 still Jan 1994, still Mar 2003, gone by Aug 2009.
Royal Marines

apr69

847 Sqn Mar/Apr69 as /E 847NAS
reactivated 847 NAS 07may-24sep 1982 as /XN 847NAS
1982-05-13

G

HMS Raleigh
mv Atlantic Causeway 847Sq /XN noted here on 13 May 1982, to join mv Atlantic Causeway later that day for South Atlantic. 847NAS Operation Corporate
Royal Air Force

dec86

to RAF as /8920M
17jul92 preserved at RAF Stafford


-

2009

2009-08-22
22aug09 at Newton-with-Scales Lancashire, in a small compound with a Lightning. Alan Bushell , picture on my flickr
2013-11-22
22nov13 Its on e-bay for £12500
2014-12
Dec14 at Carisbrooke, Isle of Wight. Initially in a yard to south-west of Froglands Farm
more recently moved to a nearby field adjacent to the south side of Froglands Lane (to South-west of Carisbrooke Castle)
2015-09-21
21sep15 is for sale on Ream Salvage for 11000,00£
2016-10-21

H

Froglands Farm
Accommodation 21oct16 still at Isle of Wight. Local newspaper County Press reported having been named as Sir Galahad, after the ship lost in the Falklands conflict when she is said to have been used as a rescue helicopter and, together with an extension unit containing kitchen and toilet facilities with matching camouflage paintwork, conversion into a holiday let to sleep four. Many of the aircraft's original features are said to be intact with the cockpit remaining untouched. More at Windmill Campersite website http://www.windmillcampersite.com/about-the-site.html
2018-07
Jul18 still at Carisbrooke, Isle of Wight. A lovely 'exhibit', including wine glasses in the cockpit for the pilots.
| | |
| --- | --- |
| | |