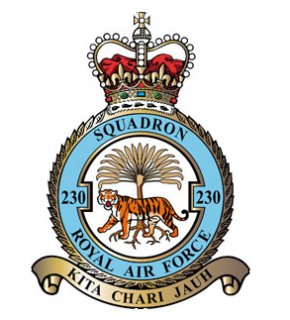 Formed from 327, 328 and 487 Flights with seaplanes at Felixstowe on 20 Aug 1918.
Eventually reformed from 215 Squadron at RAF Dishforth (
EGXD
) in Sep 1958. It operated as a fixed wing Pioneer and Twin Pioneer unit from RAF Odiham and received its first 2 Whirlwind HAR.10 in May 1962. It began its rotary wing operations in Jul 1962, divested itself of its fixed wing flight in Dec 1962 and moved to Germany in Jan 1963. It deployed via
HMS Triumph
initially to
Seletar
in Feb 1965 and then after a fortnight acclimatisation, by
HMS Bulwark
on to Borneo (Labuan) on 8 Mar 1965, with regular detachments at
Tawau
,
Sepulot
and
Sibu
until Nov 1966 and occasional detachments to Cyprus. Towards the end of 1966, its 11 Whirlwind were returned from Borneo by Belfasts of 53 Squadron.

230 Sqn based RAF Labuan (Sabah) 1964 to 1967. Detachments to Tawau and Sepulot. C/Os Sqn Ldr Doug Thomas, later Keith Cawdron.

The Puma was introduced at RAF Odiham (EGVO) in Oct 1971 and the units Whirlwinds were passed on, with those of
1563 Flight
to
84 Squadron
in Dec 1971. In Oct 1980 it moved to Germany at RAF Gutersloh (EDUO). After service in the 1991 Gulf War, it moved again to RAF Aldergrove (EGAA) in May 1992 and since 1999 its 13 Puma HC.1 have been assigned to UK Joint Helicopter Command. The unit left Aldergrove on 17 Nov 2009 for RAF Benson.