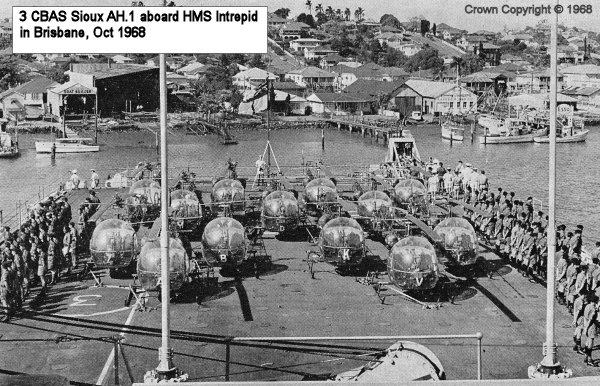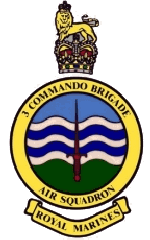 Almost co-inciding with the Commando Carriers (
HMS Albion
&
HMS Bulwark
) being replaced by the Landing Platforms Dock (LPD) HMS Fearless &
HMS Intrepid
, and to give more effective support to Commandos in the field, Brigade Flight, 40 Cdo RM Air Troop, 42 Cdo RM Air Troop and 29 Cdo RA Air Troop began to be amalgamated at
Sembawang
,
Singapore
from 1967 and was officially recognised on 12 Aug 1968 as 3 Commando Brigade Air Squadron. The unit began life with 14 Sioux AH.1, at least 13 of which were embarked on
HMS Intrepid
for Exercise Coral Sands in Sep-Oct 1968.

In 1971, 3 CBAS returned to the UK and added 41 Cdo RM Air Troop and 45 Cdo RM Air Troop bringing a mix of Sioux and
Scout
AH.1 to the unit. Between 1974 & 1975, the Sioux AH.1 were replaced by the
Gazelle AH.1
. Between Sep 1976 and Oct 1977, the unit maintained a detachment of Gazelle, through 2 tours at RAF Aldergrove.

During the Falklands War in 1982, 3 CBAS operated 9 Gazelles (3 each) on
RFA Sir Galahad
,
RFA Sir Geraint
and
RFA Sir Percivale
, with 6 Scouts (3 each) on
HMS Fearless
and
RFA Sir Lancelot
. Shortly after the
Falklands
conflict in 1982, the Scouts were replaced by the
Lynx
AH.1 After distinguished service at home and overseas, 3 CBAS was replaced by
847 Naval Air Squadron
on 31 Aug 1995.

---
41 Commando attached as Salerno flght late 60s early 70s at St Geoges Barracks Malta

Nov/Dec 1970,
Operation Burlap
deployment of Brunei Flt, to East Pakistan, on floor relief mission

3Commando where based at Coypool just out side Plymouth and aided in the evacuation during the trouble in Cyprus. Also they did the States run manouvers to Florida and Nassau, Jamaica residing in the JDF where I recovered a
Jamaican Defence Force
light fixed wing which had been down for over twelve months. The engine frame was changed and a new prop fitted and was flown back to base within 12 hours. Further trip was to the ABC island for practice manouvers with the Americans. This took place from 1973 to 1977. The main part of the technicians were accomodated in Stone house Barracks

HQ Flt of 3 CBAS in 1980 held the following Scout AH.1: XW616/P, XT629/R, XP893/S, XP902/T and XP907/U. These were based at Coypool at that time.