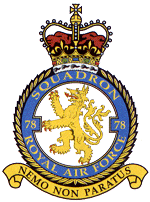 Formed on 1 Nov 1916, 78 Squadron began its rotary wing career on 7 Jun 1965 at
Khormaksar
in Aden with nine Wessex HC.2 (delivered by
RFA Sir Lancelot
). It operated in support of British and South Arabian troops in Aden, developing new capabilities including the fitting of bomb racks and grew to operate 14 Wessex (including a
SAR flight
) by Jul 1967. As the situation deteriorated in Aden, it eventually withdrew in two waves to
Sharjah
in the UAE; the first 8 Wessex via
HMS Fearless
between 17 and 23 Oct 1967 and the second by 6 Wessex, on
HMS Intrepid
on 29 Nov 1967. On arrival, the
SAR Flight
detached and moved to RAF Muharraq (eventually to become COMSAR Bahrein) and 78 Squadron continued to operate in hot and sandy conditions. These eventually led to the units Wessex being temporarily repatriated singly to the UK by RAF Belfast freighters from Nov 1968 for a full strip down, clean out and re-assembly. Wessex strength had fallen to six airframes by Mar 1971 and the unit disbanded at RAF Sharjah on 21 Dec 1971 as part of Britains withdrawal from the Gulf.

When 78 Squadron reformed as part of the Falkland Islands Garrison, it amalgamated the Chinook HC.1s from
1310 Flight
and the Sea King HAR.3s from
1564 Flight
into the new unit.

It reformed at RAF Stanley in the
Falkland Islands
on 2 May 1986. 78 Squadron operated Chinook HC.2 and Sea King HAR.3As. Until 2004, the Sea Kings wore an overall grey for Combat SAR and utility missions, since then they reverted to the more usual high visibility yellow paint scheme.

From Nov 2007, the Squadron was reformed at RAF Benson as part of the Merlin force to fly the Merlin HC3a.

78 Squadron was reformed at RAF Benson on 3 Dec 2007, from a flight of
28 Squadron
(then on detatchment in
Iraq
) and with the Merlin HC3, which will be supplemented with ex
RDAF
Merlins from 2008, into a Merlin pool; airframes are to be shared with 28 Squadron. 78 Sq was disbanded on 30 Sep 2014, and its Merlins were handed over to a newly reformed
846 NAS
.

78 Squadron List of helicopters

Help Us
C/N
Version
Built
In this Org
In other Org
wa125
hc.2
1963
XR500 : 9 Oct 1967, visited newly commissioned RFA Stromness, off Aden while opera+

wa144
hc.2
1964
XR522 : ff 22 Apr 1964, dd 1 May 1964 . 78 Sq/O by 1965, HOCF/BW by Sep 1970, 84 S+

071

wa150
hc.2
1964
XR528 : RAF Wessex HC2 ff 04nov64, dd 10dec64; 78 Sq/F, /BZ by Sep 1971

- XR528

wa285
hu.5
1965
XT463 : RAF; 30 pictured as HC type with 78 Sqn on the ramp at RAF Akrotiri, Cypru+
: 1990-1993, worked on her, was not 78 Sqn but 84 Sqn

XT463
- XT463

wa531
hc.2
1966
XT604 : ff 7 Jul 1966, dd 2 Aug 1966 to RAF. Wessex HAR.2; Khormaksar SAR Flt Nov +

- XT604

wa 865
har.3
1978
XZ599 : pictured (pic2) as /S in grey cammo at Lydd Airport. One of a number of +

XZ599

M.7007
ch-47d
1980
ZA671 : 78 Sq / J by Aug 1999

M.7026
ch-47d
ZA711 : pictured (pic1) in the hangar at RAF Mount Pleasant with 78 Sq coded A

M.7013
ch-47d
1981
ZA713 : 78 Sq / EM by Aug 1999

b-848
ch-47c
1982
ZA717 ET : w/o following gearbox failure in Falklands as 78 Sq /ET; to 9238M Cranwel+
: pictured (pic1) at RAF Mount Pleasant coded C with 78 Sq a few days before+
: pictured (pic2) at RAF Mount Pleasant coded C with 78 Sq a hours after cra+

N37056
- ZA717

b-852
ch-47c
1982
ZA721 : RAF Chinook HC1; MA033 dd 08jun82 last Chinook RAF first batch, test seria+
EP : w/o RAF Mount Pleasant, Falklands crashed during post servicing air tes+

N37061

50083
hc.3
2000
ZJ120 : 28/78 Sq/D by Oct09. Part of 1st detachment of RAF Merlin to Afghanistan; +

ZJ120

50141
hc.3
2000
ZJ126 : pictured (pic2) with 78 Sq/K markings on std side in the static display a+

ZJ126

50169
hc.3
2001
ZJ130 : 28/78 Sq/O by Oct 2009. Part of 1st detachment of RAF Merlin to Afghanista+

ZJ130

50089
mk512
2003
ZJ990 : HC.3A type pictured (pic2) as 78 Sqn /AA at RIAT air show

ZJ990
M-501
ZJ990