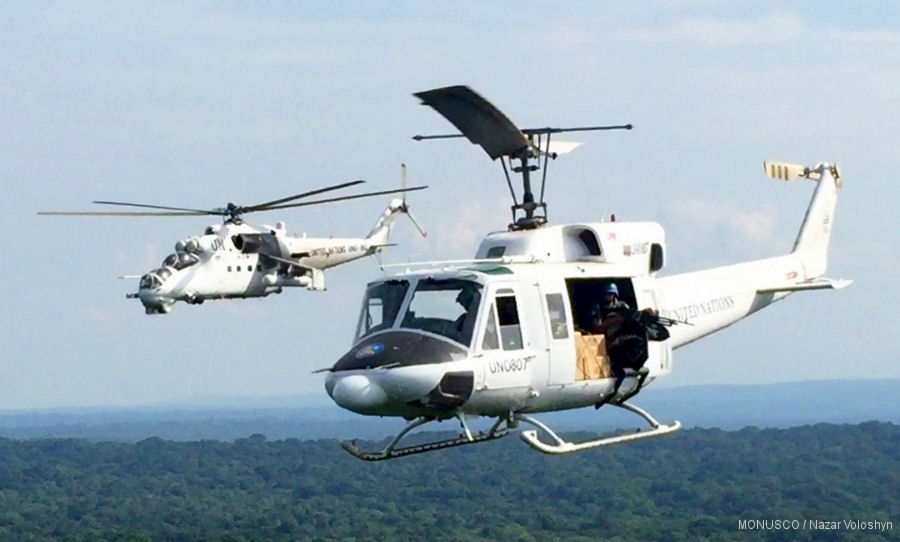 The
United Nations Organization Stabilization Mission in the Democratic Republic of the Congo
( MONUSCO) is a peacekeeping force to monitor the peace process of the Second Congo War, though much of its focus subsequently turned to the Ituri conflict, the Kivu conflict and the Dongo conflict. Until 2010, was known as
United Nations Mission in the Democratic Republic of Congo
(MONUC).
Among the helicopters deployed by the peacekeepers where Chetak (Lama) from India, Oryx and
Rooivalk
from South Africa , Bell 212 from Uruguay and Mi-24 from Ukraine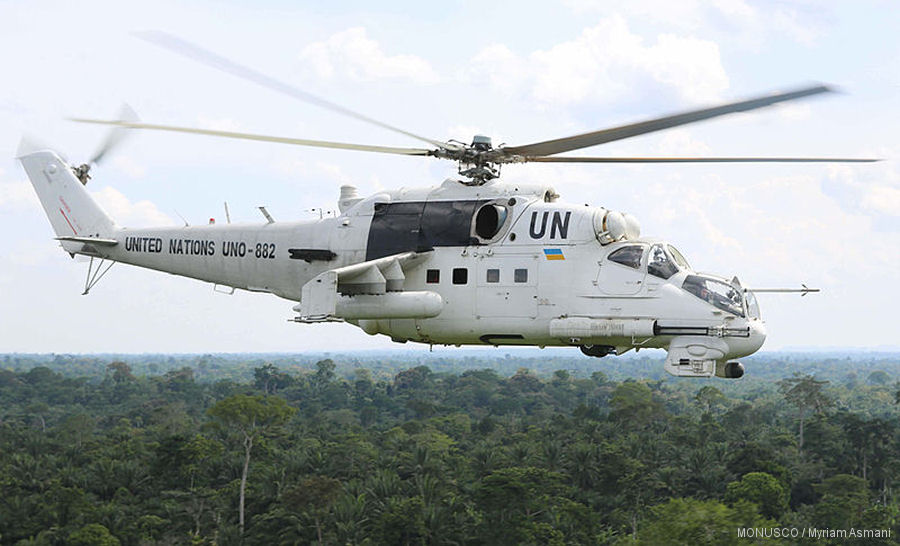 Ukraine Mi-24 Hind in Congo' MONUSCO, 30-Jan-19 : #MONUSCO Ukraine Mi-24 Hind helicopters taking part in their ninth rotation with peacekeeping mission MONUSCO in Congo are heavily engaged in combat missions against the "Allied Democratic Forces" (ADF) rebels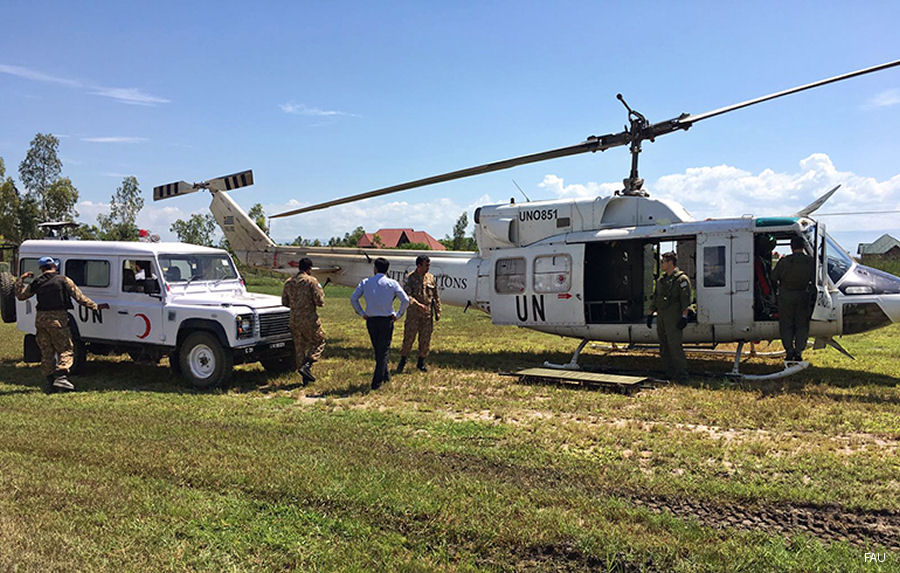 Uruguayan Bell 212 MedEvac Mission in Congo, 11-May-18 : #peacekeepers A member of "Doctors Without Borders" in the Congo Democratic Republic suffered a heart attack and was evacuated by Uruguayan peacekeepers taking part of United Nations MONUSCO Mission
Years
Models
Atlas Aircraft Oryx
HAL cheetah
HAL chetak
Mil Mi-17-1V


MONUSCO List of helicopters

Help Us
C/N
Version
Built
In this Org
In other Org
13
oryx
1213 : pictured in Democratic Rep Congo in support of operations against Allied +

1213 : SAAF

31157
212
1980
UN-851 : 27aug12 pictured (pic2) being loaded on FAU C-130 Hercules to be transport+

030 : FAU d/d 1980, white UN
: pictured (pic5) at Aviation School on Air Force Day in restored SAR liver+
:
: w/o Rocha, Comero while transporting covid-19 vaccines. no fatalities

cheetah
UN-865 Z3154 :

Z3154 : Indian Army

mi-24
UN-887 : United Nations, MONUSCO (Ukraine? ); w/o at Mavivi Airport, Beni, Congo +

30899
212
1978
UNO-851 : United Nations mission in Congo MONUSCO

- SU-ECN : Egypt, to N3151T
- N3151T : 1995
- HK-3159X : Colombia, lsd from N3151T
C-FSKS : Canadian Helicopters Ltd at St. John'S, NL Oct94-Mar95
- N102PH : Southern Cross Aircraft at Fort Lauderdale, FL Mar/Sep 2005
032 : FAU d/d 2005, ex N102PH
: pictured at Helipuerto Hospital Mautone, Punta Del Este

96245
mi-17-1v
UNO-875 UNO-875 : For MONUC
UNO-875 :

245 :
:

chetak
Z1890 : pictured in Congo

Z1890 : IAF?