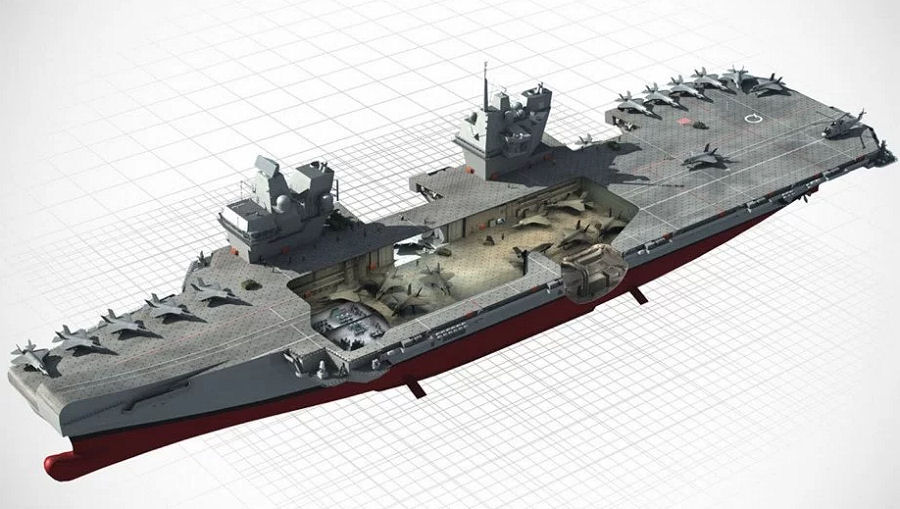 The Max option implies only aircraft of this model onboard
2 units
2008-may
Ordered
R08 HMS Queen Elizabeth
2009-jul-7
Laid down
R08 HMS Queen Elizabeth Assembled at Babcock Rosyth, from modules built by BAE Systems (Glasgow), BAE Systems (Portsmouth), Babcock (Appledore), A & P Tyneside and Cammell Laird
2014-jul-4
Launched
R08 HMS Queen Elizabeth Naming Ceremony. Dry dock flooded at Babcock Rosyth, after modular construction and cleared No. 1 Dock on 17 Jul
2015-dec-10
R09 HMS Prince of Wales final, (aft island) structural module departed BAE Systems Glasgow. Took southern route via English Channel and arrived 20 Dec, for assembly and integration at Rosyth.
2017-jun-29
Trials
R08 HMS Queen Elizabeth departed HMD Rosyth for 6 week manufacturer Phase 1 trials, with HMS Sutherland as escort.
2017-sep-9
R09 HMS Prince of Wales Naming ceremony (equivalent of Launch ?) with Duchess of Rothesay (aka Duchess of Cornwall) at Aircraft Carrier Alliance, Rosyth
2017-dec-7
Commissioned
R08 HMS Queen Elizabeth Commissioned at HMNB Portsmouth
2017-dec-21
R09 HMS Prince of Wales Floated out of dry dock at Rosyth, for completion of fitting out.
2018-feb-6
Port Visit
R08 HMS Queen Elizabeth At Gibraltar North Mole during trials
2018-feb-8
Aircraft
R08 HMS Queen Elizabeth embarked two Qinetiq Chinooks for working up trials, including ZH902.
2018-aug-18
Deployment
R08 HMS Queen Elizabeth departed HMNB Portsmouth on maiden deployment for 11 week WESTLANT 18 exercise off east coast of USA. Accompanied by HMS Monmouth and RFA Tiderace, she also has 3x Merlin HM.2 from 820 NAS which embarked in the preceeding week plus part of 42 CDO Royal Marines to conduct amphibious exercises. Before leaving UK waters, 3x Merlin HC.4 of 845 NAS (Furious Flt) embarked on 20 Aug. Main objective is to determine operating parameters for the F-35B, which will embark for the 1st time.
2018-sep-17
Port Visit
R08 HMS Queen Elizabeth Visited NS Norfolk after cruising to avoid path of Hurricane Florence. To join with HMS Monmouth.
2019-sep-22
Trials
R09 HMS Prince of Wales Departed Rosyth for 1st sea trials
2019-sep-23
Aircraft
R09 HMS Prince of Wales 1st deck landing by 820 NAS Merlin HM.2 ZH856 as Dolphin 14.