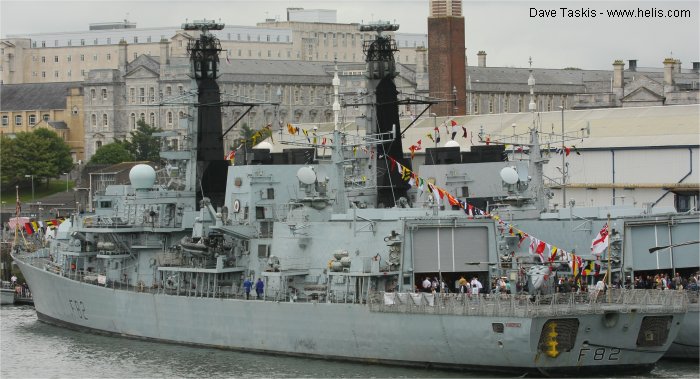 | | |
| --- | --- |
| IMO: | 8949680 |
| MMSI: | 234635000 |
| Flight Deck: | SM |
| Call Sign: | GOIP |
| Shipyard: | Yarrow |
Add new event for this unit

| | |
| --- | --- |
| Year: | |
| Month: | <- (1/12) Optional |
| Day: | <- (1/31) Optional |
1992-jan
Ordered
1992-oct-12
Laid down
Yard No 1043
1994-jun-26
Launched
1996-sep-20
Commissioned
1999
Deployment
South Atlantic Atlantic Patrol Task (South) Atlantic Patrol Task (South), deployed around Falkland Islands between Dec 1999 and Feb 2000, relieved by HMS Southampton.
2005-jun
Deployment
Departed HMNB Devonport for a 2 month Mediterranean deployment, returning on 3 Aug 2005.
2006-mar-15
Port Visit
Tower Bridge Upper Pool of London visit to the Pool of London, tied up alongside HMS Belfast, near Tower Bridge
2008-jan-21
Deployment
departed HMNB Devonport for a 6 month deployment in the Arabian Gulf, returning on 1 Aug 2008.
2009-feb
Deployment
Taurus 09 deployment, with HMS Bulwark, HMS Ocean, HMS Argyll, supported by the Royal Fleet Auxiliary
2009-jul
Aircraft
assigned 829 NAS Merlin HM.1 ZH824 as /501, until Sep 2009.
2009-sep-5
Homeport
HMD Devonport Navy Days 2009 North Yard in Devonport for Navy Days 2009 with Lynx ZD262 of 815 NAS 203 Flt
2009-sep-8
Port Visit
Royal Victoria Dock DSEI 2009 DSEI exhibition with 815 NAS Lynx HMA.8 ZD262 embarked
2009-oct
Aircraft
assigned 829 NAS Merlin HM.1 ZH856 as /501, until c Apr 2010.
2010-may-26
Deployment
departed HMNB Devonport for a 7 month deployment around the Arabian Gulf and Horn of Africa with 815 Sq 229 Flt Lynx HMA.8 /375 embarked. Was relieved by HMS Cumberland for duty with CTF-152 and returned on 2 Dec 2010.
2011-aug-17
Deployment
departed HMNB Devonport for a 6 month maritime security deployment in Red Sea, Indian Ocean and the Gulf, relieving HMS Monmouth. Returned 24 Feb 2012 after being relieved on station by HMS Westminster.
2011-nov-21
Deployment
Off the Horn of Africa, performing a RAS with RFA Fort Victoria.
2011-dec-10
Port Visit
Dar-es-Salaam Harbour Dar-es-Salaam visited Tanzania to celebrate 50th anniversary of independence.
2012-feb-13
Port Visit
Grand Harbour / il-Port il-Kbir / Valletta visited Malta
2012-may-3
Refit
9 month refit at Babcock, HMD Devonport, including Sea Wolf mid-life upgrade and new command systems, until 15 Jan 2013.
2013-jun-7
Port Visit
Hugh Town visit to St Marys Isles of Scilly for Battle of the Atlantic 70th celebrations. Departed 9 Jun.
2013-oct-7
Deployment
North Western Approaches Exercise Joint Warrior 13-2 participated in two week exercise off NW Scotland
2014-jan-10
Deployment
Operation Kipion Departed HMNB Devonport for 6 month maritime security deployment in the Gulf, Horn of Africa and Indian Ocean, with 815 NAS 203 Flt Lynx HMA.8 embarked. Relieved on station by HMS Northumberland on 30 Jun and returned to HMNB Devonport on 4 Jul.
2014-jun-22
Deployment
MoD announces that HMS Somerset is first UK warship to operate ScanEagle reconnaissance UAV
2014-nov-7
Port Visit
visit to Avonmouth (Berth S) with 829 NAS Merlin HM.2 embarked, for Remembrance Day services across her namesake county, departed 10 Nov
2015-jan
Deployment
Firth of Clyde operating in Firth of Clyde in the absence of an RAF Maritime Patrol Aircraft, seeking the owner of an unidentified periscope.
2015-feb-28
Port Visit
Antwerp weekend visit to Antwerp.
2015-apr-11
Deployment
North Western Approaches Exercise Joint Warrior 15-1 participated in JW 15-1
2015-apr-24
Port Visit
Leith Docks Leith 4 day visit to Leith, after JW15-1 to participate in centenary of Gallipoli celebrations. Departed 27 Apr.
2015-nov
Deployment
departed HMNB Devonport for 6 week Mediterranean deployment, to provide security for Heads of Government conferences. Returned 11 Dec.
2016-sep-23
Port Visit
King George V Dock weekend visit to Glasgow, departed 27 Sep.
2018-nov
Refit
HMD Devonport LIFEX CAMM (M) Sea Ceptor Life extension refit at HMD Devonport until 2021.
The Max option implies only aircraft of this model onboard

Yarrow, Scotstoun