QGAir, part of
Queensland Government
, delivers life-saving, community safety and state support aviation services with bases at Brisbane airport, Archerfield, Townsville, Cairns, Mt Isa, and Horn Island.
News of Queensland Government Air
Two More AW139 for Queensland Air Ambulance, 24-Oct-17 : Australia air ambulance QGAir, Queensland Government's Public Safety Agency air division, ordered 2 additional AW139 helicopters for delivery in December 2018. They already operates 3 AW139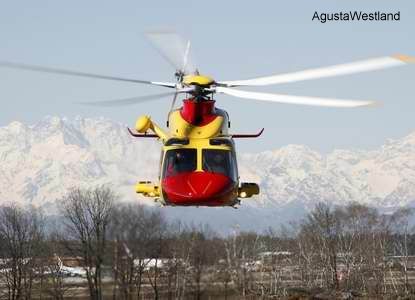 Queensland Government Sign for Three AW139, 14-Jun-06 : AgustaWestland, a Finmeccanica Company, is pleased to announce that the Queensland Government of Australia has signed a contract for three AW139 medium-twin helicopters configured for Search and Rescue (SAR) and Emergency Medical Service (EMS) missions.


List of Aircraft for QGAir
C/N
Version
Built
In this Org
In other Org
36022
412hp
1991
VH-ESA : Queensland Government Air (QGAir) 1998-2008

N4181X : Bell, test serial C-FJUZ
N412VS : Textron Financial Corp Jan92-Jun97
VH-ESA : Queensland Government from 01oct97; emergencies services

36087
412ep
1994
VH-ESB : Queensland Government Air (QGAir)

VH-ESB : Queensland Government - Emergency Services Sep95; Bell serial N2157A

36026
412hp
1991
VH-ESD : Jan16 still with QGAir and based at Townsville Airport.

N412TX : Bell Helicopter Jan92-May95
- VH-ESD : Australia, 1st reg Jul95; QES Rescue
VH-ESD : State of Queensland from Sep05; Queensland Government Air (QGAir)

31083
aw139
VH-ESH : Queensland Government Air (QGAir)

VH-ESH : Queensland Government - Emergency Services d/d jul07

31108
aw139
2007
VH-ESJ : Queensland Government Air (QGAir) 2008-2012

VH-ESJ : Queensland Government - Emergency Services d/d feb08
VH-YHF : Heliflite from Mar12

0331
EC135P2
2004
VH-ESZ : Queensland Government Air (QGAir) 2005-2009

VH-ESZ : Queensland Government - Emergency Services from Jan05
- VH-NVG : Surf Life Saving Queensland, Australia d/d Sep09; ex VH-ESZ

31125
aw139
VH-ESZ : Queensland Government Air (QGAir)

VH-ESZ : Queensland Government - Emergency Services d/d jun08

41007
aw139
2008
VH-EZJ : Queensland Government Air (QGAir)

N126AW : AgustaWestland, PA to C-GLPI
C-GLPI : STARS May08-Nov10
N480SM : AgustaWestland, PA Nov10-Nov11
VH-EZJ : Queensland State HEMS from Nov11