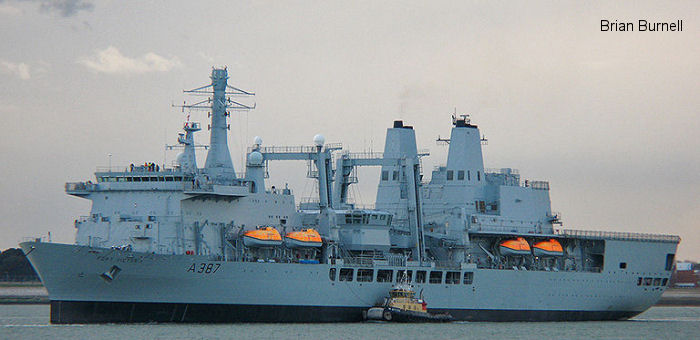 | | |
| --- | --- |
| Flight Deck: | FV |
| Call Sign: | GACE |
Add new event for this unit

| | |
| --- | --- |
| Year: | |
| Month: | <- (1/12) Optional |
| Day: | <- (1/31) Optional |
1986-apr-24
Ordered
1988-apr-4
Laid down
Yard No 1727
1990-jun-12
Launched
As of Oct 2019, this was the last non-warship Naval vessel actually built in Belfast (others had undergone maintenance / refit).
1994-jun
Commissioned
commissioning delayed by IRA bombing
1998-jul-17
Port Visit
visit to Latakia in company with HMS Marlborough
1999-feb-1
Refit
Rosyth CIWS Phalanx 20 mm refit at Babcocks, until Jun 1999, fitted with Phalanx CIWS
2003-jan-18
Deployment
Operation Telic to support post-combat and reconstruction operations in Iraq, with 4 Merlin from 814 NAS embarked, completing 28 May 2003.
2006-jul
Deployment
off Lebanon Operation Highbrow supported Royal Navy vessels in evacuation of British nationals from Beirut, during Israel-Lebanon war. Returned to UK on 8 Aug.
2007-apr
Homeport
in extended readiness until Mar 2009
2008-oct-21
departed Portsmouth under tow for Birkenhead in preparation for refit.
2008-oct-27
Refit
Canada Dock refit at Cammell Laird, Birkenhead until 11 Nov 2009
2010-aug-29
Deployment
departed Scotland for a 40 month Middle East waters and Indian Ocean deployment with anti-piracy force CTF-151. Relieved on station by RFA Fort Austin on 18 Oct 2013 and returned to Crombie on 9 Dec.
2011-jan
Deployment
Completed an anti-piracy support deployment to the Arabian Gulf and Somali Basin, with an 820 NAS Merlin embarked.
2011-feb
Deployment
relieved RFA Bayleaf as Arabian Gulf Ready Tanker.
2011-sep
Deployment
Operation Ocean Shield departed Dubai for anti-piracy deployment to Indian Ocean. 815NAS 229 Flt Lynx HMA.8SRU ZF562 embarked.
2011-oct-10
Deployment
Ships Flt Lynx came to aid of hi-jacked mv Montecristo, c 550 nm E of Somalia and re-took the ship with a Royal Marine boarding party.
2011-nov-21
Deployment
Off the Horn of Africa, performing a RAS with HMS Somerset.
2012-may-3
Aircraft
embarked MH-60R from HSM-77 Saberhawks (usually deployed aboard USS Abraham Lincoln) while part of CTF-151.
2012-sep-24
Refit
Al Mina Port Rachid refitted in Dubai (destored to RFA Fort Rosalie beforehand), until 29 Nov
2013-jan
Deployment
Combined Task Force 53 Assigned as Support Ship to CTF 53 in the Red Sea and Indian Ocean, following refit in Dubai. Relieved RFA Wave Ruler.
2014-feb
Refit
10 month refit at Birkenhead, which included overhaul of both main engines and replacement of both propellors and 6 diesel generators. Completed Jan 2015
2015-nov
Port Visit
Port of Duqm Visited Duqm to assess suitability as a re-supply hub for Gulf and Indian Ocean operations
2015-dec
Deployment
CTF-152 Operating in the Gulf with Sea King ASaC.7 of 849 NAS Okinawa Flt embarked
2016-aug
Deployment
conducted RAS in Arabian Gulf, with HMAS Perth.
2016-sep-08
NEWS
Arabian Sea First Deployment for Australian MH-60R Seahawk
2018-jan
Refit
Birkenhead Departed Birkenhead after completion of refit on 26 Oct 2018. Apart from usual overhauls and repaint, she was fitted with a fast, high-capacity Heavy Replenishment at Sea (HRAS) system to support rapid solid stores supply to the Queen Elizabeth Class carriers and retrofitted with a limited double hull for the oil and aviation fuel tanks.
The Max option implies only aircraft of this model onboard

Harland and Wolff, Belfast