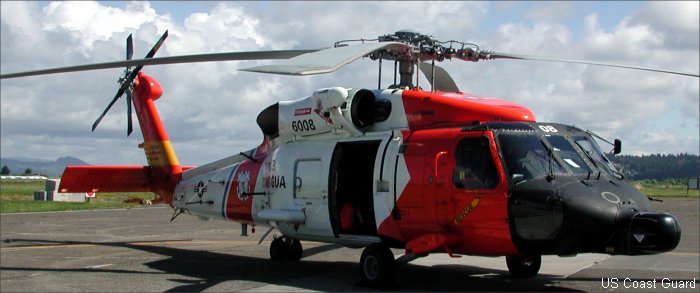 The
HH-60J Jayhawk
replaced the
HH-3F Pelican
in US Coast Guard service. As an example of this helicopter effectiveness, on December 2000 a dramatic rescue took place 200 miles (322 kilometres) off the coast of Virginia, USA. The cruise liner SeaBreaze I suffered an engine failure during a storm and soon began taking on water. One US Coast Guard HH-60J Jayhawk helicopter rescued 26 crewmembers and another Jayhawk rescued the remaining eight. The helicopter with the 26 rescued sailors aboard, combined with its own four crewmen, set a new record for the most people aboard a single H-60.
1992 :
HH-60J Jayhawk
Redesignated MH-60J
2006 :
SH-60F Oceanhawk
Since 2005, the USCG received at least 7 SH-60F and 4 HH-60H from the US Navy
2007 :
MH-60T Jayhawk
MH-60J upgrades
In 2021, a MH-60T Jayhawk was fitted with ex-Navy folding rotors and tail boom in order to deploy aboard USCG cutters, a task which was carry out by the
MH-65 Dolphin
.
Elizabeth City logistics center to overhaul entire fleet with new hulls in order to extend the service life another 20,000 hours
Deployments