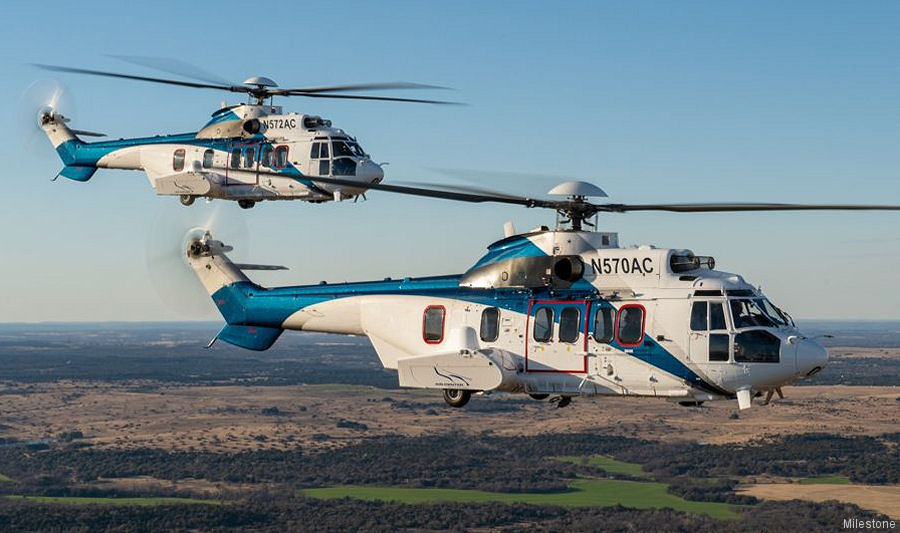 Eleven More H225 for Air Center Helicopters, 10-Feb-21 : #leasing Air Center Helicopters Inc (ACHI) leased 11 EC225/H225 helicopters from Milestone Aviation. Will be delivered in 2021/22 for utility, training and transport missions for U.S. government contract operations ( VERTREP, CASEVAC, MEDEVAC )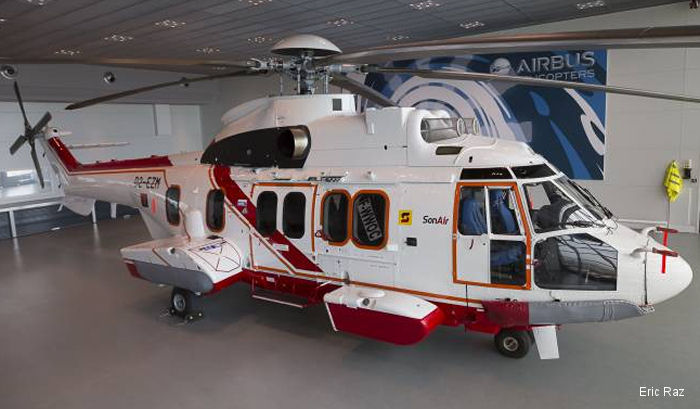 Milestone delivers 3 EC225 to Angola SonAir, 05-Jun-14 : Marignane, France - The worldwide fleet of EC225s that perform heli-lift duties for oil and gas operators increased by three today with Airbus Helicopters' triple delivery of workhorse rotorcraft acquired by Milestone Aviation Group and leased to SonAir - an African operator – which will utilize them in Angola.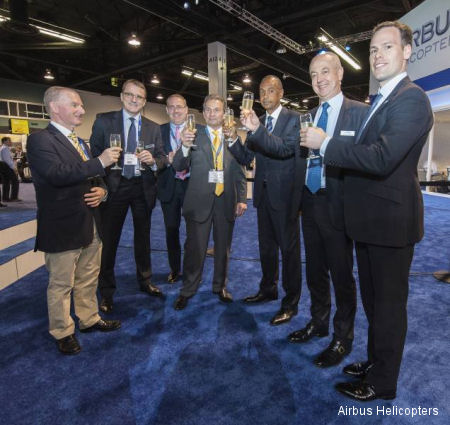 Milestone orders 3 EC225s for Angola SonAir, 26-Feb-14 : Heli-Expo 2014 Anaheim, California - Milestone Aviation Group, the global leader in helicopter leasing, and SonAir, the largest African helicopter operator and a subsidiary of the Angolan national oil company Sonangol, announced that three of Milestone's record order for 30 of Airbus Helicopters' EC225s will begin performing airlift duties for Angola's oil and gas sector.

Eurocopter booked 69 at Heli-Expo, 11-Mar-13 : New orders and commitments for Eurocopter's helicopter family, along with an unveiling of the latest evolution in its product line, marked the company's highly successful participation at Heli-Expo 2013 – the rotorcraft industry's largest international gathering, held this month in Las Vegas, Nevada.
C/N
Mod
Built
ID In this Org
In other Org


2876
2013
G-CIDK: Wilmington Trust Ireland Dec13-Apr14. test serial F-WWOR

D2-EZN: Sonar May14-Mar17


---

N552AC: Vertical Aviation No1 Llc at Columbus, OH from Apr18; A+

2900
2013
G-CIDM: Wilmington Trust Services at Dublin, Ireland Dec13-Apr14

D2-EZM: SonAir Jun14-Mar17


---

N557AC: Air Center ?

2972
h225
2015
G-CIWR: Milestone Aviation Irish Asset Holding Group No1 at Dublin,+

2910
h225
2014
G-CJWN: Vertical Aviation No 1 Jan17-Aug18

VH-SRU: Lloyd Helicopters Pty from Aug14


---

based at Broome as /Rescue625 with Rescue titles in se+


---

leased to CHC Helicopters Australia working on the Shel+


---

EC-NAA: Salvamento Maritimo from Aug18; Helimer 402; pictured (+


---

pictured (pic4) with new paint color scheme at Mutxam+


---

at Alvedro base, Coruña with sister EC-MCR

2913
h225
2014
G-CKBO: Wilmington Trust SP Services (Dublin) Ltd, Ireland Mar17-Mar+

D2-EZO: Sonair 2014-2017, test serial F-WJXP


---

pictured (pic1) New arrival at Fleetlands for post leas+


---

N553AC: Vertical Aviation No1 Llc at Columbus, OH from Apr18; A+

2902
2013
G-OAGD: Vertical Aviation No1 Ltd at Dublin, Ireland May17-Sep18

G-JENZ: CHC Scotia Dec13-Jun14


---

G-OAGD: CHC Scotia Jun14-May17


---

N587AC: Bank of Utah Trustee from Oct18


---

N587AC: Air Center Helicopters

2818
2011
G-PUMR: The Milestone Aviation Asset Holding Group No 1 Ltd at Hamil+

G-PUMR: Bond Offshore Helicopters Ltd Jan/Sep 2012, test serial+


---

PR-OHH: Omni Taxi Aereo 2012-2020


---

N554AC: Wells Fargo Trust Co Na Trustee at Salt Lake City, UT f+


---

Pensacola Aviation Center

2838
2012
N251EV: Vertical Aviation No1 Llc at Columbus, OH from Sep19

OY-HOM: Blueway/DanCopter 2012-2018


---

- F-GSXG: France 2018


---

N251EV: Erickson

2839
2012
N252EV: Vertical Aviation No1 Llc at Columbus, OH from May19

OY-HOK: Blueway/DanCopter Jun12-Oct18, test serial F-WWOI; off+


---

- VP-CBU: Cayman Islands Oct18-May19


---

N252EV: Erickson from Jul19


---

N252EV: US Navy ?, op by Erickson

2841
2012
N253EV: Vertical Aviation No 1 Llc at Norwalk, CT from Dec19

OY-HOS: Blueway/DanCopter d/d Jul12, test serial F-WWON; offsho+

2862
2013
N255EV: Vertical Aviation No1 Llc at Norwalk, CT from 30oct19

LN-OYX: Blueway d/d 26jul13 for Dancopter, test serial F-WWOF


---

LN-OYX: DanCopter from Blueway, OY-HOR ntu; Feb14 still in Denm+


---

N255EV: Erickson from Nov19, pictured


---

N255EV: Erickson logistics for US Navy, pictured (pic2)

2935
h225
2014
N256EV: Vertical Aviation No1 Llc at Norwalk, CT from 30oct19

LN-OYW: Blueway Offshore, Sep14


---

stored at Den Helder Airport, Netherlands by Sep17; se+

2842
2012
N551AC: Vertical Aviation No 1 Llc at Columbus, OH from Apr18

G-ZZSJ: Bristow Jul12-Nov17, test serial F-WWOH


---

Feb14 at Stavanger/Sola, Norway


---

noted at Aberdeen EGPD non-flying


---

F-GSXJ: Airbus France Nov17-Apr18


---

N551AC: Air Center Helicopters from 2018

2900
2013
N557AC: Vertical Aviation No 1 Llc at Norwalk, CT from May20

D2-EZM: SonAir Jun14-Mar17


---

N557AC: Air Center ?

2724
2009
N570AC: Vertical Aviation No1 Llc at Columbus, OH from Feb19

G-CFZE: Bristow Jul/Aug 2009, to Australia


---

VH-ZFD: Bristow Australia Sep09-Oct18?


---

N570AC: Bank of Utah Trustee Oct18-Feb19


---

N570AC: Air Center Helicopters


---

Nov19 in Melbourne, Australia configured as Rescue.. ma+

2728
2009
N572AC: Vertical Aviation No1 Llc at Columbus, OH from Feb19

G-CFZY: Bristow Jul/Sep 2009, test serial F-WJXX


---

VH-ZFE: Bristow Australia Sep09-Oct18?


---

N572AC: Bank of Utah from Oct18-Feb19


---

N572AC: Air Center Helicopters 2019, pictured (pic1)


---

N572AC: US Navy Military Sealift Command /06, op by Air Center +

2849
2012
N576AC: Vertical Aviation No1 Llc at Columbus, OH from Jun18

G-ZZSK: Bristow Oct12-May18


---

N576AC: Air Center Helicopters by Dec18


---

pictured departing Spinks Airport, Fort Worth, TX


---

under contract with GMR for relief support in Bahamas +


---

Sep19 supporting Strategic Response Partners (SRP) team+

2942
h225
2014
N594AC: Vertical Aviation No1 Llc at Norwalk, CT from Jul20

G-VINM: Bond Offshore Helicopters from Feb15


---

at Aberdeen, Scotland


---

G-VINM: Babcock Mission Critical Services Offshore Ltd from Apr+


---

N594AC: Air Center Helicopters Jul20

2838
2012
VP-CAA: Cayman Islands from 2018; Milestone ?

OY-HOM: Blueway/DanCopter 2012-2018


---

- F-GSXG: France 2018


---

N251EV: Erickson

2841
2012
VP-CBV: Cayman Islands 2018; Milestone ?

OY-HOS: Blueway/DanCopter d/d Jul12, test serial F-WWON; offsho+

2862
2013
VP-CBW: Cayman Islands from Aug18; Milestone ?

LN-OYX: Blueway d/d 26jul13 for Dancopter, test serial F-WWOF


---

LN-OYX: DanCopter from Blueway, OY-HOR ntu; Feb14 still in Denm+


---

N255EV: Erickson from Nov19, pictured


---

N255EV: Erickson logistics for US Navy, pictured (pic2)

2935
h225
2014
VP-CBX: Cayman Islands by 2018; Milestone ?

LN-OYW: Blueway Offshore, Sep14


---

stored at Den Helder Airport, Netherlands by Sep17; se+