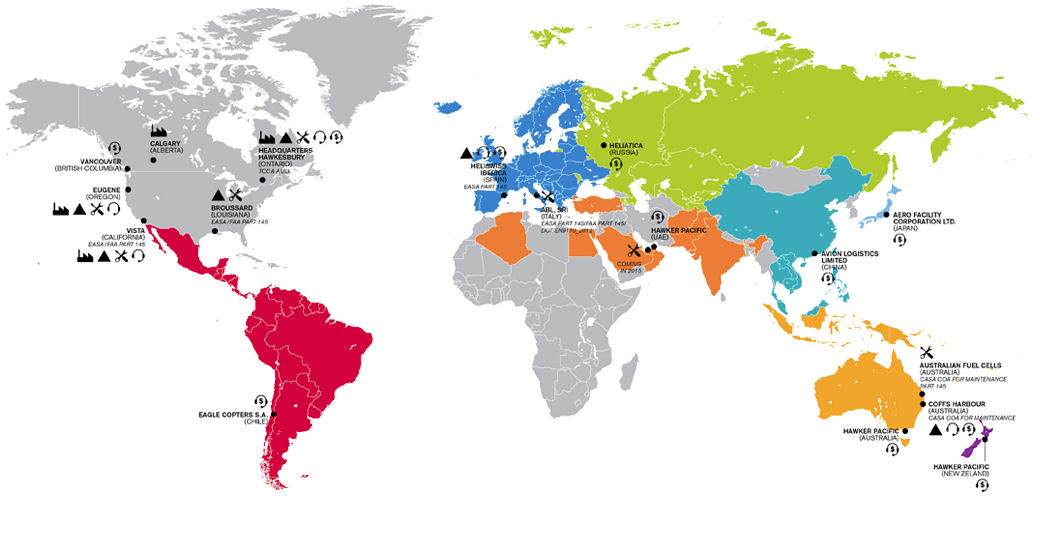 Provides industry-leading design, manufacturing and market-certified solutions for the helicopter and aerospace industry. With an impressive line-up of over 700 Supplemental Type Certificates (STC) and 5,000 products offering aftermarket products, accessories, spare parts and tools for civil and military operators, all major rotorcraft OEMs, completion centers and Maintenance, Repair and Operation (MRO) facilities.
Since 2003, DART Aerospace was as a subsidiary of
Eagle Copters
and
Era
. In March 2019 was acquired by Greenbriar Equity Group and First Aviation Services (FAvS).
In 2019, DART acquired
Simplex Aerospace
and
Aero Design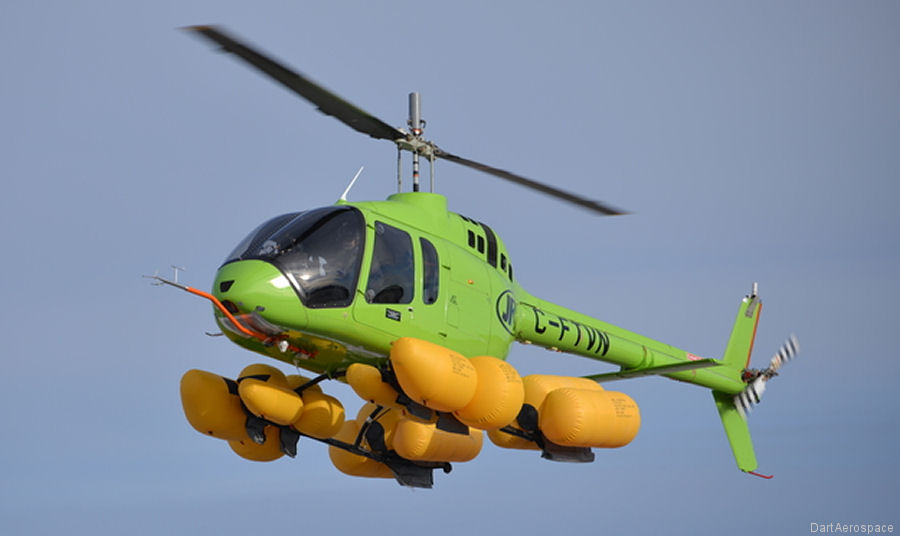 EASA Chooses DART Aerospace for Float Research, 19-Aug-20 : #Horizon2020 As part of the European Commission Horizon 2020 initiative, the European Union Aviation Safety Agency (EASA) awarded €1,5M contract to Canadian DART Aerospace to research float designs mounted higher on the helicopter than the current skid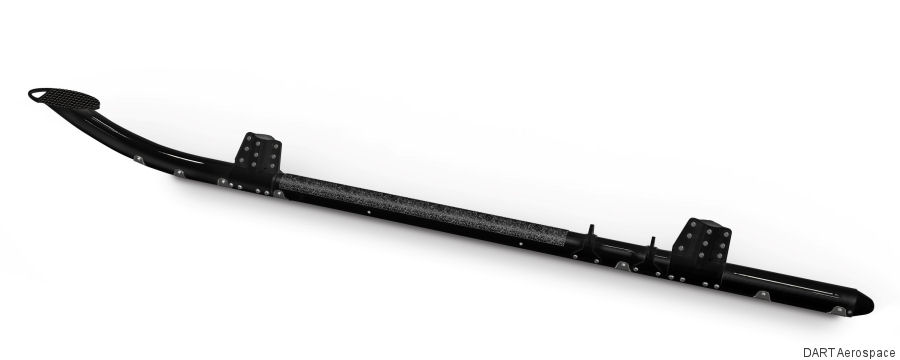 Bell 505 Standard and Float Skidtubes, 20-Nov-19 :

#Bell505 DART Aerospace receives European Aviation Safety Agency (EASA) certification for its Bell 505 Standard and Float Skidtubes which complement the Emergency Float System (EFS)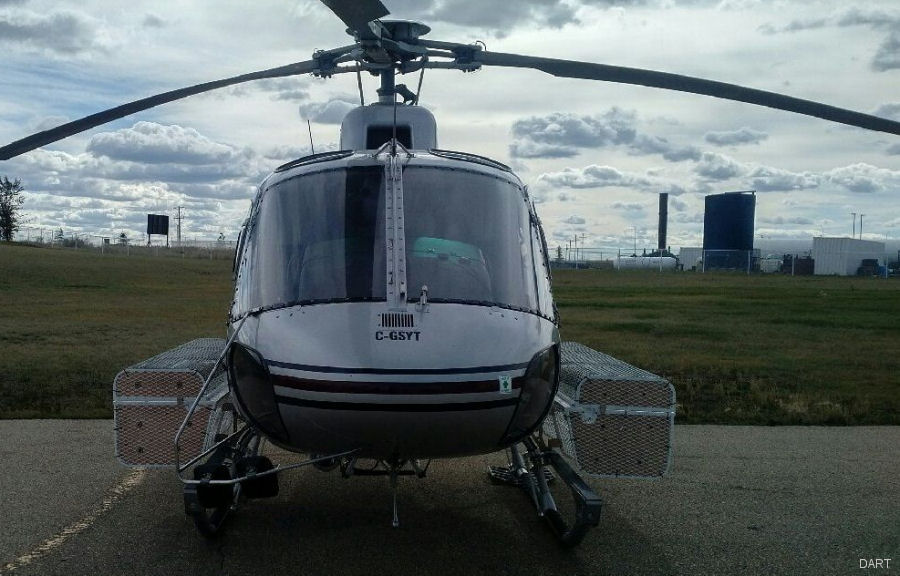 DART Aerospace Acquires Aero Design Ltd, 22-Oct-19 : #AeroDesign DART Aerospace acquired helicopter mission equipment manufacturer Aero Design, a leadership provider of baskets, steps, bear paws and bicycle racks for Airbus, Bell, MDHI and Robinson models. Terms of the transaction have not been disclosed.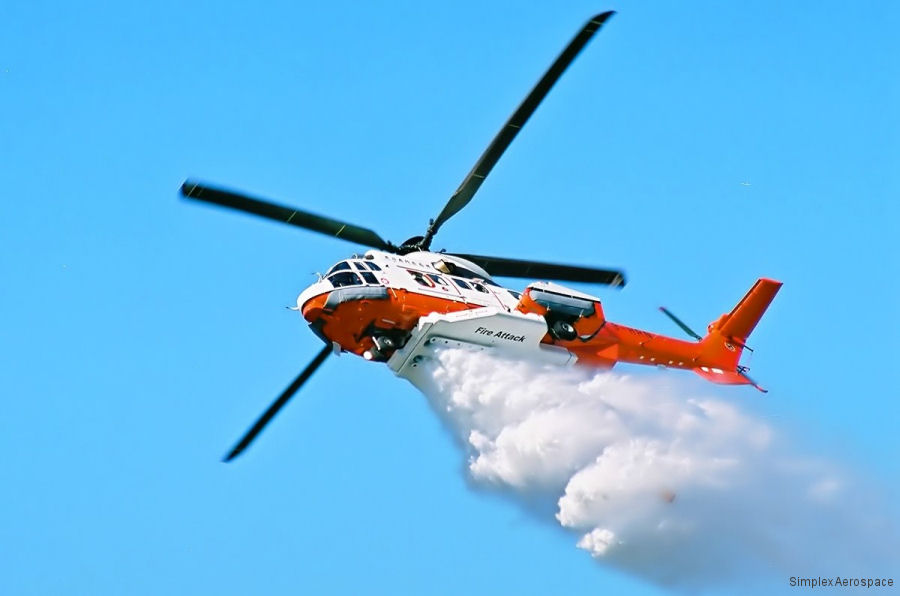 DART Aerospace Acquires Simplex Aerospace, 03-Oct-19 : #firefighting DART Aerospace acquired Simplex Aerospace. Based in Portland, Oregon, Simplex is an aerial firefighting and agricultural spray mission equipment leader founded in 1946 with customers in 120 countries. Terms of the transaction have not been disclosed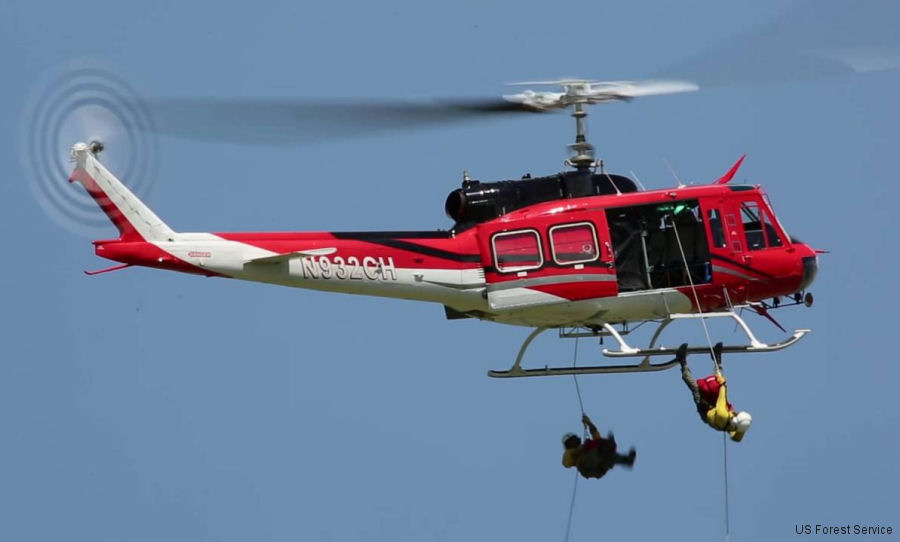 DART Rappel Kit Approved for US Forest Service ELAM, 25-Sep-19 : #firefighting US Dept of Agriculture' Forest Service resumed its External Load Attach Mechanism (ELAM) program allowing Canadian DART Aerospace sell the rappel hardpoints for Bell Hueys 205/210/212/214/412 firefighting operators
02-Jun-19 - European Certification for DART' R66 Floats #floats
15-Apr-19 - H130 Flotation System Approved by FAA and EASA #flotation
12-Mar-19 - DART Wearplates for Canadian Coast Guard Bell 429 #LandingGear
11-Mar-19 - Greenbriar and FAvS Acquired DART Aerospace #acquisition
07-Mar-19 - DART H130 Landing Gear Heli-Expo 2019
07-Mar-19 - High Capacity Cargo Nets for Aeróleo AW139 Heli-Expo 2019
06-Mar-19 - AW139 Skylight Window by DART Heli-Expo 2019
06-Mar-19 - 240 and 260 USG Firefighting Buckets Heli-Expo 2019
14-Feb-19 - Emergency Float System for the H130 #floats
13-Feb-19 - Certifications for EC135 / H135 Crosstubes #certfication
12-Dec-18 - Certifications for AS350/AS355 Heli Utility Basket #baskets
16-Oct-18 - DART Opens New Service Center in Amsterdam Helitech 2018
06-Sep-18 - Seychelles Helicopters with Total Care Program #Seychelles
16-Aug-18 - New Cable Cutter System for H130 / EC130 #safety
20-Jul-18 - PA100 PUREair Engine Protection System for H125/H130
28-Jun-18 - Guardian Tested New DART Firefighting Bucket

#firefighting
24-May-18 - DART First Bell 505' Floats Goes to Japan Coast Guard #accessories
22-May-18 - FAA Approves Bell 505 DART' Emergency Flotation System


04-Apr-18 - EASA Certification for DART Bell 505 Bearpaws
29-Mar-18 - DART Aerospace at FIDAE 2018
22-Mar-18 - Drallim Now a DART Aerospace Repair Facilily
14-Mar-18 - Bell 505 Bearpaws by DART Aerospace
01-Mar-18 - DART Firefighting Bucket Heli-Expo 2018
01-Mar-18 - DART Basket for Airbus H145 Heli-Expo 2018
27-Feb-18 - AW139 Medium Utility Helicopter Reconfiguration Heli-Expo 2018
27-Feb-18 - Bell 505 Emergency Flotation System Heli-Expo 2018
21-Dec-17 - DART Floats Certified for Bell 412EPi Increased Weight
18-Oct-17 - DART Aerospace' Bell 505 Bearpaws
11-Oct-17 - AW139 Emergency Floats Kit Available
05-Oct-17 - DART Aerospace New Warehouse in Amsterdam Helitech 2017
26-Sep-17 - DART Aerospace at Helitech 2017
17-Aug-17 - Cable Cutter System Saves Lives


11-Aug-17 - Bell 412EPI Landing Gear for Gross Weight Increase
02-Aug-17 - DART H145 Emergency Float System
01-Aug-17 - Servicing Survitec's Life Rafts and Jackets
13-Jun-17 - DART Equipment for Canadian Coast Guard Bell 412
08-Mar-17 - DART to Develop Bell 505 Emergency Flotation System Heli-Expo 2017
23-Feb-17 - DART Aerospace at Heli-Expo 2017 Heli-Expo 2017
18-Jan-17 - DART Aerospace and Air Zermatt Improve H130 Basket
09-Nov-16 - DART Cuts Ribbon at New Gulf of Mexico Facility
12-Oct-16 - DART Aerospace New UK Office Helitech 2016
25-May-16 - Heli Support NZ Praises PA100 PUREair System
12-May-16 - Kazakhstan H130 with PA100 PUREair System
02-May-16 - DART Aerospace in Australia and New Zealand
21-Apr-16 - DART Aerospace at the Army Aviation Summit 2016
28-Mar-16 - DART Aerospace with Eagle Copters at FIDAE FIDAE 2016
25-Feb-16 - DART Aerospace Two New AW139 Accessories Heli-Expo 2016
24-Feb-16 - FAA Certifies Auxiliary Fuel Tank for R66 Turbine Heli-Expo 2016
02-Jul-15 - Dart Aerospace with Heliswiss Iberica
14-Apr-14 - DART Emergency Float System for Canadian R66
05-Feb-14 - R66 with certified DART Emergency Float System
28-Jan-14 - DART launches extended height gear for Bell 412
18-Jun-13 - Dart Aerospace R66 field maintenance kit
23-Apr-13 - DART to launch ceiling panels for AW139