Christoph Munich was put into service on April 1, 1991 as Germany's first intensive care transport helicopter.
Continues operations under
DRF
News about Christoph München (HDM)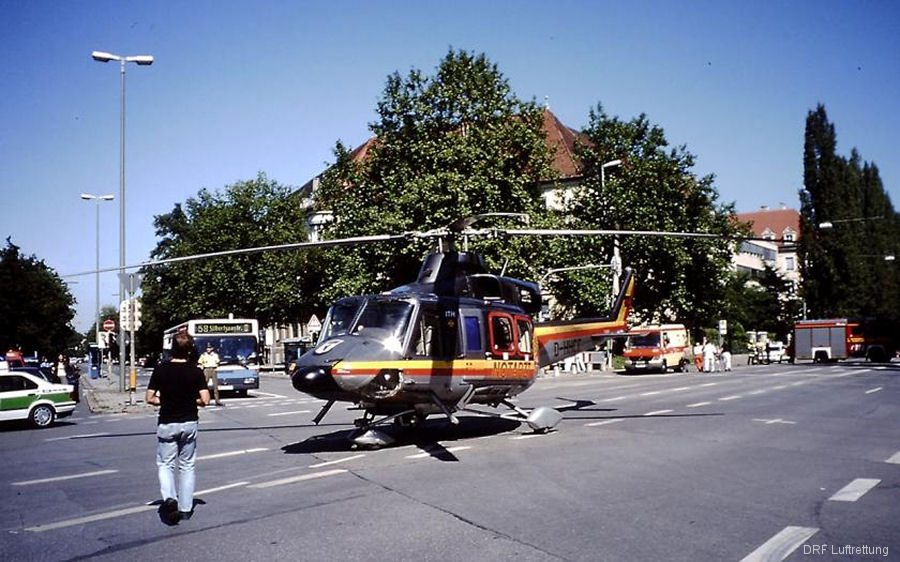 04-Jan-21 -

In 1991 Christoph München was established as the first official intensive care transport helicopter (ITH) in Germany.

#Munich
Models
Construction Numbers (Not all in this unit)
C/N
Version
Built
In this Org
In other Org
36066
412hp
1993
D-HHCC: HDM Flugservice from 1994, Bell serial N6227S
D-HHCC: 16- Berlin air show
D-HHCC: noted on the Schwabing rooftop pad.
D-HHCC: noted at Bad Saarow.
D-HHCC: 2007 Christoph Nurnberg
D-HHCC: 06sep10 damaged at Berlin/Marzahn
D-HHCC: noted at Potsdam

D-HHCC: Christoph Thüringen
D-HHCC: 19sep13 at HKZ Rotenburg ( Rodenberg-Clinic, Rotenburg a.d. Fulda ) later flew off eastbound
D-HHCC: DRF; asg Christoph Thüringen, Station Bad Berka
D-HHCC: 05nov12 for sale at Esperia (italian elicotteri) Rome, Italy , to be confirmed
D-HHCC: Agrarflug Helilift GmbH from Jun15
D-HHCC: 07ago15 Sierra de Gata, Cáceres, Spain
N6227S: reg to Bell, until Dec 1993.
- EC-NPH: ex D-HHCC; to Spain.

36355
412ep
2005
D-HHDM: HDM Flugservice; to Italy operated by Helitalia Regione Abruzo, team DRF
D-HHDM: noted at Ansbach as Christoph Nurnberg

OE-XJO: Heli Austria by Oct18
D-HHDM: DRF Luftrettung; Bell serial N7008Q
D-HHDM: Helitalia Regione Abruzo, team DRF

36046
412hp
D-HHII: HDM Flugservice Jul95, Bell serial N31408; Back to Bell as N9124N Oct95-Fe+

A7-HAW: Gulf Helicopters 1996
VT-UHA: United Helicharteres Ltd, India canc Apr11
- PK-FUJ: Indonesia, rtn to A7-HBW
A7-HBW: Gulf Helicopters, to 9H-VGH
9H-VGH: Vitals Global Healthcare (VGH), Malta from Sep16

36031
412hp
1991
D-HHLL: HDM 1991-1995?

N4603T: Bell Helicopters 1996-1997
EC-GOP: Helisureste 1998-2008
EC-GOP: MAGRAMA ( Ministerio de Agricultura, Alimentación y Medio Ambiente ) op by INAER; Firefighting by A...
EC-GOP: INAER from 2008
N42573: Bell, test serial C-GLZU
EC-GOP: Gobierno de Cantabria, Proteccion Civil, op by Babcock; pictured at Santander

33205
412sp
1990
D-HHNN: HDM reg Aug90, ex N3216N; 1995 pictured in Germany prior delivery flight t+

A7-HAV: Gulf Helicopters 1995, picture; May18 for sale

36041
412hp
D-HHTT: HDM Stuttgart 1992-1995, ex N3103K

N92801: Bell Helicopter Nov95-May97
A7-HAZ: Gulf Helicopters; pictured ~ 2005
OE-XYY: Heli Austria Notarzt 2011; Jun13 to INAER, Spain
OE-XYY: Heli Austria GmbH Feb14-Jan15
OE-XYY: INAER France, noted nov13
OE-XYY: Jan14 now in Germany at Agrarflug-Helilift, still under OE-XYY, a new D-reg will follow end of 2014
D-HAFN: Agrarflug Helilift GmbH Feb15-Jan17; May15 Operating in Spain with Rotorsun
EC-MPO: Spain from Feb17
EC-MPO: 29jun18 still with D-HAFN register

36057
412hp
1992
D-HHUU: HDM Flugservice; Bell test serial N6162A
D-HHUU: noted at KH Bad Reichenhall
D-HHUU: noted at Wolfratshausen.
D-HHUU: noted at Schwedt original pad

D-HHUU: 2012 Agrar Helilift, Ahlen
D-HHUU: noted at Ingolstadt, in Intensiv Transport markings.
OE-XWT: Heli Austria from Aug16
N6162A: manufacturer's test serial; to Germany by Jul 1993

36059
412hp
D-HHVV: HDM Luftrettung Aug93-Dec11
D-HHVV: noted as Christoph Berlin at Schwedt original pad

N6173A: Bell, test serial C-GLZA
D-HHVV: Agrarflug Helilift GmbH Dec11-Feb12
D-HHVV: since winter 2011/2012 it belongs to Agrarflug Helilift GmbH at Ahlen
- VT-DCM: Deccan Charters Ltd at Bangalore, India -2017?
D-HAFT: Agrarflug Helilift GmbH at Ahlen Apr/Dec 2017
EC-MUE: Rotorsun, 2018
EC-MUE: Generalitat Valenciana from 2018, op by Rotorsun

36076

w/o 2002

412hp
1993
D-HHXX: HDM Flugservice; w/o 24nov02 crash on landing at Pritzwalk, Brandenburg. 1+

- OE-XMM: Air Ambulance; to D-HHXX; Bell serial N2038G

36051
412hp
D-HHYY: HDM Flugservice; to XA-UAR

XA-UAR: Comision Federal de Electricidad (CFE), 2005
XA-UAR: Heliservicio Campeche; ex D-HHYY
XA-UAR: 17nov12 pictured at Eagle Copters ramp in Calgary, Canada

36065
412hp
1993
D-HHZZ: HDM Flugservice Feb96-Dec01; Sep00 pictured (pic1) as air ambulance at Hoc+

- OE-XNN: Ambulancflights Austria, air ambulance
- XA-TTL: Mexico
C-FDDI: Eagle Copters Mar05-Oct10
VT-AZL: Eagle Copters
VT-AZL: Global Vectra Helicorp
OB-1958-P: Servicio Aereo de los Andes, pictured (pic2)
CC-AOH: Calquin Helicopters by Apr18
CC-AOH: pictured (pic3) firefighting in Chillan, Chile, op by Pegasus Aero Group

11 C/N found in this Organisation.