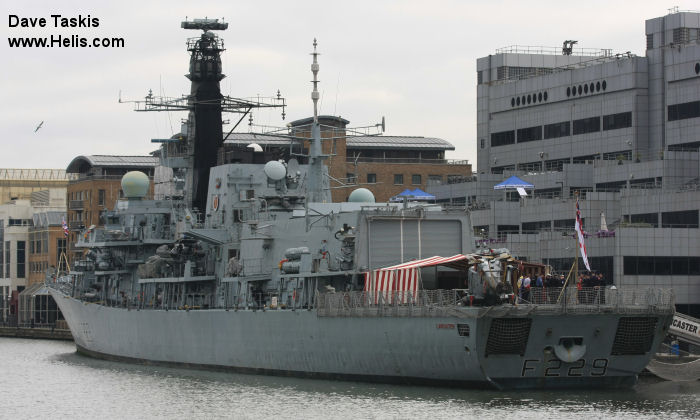 | | |
| --- | --- |
| IMO: | 8949604 |
| MMSI: | 234659000 |
| Flight Deck: | LA |
| Call Sign: | GACH |
| Shipyard: | Yarrow |
Add new event for this unit

| | |
| --- | --- |
| Year: | |
| Month: | <- (1/12) Optional |
| Day: | <- (1/31) Optional |
1987-dec-18
Laid down
Yard No 1036
1990-may-24
Launched
aka The Red Rose, aka The Queens Frigate
1992-may-1
Commissioned
originally intended to be F232 but changed to F229
1994-jan
Departed Devonport for West Indies Guardship duties.
1999
Refit
Major, 12 month refit
2001-feb
Port Visit
to Kuwait City for 10th anniversary Liberation ceremonies (from 1991 Iraq invasion)
2001-aug-24
Port Visit
HMNB Portsmouth IFoS 2001 International Festival of Sea 2001 Present at IFoS Portsmouth.
2003
Deployment
South Atlantic Atlantic Patrol Task (South) departed HMNB Portsmouth for Atlantic Patrol Task (South) deployment. Operated around Falkland Islands between May 2003 and Nov 2003, relieving HMS Westminster and herself relieved by HMS Glasgow.
2006-feb-13
Deployment
Departed HMNB Portsmouth for 5 month security deployment to the Red Sea, Gulf and Indian Ocean, initially operating with French Navy units led by FNS Charles de Gaulle and including FNS Cassard, FNS Montcalm and HMNLS De Zeven Provincien, supported by FNS Somme. Returned mid Jul 2006.
2008-jul-25
Deployment
HMNB Portsmouth Meet Your Navy 2008 At Portsmouth 25-27 Jul for Meet Your Navy 2008
2008-sep
Deployment
Departed HMNB Portsmouth for 6 month Gulf and Middle East deployment, returned Feb 2009
2009-oct-22
Deployment
Left HMNB Portsmouth with 815 NAS, 211 Flt Lynx embarked, for a 7 month Middle East deployment supporting CTF150 and CTF151, returning on 27 May 2010.
2010-oct
Refit
to BAE Systems at HMD Portsmouth for her 4th refit, of 16 months. Work included more efficient progress through the water, upgrades to weapons and computer systems, new shafts and upgrade to accommodation. Could not afford the towed array sonar Type 2087 upgrade.
2012-feb-2
Trials
Commencement of sea trials following 16 month refit, prior to returning to the Fleet.
2012-jul-6
Aircraft
flying demonstration by Wildcat for South Korean Trade Delegation, off South Coast of UK. Only 2nd Type 23 to host a Wildcat (ZZ404, an Army AH.1 variant).
2013-feb-15
Port Visit
Portland Harbour 3 day visit to Portland, alongside the deep water berth, until 17 Feb.
2013-mar-2
Port Visit
West India Dock (TQ) visit to Canary Wharf for 5 days, depart 7 Mar
2013-mar-3
Aircraft
815NAS Lynx HMA.8 ZD257/300-LA embarked
2013-may-28
Deployment
Atlantic Patrol Task (North) departed HMNB Portsmouth for a 7 month humanitarian and anti-narcotic deployment to the Caribbean and North Atlantic. 815 NAS 202 Flt Lynx HMA.8 /300-LA assigned. Supported in theatre by RFA Wave Knight. Returned to HMNB Portsmouth 18 Dec.
2013-jun-20
Port Visit
arrived in Grand Cayman for 4 day disaster preparedness visit
2013-aug-2
Port Visit
Kingston Bay weekend visit to Kingston, Jamaica, until 5 Aug.
2013-sep-9
Port Visit
Cartagena de Indias Harbour Cartagena de Indias Colombia for navy fair
2013-sep-23
Port Visit
4 day visit to Belize, including Independence Day celebrations, departed on 26 Sep. Lynx HMA.8 815 Sq/300 Spartan aboard.
2013-nov-1
Port Visit
Santo Domingo 4 day visit to Dominican Republic
2014-mar-17
Trials
Merlin HM.2 initial trials with 829 NAS 01 Flight
2014-mar-17
NEWS
Merlin Mk2 initial trials on Type 23 frigate
2014-may-14
Port Visit
Hamburg Port 825th Hamburg Hafengeburtstag visit to Hamburg for the 825th anniversary of the port and to join the Hafengeburtstag celebrations. Moored alongside FGS Hamburg.
2014-jul
Deployment
rendezvous with RFS Admiral Levchenko and shadowed her through English Channel, passing escort on to HMNLS Evertsen and HMNLS Freisland on 6 Jul.
2015-feb-26
Port Visit
visited Liverpool for 4 days. Ship open to Visitors on Sat 28 Feb. Departed 1 Mar.
2015-mar-21
Deployment
Atlantic Patrol Task (South) departed HMNB Portsmouth for 9 month Atlantic mission, to relieve HMS Dragon. First UK vessel on operational deployment with Wildcat HMA.2 ZZ377 Voodoo (of 825 NAS 201 Flt) embarked. Supported by RFA Gold Rover from Jun to 8 Nov. Returned to Portsmouth 17 Dec.
2015-oct-4
Port Visit
Lobito visited Lobito for 4 day visit, including joint training with US Marines and Angolan forces
2015-oct-23
NEWS
Saint Helena Wildcat in St Helena. First South Atlantic Deployment
2015-dec-6
Port Visit
Algiers visit to Algiers, departed 8 Dec.
2016-feb
HMNB Portsmouth Extended Readiness into Extended Readiness, at Portsmouth
2017-mar
Refit
HMD Devonport CAMM (M) Sea Ceptor left HMNB Portsmouth under tow for HMD Devonport and a refit by Babcock, replacing Sea Wolf by Sea Ceptor and fitting the Artisan 3D radar, until Aug 2019.
2019-dec-16
Deployment
To sea for training after an extended readiness period and refit.
2020-jan-20
Port Visit
Portland Harbour Alongside at Portland.
2020-sep
Aircraft
815 NAS 209 Flt Wildcat HMA.2 embarked.
2020-dec-6
Deployment
HMNB Portsmouth returned to HMNB Portsmouth after deployment.
2021-mar
Deployment
departed Portsmouth as Flagship of JEF (with HMS Westminster and RFA Tiderace) for maritime security and freedom of navigation Baltic deployment with 815 NAS 209 Flt Wildcat embarked, returned 31 Mar.
2021-may
Deployment
Formidable Shield 2021
2022-aug-15
Deployment
Operation Kipion departed Portsmouth for 3 year forward basing mission in the Middle East and Indian Ocean.
2022-nov-13
Deployment
Mina Salman Port relieved HMS Montrose on station, as the long term Middle East frigate.
The Max option implies only aircraft of this model onboard

Yarrow, Scotstoun