The Bo 105 is a light, twin-engine, multi-purpose utility helicopter developed by Bolkow in late 1960s and enter production in 1970 by the recently merged Messerschmitt Bolkow Blohm (MBB) which became a part of Eurocopter in 1991. Bo105 production continue until 2001 when it was replaced by the
ec135
. 1500 units built.
The Bo105 introduced a revolutionary hingeless rotor system, a pioneering innovation for helicopters.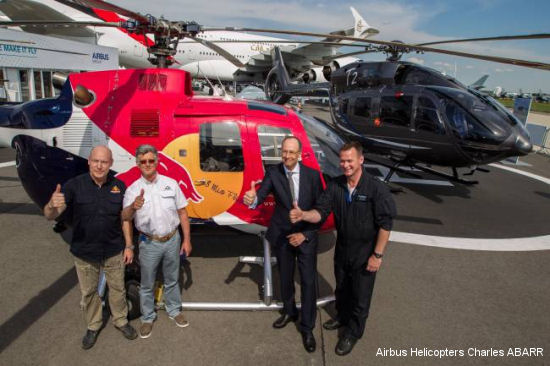 Bo105 clock up a total of 8 million flight hours, 21-May-14 : BERLIN – BO105 have been a fixture of helicopter fleets around the globe for over 40 years. They reliably carry out their missions and prove their worth day after day under tough conditions. Collectively, they have now completed a total of 8 million flight hours.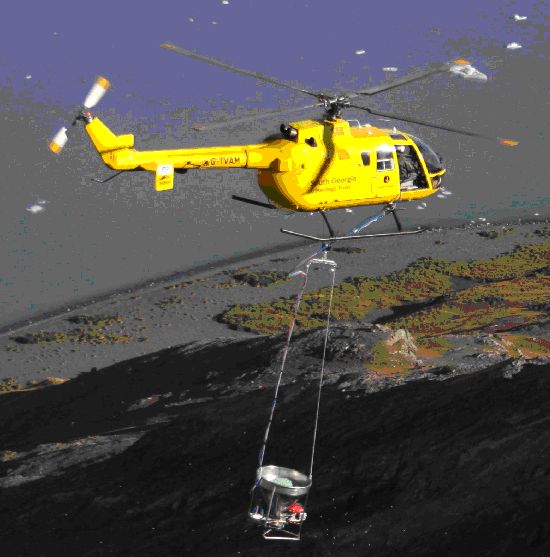 Specialist Aviation in South Georgia islands, 11-Mar-11 : UK based operator and support organisation Specialist Aviation Services has assisted South Georgia Heritage Trust in successfully completing the first phase of a 5 year project to eradicate rats which have decimated the island's unique population of seabirds over recent decades.
Model
Year
History
Bo105A
1966
The first prototype never flew, when in August 1966 damaged when taxiing. First flight with second prototype bo105a was 16feb67.

Bo105B
1967
third prototype with engine from MAN, first flight dec67.

Bo105C
1972
Initial verstion powered by 2 Allison 250-C20 turbine engines

Bo105D
1973
UK certified offshore version

Bo105CB
1975
Powered by 2 Allison 250-C20B turbine engines

IPTN nbo105
1976
Licence built in Indonesia. C/N used prefix N. Airframes listed under MBB Bo.105. 100 NBo.105CB 23 NBo.105CBS

NBo105CB
1976
Bo.105CB built under license by IPTN in Indonesia

Bo105CB-2
1977
Bo105CBS
1977
Fuselage stretched by 30 cm
They started with the stretched version in 1975. The production started from 1977

Bo105CBS-2
1977
Bo105M
1979
VBH ( Verbindungshubschrauber; 'connection chopper') a light transport and surveillance helicopter for German Army

CASA bo 105
1980
Assembled in Spain. C/N used prefix S-4. Airframes listed under MBB Bo.105

Bo105P PAH-1
1980
Panzerabwehrhubschrauber ( german for Tank-defence helicopter ) for the West German Army in the Cold War as a mean to face a Warsaw Pact tank inv ...

Bo105S
1980
Evolution from the Bo 105 C, with extended fuselage and new powerfull engines. Reinforced Main Transmision. Engines: Detroit Diesel Allison 250 - ...

Bo105LS
1981
The LS stands Lift and Streched. Same fuselage as the CBS. This helicopter is for larger height be flown. Only a couple built in Germany, the mos ...

Bo105CB-3
1985
Bo105CB-4
1985
Bo105CBS-4
1985
Bo105DBS-4
1989
Bo105CB-5
1990
Bo105CBS-5
1990
Bo105E-4
2006
Upgrades of former german Bo.105P to be donated to Albania