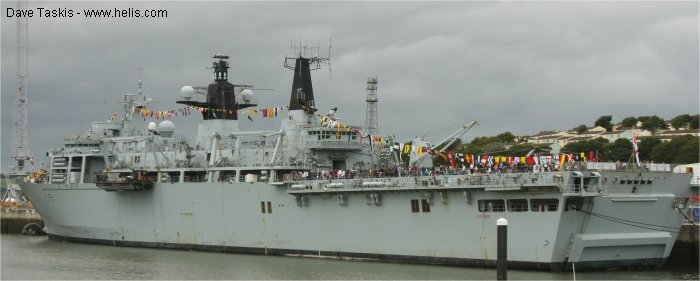 Add new event for this unit

| | |
| --- | --- |
| Year: | |
| Month: | <- (1/12) Optional |
| Day: | <- (1/31) Optional |
1996-jul-18
Ordered
2000-jan-27
Laid down
2001-nov-15
Launched
at Barrow-in-Furness
2005-apr-28
Commissioned
2005-apr-28
Homeport
HMNB Devonport
2005-jul-1
Port Visit
Present at International Festival of the Sea (Trafalgar 200), Portsmouth.
2006-jul
Deployment
off Lebanon Operation Highbrow assisted in evacuation of British nationals from Beirut, including over 1300 in one day, during first use of two Chinook operations.
2008-may-9
Port Visit
arrived in Liverpool for 4 day visit
2008-oct-4
Deployment
North Western Approaches Exercise Joint Warrior 08-2 participated in bi-annual multi-national exercise off Scottish coast, until 17 Oct
2008-nov-29
Port Visit
Amsterdam Netherlands
2009-sep-5
Homeport
HMD Devonport Navy Days 2009 present for Navy Days 2009, with 846 NAS Sea King HC.4 ZB507/F aboard
2010-may
Refit
by Babcock Marine for 8 months at HMD Devonport which included engine improvements, better night vision capabilities and an IT system upgrade, together with allowing her to operate two Chinooks simultaneously, following the lessons learned from Operation Highbrow. Refit completed mid Jan 2011.
2011-mar-16
Port Visit
Greenwich Reach visit to London for 5 days. Moored at Greenwich Ship Tier on the River Thames.
2011-jul-22
Port Visit
anchored in Torbay for a 3 day visit to Torquay, with Ship Open to Visitors on 24 Jul.
2011-sep-22
Port Visit
attended the 2011 PSP Boat Show at Southampton
2011-oct-25
Deployment
Staff College Sea Days 2011 launched a demonstration Royal Marine assault onto Browndown Beach near Gosport, Hampshire. Supported by RFA Mounts Bay.
2012-feb-10
Port Visit
visited Hamburg for 4 days, departing 13 Feb
2012-feb-17
Port Visit
visited Gydnia, Poland after two days exercising with Polish Navy in the Baltic.
2012-jul-16
Deployment
Portland Harbour departed HMNB Devonport to take up station off Weymouth (arrived 24 Jul, with 814 NAS aboard) as a logistics hub in support of Police maritime security operations for the London 2012 Olympic sailing events. Supported by RFA Mounts Bay.
2012-oct
Deployment
departed HMNB Devonport for 3 month Cougar 12 deployment in the Mediterranean, with a detachment of Lynx from 659 Sq AAC, supporting flagship, HMS Illustrious.
2013-may-5
Port Visit
Rotterdam Harbour Wilhelminapier 5-9 may visit Rotterdam
2013-may-23
Port Visit
Battle of the Atlantic 70th Anniversary to Alexandra Dock, Liverpool for BOA70 commemorations.
2013-aug-12
Deployment
Cougar 13 departed HMNB Devonport for Gulf, Red Sea and Horn of Africa as Flagship for Exercise Cougar 13. Returned to HMNB Devonport on 13 Dec.
2013-nov-28
Port Visit
Grand Harbour / il-Port il-Kbir / Valletta arrived in Valetta for 5 day visit
2014-mar-31
Deployment
North Western Approaches Exercise Joint Warrior 14-1 JW 14-1
2014-may-28
Port Visit
Greenwich Reach visit to London for celebration of 350th anniversary of the Royal Marines. Moored at Greenwich Ship Tier on the River Thames.
2014-jun-5
Deployment
departed HMNB Portsmouth with HMS Richmond and smaller ships for Gold Beach and the 70th Anniversary of D-Day commemorations
2014-aug
Deployment
departed HMNB Devonport for Cougar 14 deployment and operations in Middle East. Returned on 16 Dec.
2014-sep
Deployment
Kepi i Pallit Exercise Albanian Lion In company with RFA Lyme Bay, launched pre-dawn practice assault on beaches near Rinia
2014-sep-2
Deployment
Gibraltar Harbour Cougar 14 arrived in Gibraltar for Cougar 14 deployment, in company with RFA Lyme Bay and RFA Wave Knight. Departed 10 Dec 2014.
2014-nov-7
Deployment
IMCMEX 2014 International Mine Counter Measures Exercise 2014 diverted from Cougar 14 deployment to lead the multi-national exercise.
2014-dec-17
Refit
alongside maintenance at Devonport, until Feb 2015
2015-mar-17
Deployment
Exercise Browndown Battle II Staff College Sea Days 2015 participated in Sea Days 2015, launching 40 Commando RM and supporting units, in an assault on Browndown Beach
2015-apr-19
Port Visit
Piraeus visited Piraeus, en route to Gallipoli centenary commemorations
2015-apr-21
Port Visit
Canakkale Port to Canakkale to participate in centenary of Gallipoli celebrations. Departed 26 Apr.
2015-apr-30
Aircraft
off Libya Operation Weald received a detachment of 3 Merlin HM.2 from 814 NAS for Mediterranean operations, until Jul.
2015-may-4
Deployment
off Libya Operation Weald deployed for humanitarian SAR operations in the Mediterranean. Relieved on station by HMS Enterprise on 3 Jul.
2015-may-27
NEWS
HMS Ocean to Assume Fleet Flagship Role
2015-may-29
NEWS
Central Mediterranean HMS Bulwark Rescues Migrants in the Mediterranean
2015-oct-1
Deployment
Cougar 15 Exercise Trident Juncture 2015 departed HMNB Devonport for 4 month Mediterranean deployment on multi-national Exercise Cougar 15, which included participation in Exercise Trident Juncture 2015. Returned to HMNB Devonport on 7 Dec 2015.
2016-apr-10
NEWS
RAF Leeming UK-French Griffin Strike Amphibious Exercise
2016-may-6
Port Visit
Cruise Terminal weekend visit to Liverpool
2016-may-30
Port Visit
Hatston Pier Jutland 100 alongside Kirkwall, for Battle of Jutland commemorations
2016-jun-6
Port Visit
Greenwich Reach Greenwich visited London for 4 days, following Jutland 100 commemorations. Departed 9 Jun.
2016-jul-20
Port Visit
Sunderland Intl Airshow visit to Sunderland for International Airshow and Amphibious Assault capabilty demonstration on Seaburn beach, over the weekend
2016-sep-19
Deployment
JEFM2016 Joint Expeditionary Force (Maritime) 2016 departed HMNB Devonport for 6 month Middle East Task Group deployment.