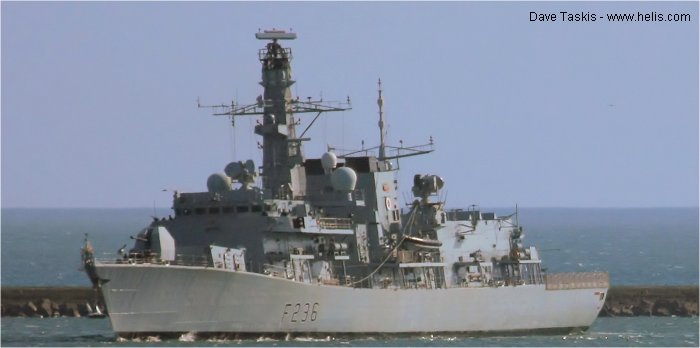 | | |
| --- | --- |
| IMO: | 8949642 |
| MMSI: | 234618000 |
| Flight Deck: | MR |
| Call Sign: | GCOD |
| Shipyard: | Yarrow |
Add new event for this unit

| | |
| --- | --- |
| Year: | |
| Month: | <- (1/12) Optional |
| Day: | <- (1/31) Optional |
1989-nov-1
Laid down
Yard No 1042
1992-jul-31
Launched
1994-jun-2
Commissioned
1995-jul
Aircraft
assigned 815 NAS Lynx ZF557 / 444-MR as ships flt by Jul 1995 until c Dec 1997. Included 3 week detachment to USS Cape St George during Jun 1997.
1995-nov
Deployment
Bermuda Dockyard WIGS West Indies Guardship Nov 1995 to May 1996. One of the last RN ships to use the Dockyard site.
2001
Deployment
South Atlantic Atlantic Patrol Task (South) Atlantic Patrol Task (South), deployed around Falkland Islands between Nov 2001 and Mar 2002, relieving HMS Edinburgh and herself relieved by HMS Newcastle.
2004-dec-8
Aircraft
12nm E of The Lizard Lynx XZ724 accident, during SAR for reported man overboard
2007-jan
Deployment
until Jul 2007, task group assignment to Standing NATO Maritime Group Two, around the Mediterranean Sea.
2008-may
Deployment
deployed to the Middle East and Arabian Gulf for a 7 month mission, returning on 3 Oct 2008, after being relieved by HMS Northumberland.
2008-dec-30
Refit
Mk.8 Mod 1 4.5 inch at Babcock until Sep 2009, for extensive refit programme, including Seawolf mid life upgrade.
2009-jan
Refit
DS30M 30mm Added DS30M Mark 2 30mm Gun and was 1st Type 23 to have upgraded DNA 2 Combat Management System installed.
2010-aug
Deployment
for 5 month deployment to the Arabian Gulf on anti-piracy patrol, returned to HMNB Devonport on 23 Dec 2010.
2011-oct-24
Deployment
South Atlantic Atlantic Patrol Task (South) departed HMNB Devonport to take station for 5 months as APT(S) by mid Nov 2011, relieving HMS Edinburgh and due to be relieved by HMS Dauntless. 815 NAS Lynx c/s Wildcat embarked. Returned to HMNB Devonport on 11 May 2012.
2011-nov-23
Port Visit
Georgetown Ascension island visit to Georgetown, Ascension Island, en route South Atlantic
2012-mar-20
Port Visit
Callao denied permit to dock in Peruvian port of El Callao
2012-apr-17
Port Visit
Thalia St Wharf Thalia St Wharf NOLA Navy Week visited New Orleans to commemorate War of 1812
2012-oct-2
Deployment
departed HMNB Devonport for 3 month Cougar 12 deployment in the Mediterranean
2013-aug-12
Deployment
Operation Kipion Cougar 13 departed HMNB Devonport for 7 month deployment which is to include participation in Ex Cougar 13. Lynx HMA.8 of 815 NAS 214 Flt embarked. Relieved HMS Dragon off the Horn of Africa on 19 Sep. Relieved on station by HMS Diamond on 26 Feb and returned to HMNB Devonport in Mar 2014.
2013-oct-24
Deployment
transit through the Strait of Hormuz, escorting HMS Illustrious, as part of Cougar 13 deployment.
2013-nov
Deployment
Port of Latakia Operation Recsyr retasked to provide Force Protection to UN fleet removing chemical weapons from Syria as part of Operation Recsyr, via the port of Latakia
2014-may-29
Port Visit
West India Dock (TQ) visited West India Dock, South Quay for 350th anniversary of Royal Marines weekend.
2014-jun-6
Deployment
Baltic Sea BALTOPS 14 participated with BALTOPS 2014 embarked Lynx ZD261 of 815 NAS 214 Flt.
2014-jul-9
Port Visit
Visit to Montrose, Angus Scotland.
2014-oct-17
Refit
surface and low level air search radar Type 997 at HMD Devonport with Babcock for fitting Sea Ceptor, Artisan 3D radar and improving the command system, amongst other internal and external work. Returned to sea in Jun 2017.
2018-oct-29
Deployment
Operation Kipion departed HMNB Devonport for 3 year deployment to Middle East. After an initial global maritime security mission, she will be forward-based at Mina Salman in Bahrain and the ships company will rotate from the UK periodically.
2018-dec-4
Deployment
Valparaíso Chilean Navy 200th Anniversary ExpoNaval 2018 Attended the ExpoNaval 2018 with her Wildcat ranged on deck, during a 9 day visit to Valparaiso
2018-dec-26
Port Visit
off Anakena 3 day post-Christmas visit to Easter Island, en route Bahrain.
2019-jan-15
Port Visit
HMNZD Devonport 5 day visit to Auckland. 1st visit of a British Warship to New Zealand for over 20 years.
2019-apr-2
Port Visit
Port of Colombo Visiting Visit to Sri Lanka. After departure, exercised with Sri Lanka Navy.
2019-apr-11
Homeport
Mina Salman Port arrived in Bahrain from Tokyo for 3 year deployment, with ships company rotated on a 4 monthly basis, until Nov 2022. Support will initially be provided by RFA Cardigan Bay.
2019-jul-19
Deployment
Strait of Hormuz (choke) arrived on scene just too late to prevent Iranian seizure of mv Stena Impero making independent passage, in period of heightened international tension around the Persian Gulf between Bandar Abbas and the UAE.
2019-oct-10
Deployment
CTF 150 Combined Task Force 150 While operating with her Port Crew on rotation from UK in Arabian Sea as part of CTF150, seized a significant haul of narcotics, in cooperation with FS Jean Bart.
2020-mar
Aircraft
Op Kipion Continuing her Operation Kipion duties in the Persian Gulf, with 815 NAS 210 Flt Wildcat HMA.2 embarked. Mother returned to UK on 5 May.
2020-jun
Deployment
Port Crew rotated aboard and 815 NAS 213 Flt Wildcat HMA.2 replaced 210 Flt.
2020-sep
Aircraft
Op Kipion 815 NAS 217 Flt Wildcat HMA.2 embarked.
2022-nov-13
Deployment
relieved by HMS Lancaster on station, as the long term Middle East frigate. HMS Montrose is returning to the UK, to decommission in spring 2023.
The Max option implies only aircraft of this model onboard

Yarrow, Scotstoun