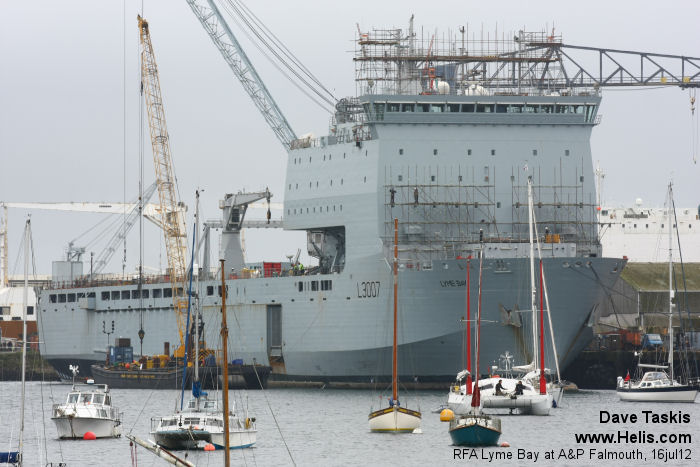 Add new event for this unit

| | |
| --- | --- |
| Year: | |
| Month: | <- (1/12) Optional |
| Day: | <- (1/31) Optional |
2000-dec-18
Ordered
2001-oct-1
Laid down
originally proposed to be named Aboukir Bay, Yard No. 142
2001-nov-19
Ordered
2005-aug-26
Launched
hull built by Swan Hunter, but completed from Jul 2006 by BAE Systems at Govan.
2007-aug-8
Commissioned
2008-feb-28
Port Visit
Tristan da Cunha dispatched to South Atlantic island of Tristan da Cunha for emergency harbour repairs and to return an island Medical Officer from leave.
2008-jul-21
Port Visit
visited Liverpool for the 2008 Tall Ships event, with HMS Argyll.
2009
Deployment
to Middle East as main support for UK Mine Countermeasure force, returning Jul 2012.
2012-jul
Refit
5 month refit at Falmouth for work on ballast water treatment system, overhaul to the main machinery and propulsion, re-paint and anti-fouling and new exhaust management arrangements, which completed in Dec. ( Pictured (Pic1) on 16 Jul 2012 ).
2013-aug
Deployment
Cougar 13 departed UK for Middle East support duties as part of Ex Cougar 13.
2013-oct-16
Deployment
Operation Atalanta detached from the Cougar 13 mission to support the EU counter piracy operation off Somalia and the Gulf of Aden, until mid Nov.
2014-mar-31
Deployment
North Western Approaches Exercise Joint Warrior 14-1 JW 14-1
2014-sep
Deployment
Kepi i Pallit Exercise Albanian Lion In company with HMS Bulwark, supported pre-dawn practice assault on beaches near Rinia
2014-sep-2
Deployment
Gibraltar Harbour Cougar 14 arrived in Gibraltar for Cougar 14 deployment, in company with HMS Bulwark and RFA Wave Knight.
2015-mar-27
Trials
Sea trials with Merlin HC.3 for Junglie ship-borne operational parameters
2015-apr-11
Deployment
North Western Approaches Exercise Joint Warrior 15-1 participated in JW 15-1, off NW Scotland
2015-jul
Deployment
Atlantic Patrol Task (North) departed Falmouth for 6 month APT(N) deployment. Joined by 2x Lynx HMA.8 from 815 NAS flights. Returned to Falmouth 21 Dec.
2015-jul-15
Port Visit
George Town HSB APT(N) Five day visit off Grand Cayman as part of APT(N) deployment.
2015-jul-26
Port Visit
Emergency planning visited Spanish Town (British Virgin Is.) for Emergency Planning reviews for 3 days, as part of her APT (N) deployment. Departed 29 Jul. 815 NAS 234 Flt Lynx HMA.8 ZD268/366 embarked.
2015-oct-4
Deployment
ordered from Caribbean, as part of British humanitarian aid after Hurricane Joaquin struck Crooked Island, Acklins Island and Long Island, part of the Bahamas group.
2016-may-19
Deployment
Eastern Mediterranean Egyptair MS804 joined international search effort for Flight MS804
2018-oct
Deployment
Port of Duqm Exercise Saif Sareea 3 Participated in Joint UK-Omani Ex SS3 as Amphibious support ship. To re-role and relieve RFA Cardigan Bay as resident Minehunter Squadron support ship, in Middle East on completion.
2018-oct
Deployment
Suez Canal escorted by HMS Dragon through Suez Canal and Red Sea for their participation in Exercise Saif Sareea 3 in Oman.
2018-oct-28
NEWS
Royal Navy Exercise Saif Sareea 3 off Oman
2019-apr-2
Deployment
Loch Ewe Amphibious Assault Exercise Joint Warrior 19-1 2 Apr 2019 with a contingent of Marines, conducted an amphibious assault, as part of the Albion Task Group in the opening week of JW19-1.
2019-sep-8
Port Visit
Greenwich Reach LISW 2019 At Greenwich for London International Shipping Week 2019. Hosted MCA AW189 G-MCGO on 13 Sep. Departed 14 Sep.
2019-oct-5
Deployment
North Western Approaches JW19-2 Exercise Joint Warrior 19-2 Participated in JW19-2
2020-jan-20
Portland Harbour Alongside at Portland
2020-sep-16
Deployment
LRG(X) part of Littoral Response Group (Experimental) deployment with HMS Albion and HMS Dragon for exercises across Mediterranean, North Africa and Black Sea.
2021-may
Mina Salman Port Operation Kipion Assumed Afloat Forward Support Base duties for Operation Kipion, after relieving RFA Cardigan Bay.