This is the umbrella operation name for British Forces deployed to support combat (and later, reconstruction) operations in Iraq.
Australian contributions are shown under
Operation Falconer
.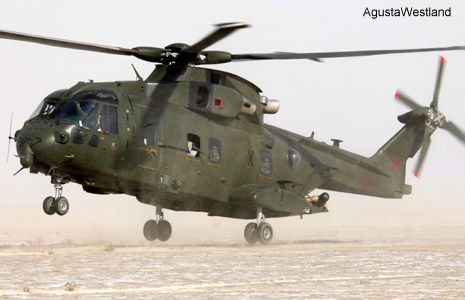 Royal Air Force Merlin Operations in Iraq, 14-Jun-05 : On March 19th 2005, No 1419 Flight, 28 (Army Co-operation) Squadron operating four Royal Air Force AgustaWestland EH101 Merlin HC Mk3 helicopters, declared Full Operational Capability (FOC). As part of the UK's Joint Helicopter Force (Iraq) supporting the UK led Multi National Division (South East), they continue to support the stabilisation and peace process within Iraq.
Not all models shown may have taken part in the Operation
Some of the units could be operating fixed wing aircraft at the time, check every unit for details

Individual helicopters
Classes
Ships
Aircraft Carrier V STOL
Invincible class
R07 HMS Ark Royal,
Helicopter Carrier
Argus class
A135 RFA Argus,
Guided-Missile Destroyer
Type 42 (Batch 1 and 2) class
D92 HMS Liverpool,
Guided-Missile Destroyer
Type 42 (Batch 3)
D97 HMS Edinburgh, D98 HMS York,
Frigate
Type 22 (Batch 3) Cornwall class
F86 HMS Campbeltown, F87 HMS Chatham, F99 HMS Cornwall,
Frigate
Type 23 Duke class
F231 HMS Argyll, F233 HMS Marlborough, F239 HMS Richmond, F78 HMS Kent, F81 HMS Sutherland,
Assault Carrier
Ocean class
L12 HMS Ocean,
Landing Ship/Platform Dock
Bay class
L3009 RFA Cardigan Bay,
Landing Ship/Platform Dock
Round Table class
L3004 RFA Sir Bedivere, L3005 RFA Sir Galahad (1988), L3036 RFA Sir Percivale, L3505 RFA Sir Tristram,
Support Ship
Diligence class
A132 RFA Diligence,
Support Ship
Rover class
A269 RFA Grey Rover,
Support Ship
Fort II class (1992)
A387 RFA Fort Victoria,
Support Ship
Fort I class (1978)
A385 RFA Fort Rosalie, A386 RFA Fort Austin,